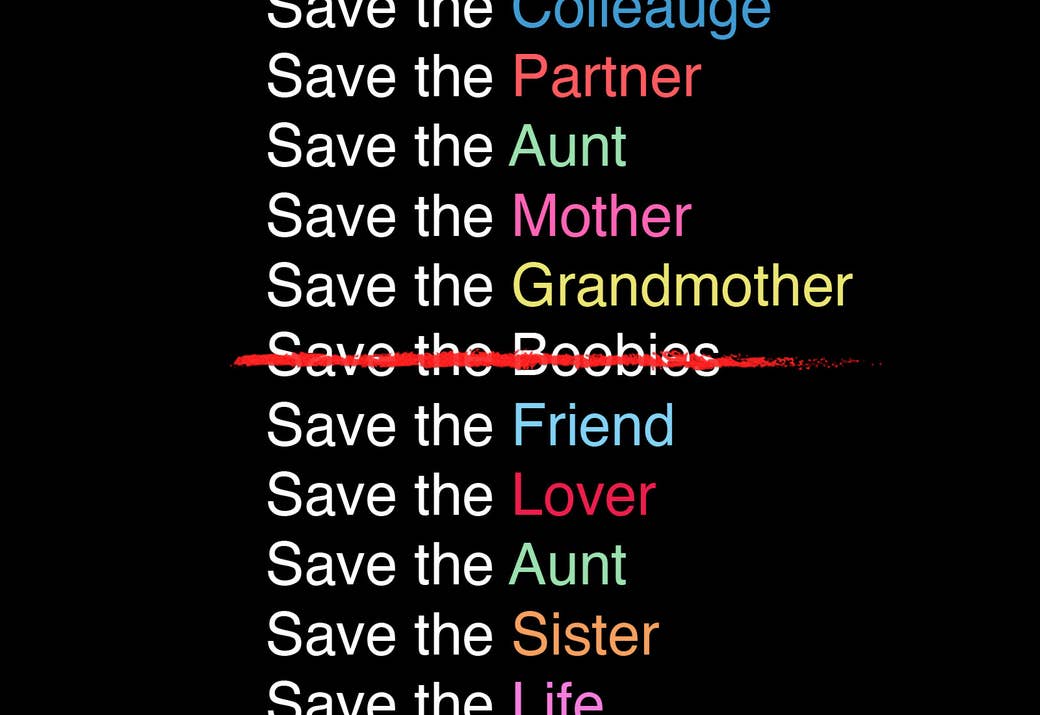 Annie Bond used to crack jokes about being single and awkward during her stand-up comedy gigs in California. That was until she was diagnosed with stage 4 metastatic breast cancer that had spread to her lymph nodes and liver at age 26. Doctors told her she had only about two to five years to live.
Bond, now 33, is a "walking medical miracle" and, yes, still knows how to give and take a joke.
One October morning, however, while walking her dog, she saw a woman wearing a shirt that said "Boobies Rule." It's a common catchline found on T-shirts, bracelets, laptop stickers, and countless other bright pink products mostly sold and worn during Breast Cancer Awareness Month in an effort to get people to talk about the disease.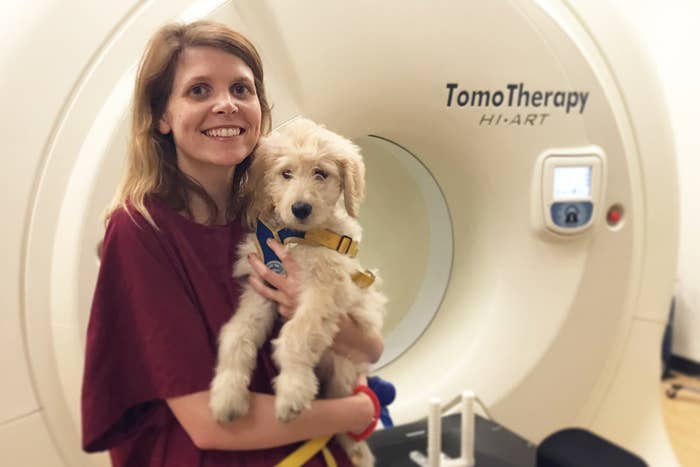 But Bond just didn't get the humor. Slightly offended, she created a TikTok video on the topic that has amassed nearly 976,000 views and more than 2,000 comments.
Not only do the slogans like "Save the Tatas" or "Save Second Base" sexualize the disease in a way that implies breasts, not lives, are worth saving, but they're also factually incorrect, she said.
Over 70% of people with early-stage breast cancer or a genetic predisposition to the disease choose to get a mastectomy: the surgical removal of one or both breasts.
"Just saying 'boobies rules' doesn't teach me anything about breast cancer and it doesn't make me feel represented as a breast cancer survivor. There are much better ways that we can get people to pay attention," Bond said. "I'm a comedian. I love jokes. You can tell me I don't have a sense of humor and that's fine because I know I do. I just don't believe in laughing at jokes that are at other people's expense."
Most people who watched Bond's TikTok expressed gratitude in the comments; they had no clue such slogans could be hurtful. But many others accused her of being overly sensitive about what they consider to be well-intentioned attempts at raising awareness about breast cancer.
"The fact that I can't point out one issue, which is the sexualization of breast cancer, without it becoming a bigger political issue is crazy to me," said Bond, who's also an actor and writer.
After all, you don't see any "Save the Balls" shirts worn in April for Testicular Cancer Awareness Month. Not to mention many of these phrases exclude men and trans and nonbinary individuals who develop breast cancer. It's estimated that 2,710 men in the US will be diagnosed with the disease this year, including 530 who will die.
But it's less about an individual's decision to promote these slogans, Bond said, and more about companies profiting off of people's pain in what has come to be known as "pinkwashing."
The term was coined in 2002 by the activist organization Breast Cancer Action and is used to call out companies that promote the famous pink ribbon symbol or pink products without ensuring enough or any proceeds go to breast cancer programs and research or that their products are actually safe for breast cancer patients.
In all, the trend has contributed to a general lack of awareness that still persists despite breast cancer being one of the most well-known diseases out there.
"Everyone is aware that breast cancer exists. What people aren't aware of are the realities of the disease and what it would take to actually reach a cure," Bond said. "That's where the disconnect is, and that's what offends me."
Breast cancer is the second-leading cause of cancer-related death in women in the US after lung cancer, and there are more than 3.8 million survivors in the US alone.
Although breast cancer death rates have dropped 43% since 1989 thanks to treatment and screening advancements, the decline has slowed in recent years despite the large movement to raise awareness and funds. It's estimated that more than 43,000 women will die of the disease this year, and that 1 in 8 women will be diagnosed in their lifetime.
Healthcare is often extremely difficult to navigate as a cancer patient; battles with insurance companies to approve lifesaving treatments, which aren't guaranteed to work, are common. And breast cancer funds are notoriously skewed. Only about 2% to 5% of money raised for research goes to studies of metastatic breast cancers (stage 4), which aren't considered survivable and kill about 40,000 men and women each year.
Breast cancer is also much more than just boobs. Many young women experience early menopause as a result of treatments like chemotherapy, which can bring about physical and emotional challenges such as infertility, fatigue, hair loss, problems with sex and intimacy, long-term nerve damage, sleep issues, cognitive dysfunction, and more.
"There's just a whole identity crisis that comes in hand with the entire chemistry of your body changing that I think people don't understand," Bond said.
Ask anyone why they think we should "save the tatas" and they'll say it's because of early detection, Bond said. But early detection doesn't save boobs, it saves lives.
In fact, many people who find their cancer early opt to have one or both breasts removed to avoid the cancer coming back after treatment or spreading to other parts of the body. According to the American Cancer Society, people whose breast cancer is detected early have a five-year survival rate of 99%.
Some people who inherit the BRCA1 or BRCA2 genes from their parents — which is linked to a 70% lifetime risk of breast cancer, as well as an increased risk of ovarian cancer — can also choose to get the procedure as a preventive measure. Angelina Jolie and Christina Applegate are two famous women who had BRCA genes and had double mastectomies to either prevent or treat breast cancer.
Heather Perkins, deputy director of Breast Cancer Action, was diagnosed with stage 1 breast cancer at 34 years old after six years of trying to convince doctors that something just wasn't right with her health.
Her healthcare providers dismissed her concerns, telling her repeatedly that she couldn't have cancer because she was too young and healthy and had no family history of the disease. (About 85% of breast cancers occur in people without a family history.)
Shortly after her diagnosis, however, Perkins chose the "radical" approach and had a double mastectomy to avoid the feeling "of having to look over [her] shoulder all the time."
It wasn't until the first October since Perkins's diagnosis came along that she noticed how different it felt to see people walking around with products that encouraged everyone to save their boobs — prior to her diagnosis, she even owned some of them herself.
Suddenly, it was as if she had failed in some way to save the very thing that everyone was so obsessed with.
"We shouldn't be making cancer sexy. We're putting profits over people in too many different spaces, and October bloats that idea," Perkins said. "We have become so trained as a society that by buying that shirt, we really feel inspired that we are doing something. We may be creating a community for people navigating a health diagnosis, but we're not taking enough action to stop it."
This is not to say we can't joke about breast cancer or cancer in general. We definitely can, Bond said. It just has to be done with respect, and that's usually only possible if we take time to listen to those with cancer.
Take, for example, The Cancer Patient, an Instagram account, Twitter page, and podcast that not only makes fun of various cancers using viral memes, but also opens up light conversations about otherwise dark realities. The creator of the accounts, who prefers to remain anonymous, told us they were diagnosed with non-Hodgkin's lymphoma (a cancer of the immune system) just a year after emigrating from the Philippines. Their family stayed behind, so they turned to Facebook cancer support groups for community, advice, and some laughs.
It wasn't until one of their friend's inflammatory breast cancer had relapsed, landing her in hospice care, that they decided to take their cancer comedy to the next level.

"She told me she was so sick of people reaching out and asking her how she was. She would say, 'How do you think I'm doing? I'm literally in bed dying,'" the Cancer Patient creator said. "So instead of asking her how she is or asking for updates, I just started making cancer memes and sending it to her to cheer up."
Two years after their friend died, they created the @thecancerpatient Instagram account in 2018. Within three months, it had 10,000 followers. Now, it has nearly 93,000.
"If you talk about cancer support and advocacy, it's always the cookie-cutter examples of the Lance Armstrongs of the world," they said. "Everyone is just fixated on the picturesque triumphant cancer patient and no one really talks about the difficult parts of it."
Their goal: change how people perceive and support cancer patients.
"Showing any type of vulnerability is seen as a weakness and that's definitely not the case. In the past decade, we've made huge strides in mental health and I feel like it's time for the perception of cancer to catch on to that," the Cancer Patient creator said. "Everyone is too busy making cancer look inspirational that we tend to invalidate and dismiss the real concerns of cancer patients."
Talking about cancer is uncomfortable, but that's the point, Bond said. At least those conversations leave us with jokes that are actually funny, accurate, and respectful.
"If you haven't been through it, you don't understand. And if you have been through it and you feel differently, that's OK," Bond said. "It's undeniable that cancer affects everybody and that people die of cancer at all ages and all levels of health. But if we would just listen to the people who know what they're talking about, we could make an actual difference." ●