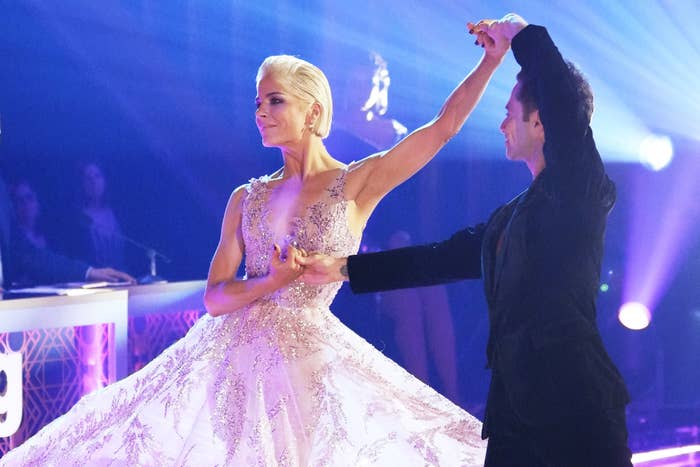 After five performances on season 31 of Dancing With the Stars, actor Selma Blair, who was diagnosed with multiple sclerosis in 2018 and uses a walking cane, withdrew from the competition in order to protect her health.
In the latest episode, which aired Oct. 17, Blair told dance partner Sasha Farber that she "pushed as far as [she] could," but scans revealed her body was "definitely taking a hit."
"It's way too much for the safety of my bones. There's just intensive bone trauma and inflammation, among rips and tears, so I can do extensive damage that, of course, I do not want," Blair told Farber. "I have to settle in and get back to being a mom."
Multiple sclerosis is an unpredictable neurological condition that affects nearly 1 million people in the US. With MS, the immune system attacks the central nervous system, including the brain and spinal cord, which can disrupt the flow of information throughout the entire body.
While symptoms vary widely from person to person, it can cause numbness, mood changes, memory problems, fatigue, and problems with speech, movement, and vision — many of which can be invisible to outsiders.
Blair spent weeks learning and performing a variety of ballroom styles, including the waltz, jive, rumba, and quickstep, that had her jumping, turning, flipping, and cartwheeling.
It was a physical and mental feat that left many viewers with MS and other chronic conditions impressed with her performance. Several people with chronic conditions told BuzzFeed News that they took note of Blair's decision to listen to her body and realize when it was time to walk away.
"Having MS myself, I know most days we can wake up and struggle to put one foot in front of the other, not to mention our daily battles with fatigue and cognitive functioning," said Roxy Murray, 34, a London-based MS advocate and podcaster who was diagnosed in 2014. "The mere act of learning the steps to a dance can be such a daunting task for many with MS, yet she did so with grace."
Blair's rumba performance in week three, which she did with a blindfold on, is a particularly "great example of how MS can be so overwhelming on our senses," Murray said. Blair told People that the blindfold helped "buffer" the sensory overload from her surroundings as she focused on the movements and choreography.
The week prior, Blair performed a jive during which she lost control of her left leg toward the end, she said in an Instagram post in September. "I cried for a moment after with frustration because I was so prepared. I know the dance!" Blair wrote. "But my body did what bodies can do (especially with MS) and the show went on."
"No one sees the focus it takes for her to maintain the balance or coordination when dancing, not to mention the energy it uses," Murray said. "Multiple sclerosis is an invisible illness, and the fact she has brought so much attention and understanding to an illness most people don't know much about — we will never as a community be able to thank her enough."
Murray continued: "I'm glad she put herself and her body first. As sad as it is that she had to drop out of the competition, she will always be a winner to us."
Blair's DWTS journey meant a lot to Heather Peterson, 35, and Rebecca Johnson, 42, both of whom were dancers before the onset of their MS.
Johnson, who lives in Spain and was diagnosed with MS in 2016, told BuzzFeed News that the last time she "danced all night like [her] old self" she was bedridden for a week in excruciating pain. "The body always has the last word. … That was how I learned to respect my MS.
"People with MS constantly have to juggle their hopes and intentions with their limitations," Johnson said. "Selma's decision to leave the show is as brave as her decision to join it — it shows just how strong the impact of the condition can be, which helps to spread awareness."
While MS is treatable, it can't be cured. The cause is unknown, but evidence so far suggests there may be certain genetic, environmental, and infectious factors that can increase the risk of the condition. For example, low vitamin D levels, smoking, obesity, geographic location, and infections with germs like the Epstein-Barr virus have been associated with greater risks of developing MS. Anyone can get MS, but it's three times more common in women than men and is most often diagnosed between the ages of 20 and 50.
Like many autoimmune conditions, symptoms may flare up and subside. There are several different types of MS, but many people have times when symptoms worsen followed by relatively stable periods.
Treatments such as injectable and oral medications, as well as physical therapy, are available to help speed recovery from attacks, slow the progression of the disease, and manage symptoms.
Gena Hyde, associate vice president of communications at the National Multiple Sclerosis Society, told us that Blair sharing her story on a national stage helps increase awareness and understanding of MS, "which makes the world a better place for everyone affected by the disease."
And "the more we shine a light on the challenges of MS, the faster we can move toward a cure," Hyde added.
"While every person's experience with MS is different, Selma showed that MS doesn't always have to get in the way of doing the things you love," Hyde said. "She left us moved and inspired and we continue to root for her — both on and off the dance floor."
"The mere act of learning the steps to a dance can be such a daunting task for many with MS, yet she did so with grace."
The significance of Blair's participation in DWTS extends beyond awareness for just MS; it's also helping others with similar chronic conditions realize that their illness or disability doesn't define them.
Emily Kranking, 28, an actor and disability advocate with cerebral palsy (a disorder that causes problems with movement, speech, vision, and muscle tone), pointed out that DWTS has a "great history with disability representation."
Deaf actor and CODA star Daniel Durant is still in the running this season. He was preceded by deaf model Nyle DiMarco and CODA costar Marlee Matlin, who was the show's first deaf contestant in 2005. Other former contestants include Amy Purdy and Noah Galloway, who have had amputations, former Paralympian swimmer Victoria Arlen, who developed two rare conditions and was unable to use her legs for nearly 10 years, and alpine skier Danelle Umstead, the first blind person to compete.
"There's this whole thing with getting diagnosed with a chronic condition that makes it feel like your life is over and you can't do the things you love anymore," said Paige Rosko, a 20-year-old in New York who has Guillain-Barré syndrome (GBS), a neurological condition that tricks the immune system into attacking the nerves. "Seeing Selma take control and decide that she was going to dance because she wanted to was really special to see," she told BuzzFeed News.
GBS and MS share many symptoms, such as difficulty walking, muscle weakness, and fatigue. Rosko said she wished that when she was paralyzed in the hospital at 18 years old, she could have seen someone like Blair on TV "living their full life, the way they wanted to, and still struggling with mobility."
Particularly inspiring for Rosko was Blair's "unabashed" use of her walking cane. (Rosko used a walking cane while recovering from the worst of her GBS symptoms.) As a young person, she said the stigma of using mobility aids is more intense because it's not often seen in pop culture, "and if someone in a fictional story is using a cane, they're probably the villain."
"Seeing her dance her heart out and then get her cool-looking, bedazzled cane was incredible, and I hope it's a step in the right direction of normalizing mobility aid usage in young people," Rosko said.
"When all you see of disabled people is them being sad in the hospital or dying slow and horrible deaths, you carry that with you when you get diagnosed," she said. "But having something else to see, I think, will help people at the beginning of their journey realize that this isn't the horrific end that movies told you it would be."
Blair's choice to leave the competition on her own terms will undoubtedly have a lasting, positive impact on the chronic illness community, Rosko added.
"A lot of people I know [who have disabilities] struggle with pacing themselves because they don't want to seem weak, but I'm hoping that Selma's decision to put her own health first will help everyone, including myself, with acknowledging their boundaries in everyday life," Rosko said. "You can still live a great, wonderful, beautiful life and have a cane."