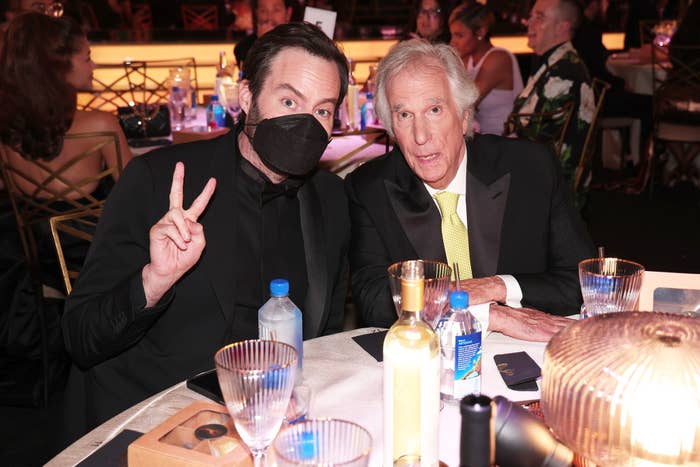 From Sheryl Lee Ralph's emotional acceptance speech to Jimmy Kimmel's "white male privilege" to Zendaya's second history-making win, the 74th Emmy Awards left us with some memorable moments.
Celebrations and jokes aside, the auditorium was also packed with maskless people amid an ongoing pandemic that continues to kill more than 350 people every day in the US. One of the only exceptions to the maskless crowd was actor and writer Bill Hader.
Hader, 44, known for his roles in Saturday Night Live and Barry — and personally nominated for five Emmys this year, including writing and directing — appeared to be one of the only people who wore a face mask for the duration of the ceremony as he sat next to 76-year-old actor Henry Winkler.
(Emmys presenters and nominees were required to show proof of a negative PCR COVID test, and audience members had to show either proof of vaccination or a negative test to attend.)
Twitter users are calling Hader the "smartest man in showbiz" and their "safe KING," among other accolades, for giving them the confidence to continue wearing their own masks in public despite often being the only people to do so. "He may not have taken home any awards, but he also didn't take home any COVID," one person tweeted.
In fact, the likely reason Hader wore a mask at the event is that he has an autoimmune condition that requires him to take immunosuppressive medication, according to the Hollywood Reporter. Hader's publicist declined to share what condition the actor has with BuzzFeed News and what medication he's taking.
However, it's well known that people with weakened immune systems are more likely to get sick with COVID and experience more severe outcomes like hospitalization and death. An infection, no matter how mild or severe, can also lead to long COVID, causing debilitating symptoms for weeks, months, or even years. Nearly 1 in 5 adults in the US who have had the virus are experiencing long COVID, according to the CDC.
Yet Hader's perfectly normal attempt to avoid infection ended up sending a more powerful message than he might have anticipated, particularly for people with disabilities and chronic health conditions.

"As a disabled person, the pandemic has been hard for myself and most members of my community. As Hollywood influences popular culture and people's actions, they're unfortunately sending a message that the pandemic is over," Violet Elliot, 23, who has dwarfism, told BuzzFeed News in an email. "Bill Hader wearing a mask is a glimmer of hope that we still have some support from someone influential, that it is socially acceptable to still wear masks in public … and that disabled and immunocompromised lives are valuable."
This year's Emmys was a "win for disabled people" beyond Hader's mask use, Elliot pointed out in a tweet. She highlighted how the event integrated multiple ramps into the stage, provided ASL translators, and gave actor Selma Blair, who was diagnosed with multiple sclerosis in 2018, the final award presentation of the night as she supported herself with a cane following a standing ovation.
But the fact that Hader wearing a mask at a crowded, indoor event during a pandemic is newsworthy "is a clear indication that people's attitudes need to change," Elliot said.
"We need a vision of the world where out of habit society wears a mask while going out in public, while appropriate," Elliot said. "Instead of pretending that COVID doesn't exist, we need to find a way to live with COVID that includes all elements of society."
Alison Sbrana, 29, who has been living with myalgic encephalomyelitis/chronic fatigue syndrome (ME/CFS) since 2014, said she was happy to see Hader wear a mask, but the general disregard for the safety of vulnerable attendees at the Emmys was "disappointing."

"It's yet another reminder to our community of disabled people — which now includes millions of new members due to long COVID — that the world is moving on without us, holding events that are not accessible or safe for us due to risk of COVID exposure," said Sbrana, who is a board member of Body Politic, a health justice organization supporting people after COVID infection and working to destigmatize and address barriers disabled and chronically ill communities face.
"I am grateful there are select individuals wearing masks, but the reality is public health cannot be up to individuals," she said.

Charis Hill, a disability activist, writer, speaker, and model living with axial spondyloarthritis (an inflammatory rheumatic disease), agrees that the "individual risk tolerance" approach the US has adopted at this stage of the pandemic "ignores and excludes those [like me] who cannot make individual risk tolerance decisions when basic infection control measures are nonexistent.

"I haven't shopped for my own groceries for 2.5 years, as an example, and I can't choose to because I rely on two-way masking to remain medically protected," Hill, 35, told BuzzFeed News in a Twitter DM.
But celebrating Hader for wearing a mask during the event is troubling, Hill said.
"For one thing, to me, it's symbolic of disabled people's desperation to exist during a pandemic that is both killing us off and creating more of us. He was there just trying to survive, and yet many of us were celebrating him as if he was making a statement," they said.
"I hope this moment serves as an opportunity to call out nondisabled people for refusing to wear masks at the Emmys to protect him and other immunocompromised attendees who may have been too afraid to stick out," Hill said.