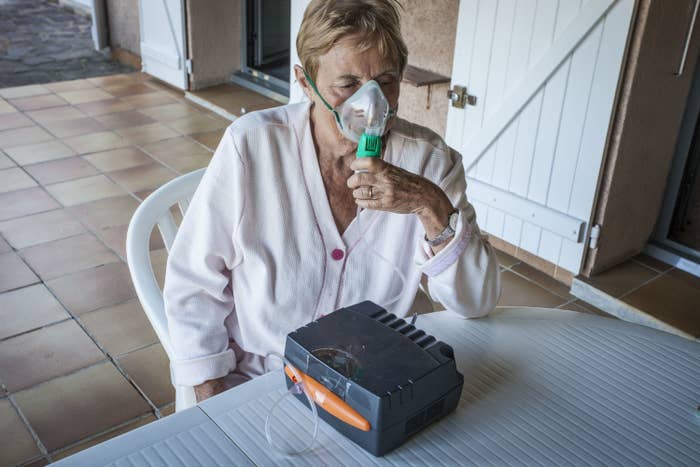 The nation's main manufacturer of liquid albuterol — a life-saving medication used as an inhalable mist to treat asthma attacks, chronic obstructive pulmonary disease, RSV, and even COVID — officially shut down last month after a long battle with bankruptcy, slashing stock of the medication that has been in short supply since last summer.
Now, doctors fear the 25 million Americans with asthma and other respiratory conditions or illnesses will pay, possibly even with their life, if federal health officials don't act quickly to restructure liquid albuterol manufacturing in the US.
Albuterol and other drugs are known as rescue medications because they are used to treat asthma symptoms like coughing, shortness of breath, and wheezing. Other types of medication, including corticosteroids, are known as maintenance or long-term controller medications because they are taken daily to address underlying inflammation and help reduce the chance that rescue drugs are needed.
The timing of the shortage couldn't be worse.
With the spring allergy season starting — a time when people often have asthma exacerbations — doctors are concerned that people won't have access to the medication, which helps alleviate or prevent breathing issues by relaxing and opening the airways.
Luckily, albuterol inhalers are not in short supply and aren't expected to be any time soon. Several manufacturers supply the medication, which is a generic drug.
The liquid version of the drug, which is inhaled as a mist through a device called a nebulizer, is normally used in children who aren't old enough to use an inhaler correctly and when people have more serious symptoms and conditions.
There are other rescue drugs that people can use in nebulizers, but they are pricier brand-name medications.
"The supply that we currently have in the US might be good for three to four months, but then we're going to hit respiratory infection season again," said Dr. Juanita Mora, an allergist and immunologist in Chicago who's also a spokesperson for the American Lung Association. "If we end up using a lot of our stock with pollen season because of all the asthmatics that have allergic asthma, that's when we might run into trouble sooner rather than later."
Healthcare providers began noticing a shortage in liquid albuterol last summer when the two manufacturers of the medication in the US — Akorn and Nephron Pharmaceuticals — paused production even as RSV, flu, and COVID spread like wildfire, especially among kids.
The FDA added the medication to its drug shortages list in October 2022.
Illinois-based company Akorn first filed for bankruptcy in 2020, but a failure to find a buyer led the company to close its doors and lay off all employees in February.
The other company that supplies the US with liquid albuterol, Nephron, told the Washington Post that it is "currently producing Albuterol 0.5 as fast as possible to deliver to the market — and to patients — to address this shortage."
In a series of tweets posted Wednesday night, the FDA said: "To help meet demand, FDA has reiterated that outsourcing facilities may compound the specific product that's in shortage to help increase supply. The FDA continues to explore all available regulatory levers to help assure supply — including exercising discretion for potential temporary importation by foreign suppliers."
But the shortage is already impacting families. Mora said just this week she met with a single mom of four children with asthma who had to rush to the clinic because none of the pharmacies around her carried liquid albuterol for her teenager who was experiencing an asthma attack.
The clinic had some of the medication in stock, so Mora offered the teen the nebulizer treatment — but next time, the family will have to go to an emergency department, especially if the youngest, who cannot use an inhaler properly, experiences worsened asthma symptoms.
What you can do amid the liquid albuterol shortage
First and foremost, you don't want to hoard the medication if you find a pharmacy with enough supplies, Mora said, because it's critical that they go to hospitals for the treatment of seriously ill patients.
Next, you'll want to pick up an albuterol inhaler if you don't already have one because it can be life-saving if no other treatments are available.
Third, for those who normally use liquid albuterol with a nebulizer, Mora suggests talking with your doctor to discuss alternative medication options that can be nebulized, such as levalbuterol (sold under the brand name Xopenex) and ipratropium bromide/salbutamol (sold under the brand name DuoNeb.)
These medication alternatives are not in short supply, but they are more expensive.
People whose asthma normally worsens during the allergy season may also speak with their doctor about increasing their medication dosages of other drugs, including steroids, that can keep lung inflammation down and prevent serious exacerbations that may require treatment with rescue medications like liquid albuterol at home or during a visit to the hospital.