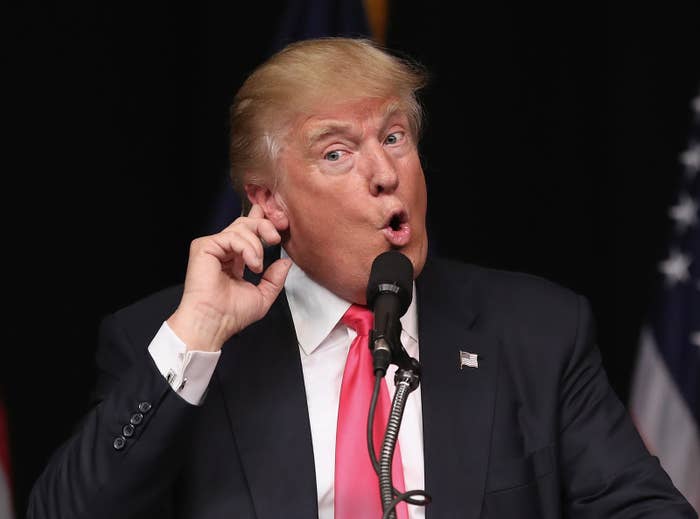 TRUMP: You want me to give you an exact quote on the Paul Ryan? You were asking.

RUCKER: Yeah, please do.

TRUMP: Okay, you're asking me if I'm supporting Paul Ryan?

RUCKER: Yeah, if you're supporting Paul Ryan.

TRUMP: I'm not quite there yet.

RUCKER: And why is that?

TRUMP: Just not quite there yet.
In fact, he used Ryan's own words against him:
Then, his running mate Mike Pence endorsed Ryan:
"I strongly support Paul Ryan, strongly endorse his reelection... I believe we need Paul Ryan in leadership in the Congress of the United States to rebuild our military, to strengthen our economy and to ensure that we have the kind of leadership in this country that will make America great again."
And then, to bring it all full circle on Thursday, Trump told an entire audience of people that Pence called him up and asked his permission.
He came to me — he called me the other day, he said, 'Do you mind—' because he likes Paul Ryan. Paul Ryan's a good guy, actually. No, he's a good guy. So, Mike calls me yesterday and he says, 'Would you mind if I endorsed? I won't do that if it creates any complications or problems, I would absolutely not do that...' He's the greatest guy. He's the greatest human being. And he said that and he said, 'But I like him, he's a friend of mine, would you mind if I endorsed him? I will not do it if you say no.' I said, 'Mike, you like him? Yes. Go ahead and do it, 100%.' And he endorsed him. And then, and then — we have, like, a great relationship. It's short, it hasn't been that long. I've known him through the campaign and then a couple of the papers — not all of them, I should say, most of them wrote it legitimately — but a couple of them said, 'There's a FISSURE between Pence and Trump. There's a FISSURE.' It's so dishonest.