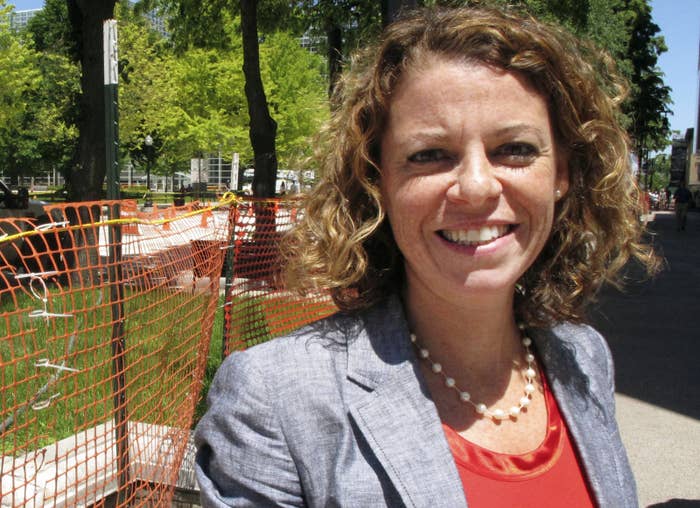 Liberal judge Rebecca Dallet has defeated her conservative rival for a seat on the Wisconsin Supreme Court in a race that has been seen as a bellwether of voter attitudes ahead of the upcoming midterm elections.

"People are engaged, they are hungry for change," Dallet told her supporters Tuesday night shortly after the race was called.
Though judicial races are nonpartisan, both Republicans and Democrats spent heavily and engaged voters in the state. Former attorney general Eric Holder also prioritized the race as part of his effort to shift the national redistricting map more in Democrats' favor after a series of statehouse and statewide elections like these gave Republicans a real edge over the past decade.
Republican Gov. Scott Walker, a outsize figure in Wisconsin, backed Michael Screnock, the conservative, while Democrats lined up behind Rebecca Dallet, a liberal. (In the primary earlier this year, Dallet defeated an Our Revolution–backed candidate.)
While addressing her supporters, Dallet acknowledged money had flooded into the race, noting that, "special interests are definitely having an impact, and its on both sides of the aisle."
"We beat the NRA and we beat the millions of dollars that were spent on this race, flooding into our state," she said.
Screnock, in his concession speech to supporters Tuesday, said he would miss the opportunity to work on the state's Supreme Court, but said he was proud to have continued "acting like a judge" during the hotly contested race.
"I said for years that we do not want politicians for judges," he told supporters. "It was very important to me and to my wife that every action that we took on this campaign trail upheld the dignity of that office, and I stand before you with my head held high."
In Wisconsin, conservatives tend to do well in state judicial elections, and currently hold a 5–2 margin on the state's Supreme Court. In the past, conservative strength in April has boded well for Republican strength in November.

Though for a national audience the race might seem a little obscure, the results offer a) a look at newly christened battleground state Wisconsin's November elections, and b) demographic data that will give us a better picture of how people are voting in Midwestern suburbs ahead of the 2018 midterms.
Two years after Donald Trump infamously beat Hillary Clinton in Wisconsin and undermined the "blue wall" in the Midwest, the state will play host to two hotly contested elections later this year: Democratic Sen. Tammy Baldwin's reelection bid, and that of Gov. Walker, who's running for a third term after his noted battles with public-sector unions in the state.

Tuesday's results may provide some insight into how those contests will play out later this year.
The statewide nature of the election also provides another big set of data for the midterms more broadly: In previous special elections and 2017 contests, Democrats have outperformed expectations in suburban areas, like Pennsylvania's 18th District, which contains parts of suburban Pittsburgh. Rural turnout for Republicans has also been soft in some places — like in last year's Alabama special election —without Trump atop the ballot.
The answers to these kinds of questions — if Democrats can break into suburban areas in a midterm year, and if rural turnout is lower than normal — give a clearer picture of what the fall could look like.