Why Ken Cuccinelli's Loss In Virginia Doesn't Tell Us Anything About The Tea Party
The campaign once looked like the perfect test case for running conservative candidates in swing states. It's not.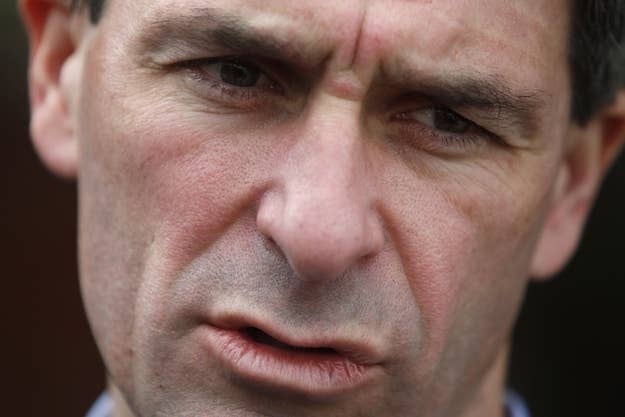 As Tuesday night's Virginia election results rolled in, Ken Cuccinelli made a game out of it.
But former DNC chairman Terry McAuliffe beat the libertarian-infused, staunchly social conservative attorney general — far closer than the expected blowout, but still a loss.
Taken in tandem, the divergent Christie–Cuccinelli fortunes have offered a clear lesson to the pundit class for weeks: Forsake the tea party, the conventional wisdom has gone, or risk electoral peril. But that construction is too simple. Cuccinelli's campaign once looked like it might be the perfect test case for running a true tea party candidate in a state with a shifting electorate. It wasn't.
The interjection of three variables interrupted the equation: an ongoing federal investigation into Gov. Bob McDonnell's relationship with a campaign donor; the government shutdown; and Cuccinelli's wretched performance as a candidate.
Though the shutdown has shouldered the brunt of the blame for Cuccinelli's failure, the investigation into McDonnell hurt Cuccinelli months before.
Once ahead by 10 points in a Washington Post poll taken in May, Cuccinelli lost his lead in the summer and never recovered. McDonnell and his wife's failure to disclose massive amounts of cash and gifts given to the couple by a donor blew up in June and July, before news of a federal investigation into the matter dropped in August. Cuccinelli also has a relationship with the donor, and for a candidate who some voters were leery of to begin with, there was little margin for error.
And the shutdown, for which congressional Republicans were widely blamed, likely snuffed out the rest of the candidacy. Because federal dollars are such a tremendous driver of the state's economy, Virginia is unusually sensitive to a government shutdown, perhaps more than any other state in the country. The government shutdown would probably play just as poorly in recently storm-ravaged New Jersey (Christie himself took a very anti-shutdown, personality-driven stance), but how big a factor would the shutdown have been in an Ohio or Nevada or Colorado gubernatorial race? A driving political issue or just a couple easily dispatched questions in a debate? It's unclear.
Finally, there's Cuccinelli's abysmal campaign. The candidate backed off campaigning on contentious social issues that made him divisive in the first place (again, ruining the equation). In fact, he backed off promoting much of an agenda at all. He struggled to produce three things his campaign was about in an interview with the conservative Weekly Standard — just two weeks before the election. In the absence of a tangible platform, Cuccinelli's campaign ended up being about Cuccinelli himself (-14 favorability rating). Unlike Christie, that just wasn't a viable strategy for Cuccinelli.
And on the other side of the equation, Terry McAuliffe (-3 favorability rating, mitigated by fundraising dollars) doesn't even offer a control Democrat. It's not completely out of the question that, were he able to run for reelection, McDonnell would have won, despite a federal investigation into possible graft.
The equation's shot.
What drove Cuccinelli's showing Tuesday? Likely a combination of two factors: conservative turnout fueled by the disastrous rollout of the Affordable Care Act, and the performance of libertarian candidate Robert Sarvis, who exit polls suggest robbed both candidates of votes.
It may be that Virginia has permanently shifted to a Northern Virginian-focused, bluer electorate, seeking more Tim Kaines and Chris Christie-like Republicans, moderate on social issues and decisively in favor of broader federal involvement. And it may be that's to be extrapolated to other states. Or maybe tonight's closer showing means Obamacare has more fire power left as political issue.
Either way, Cuccinelli's loss is a terrible test case.