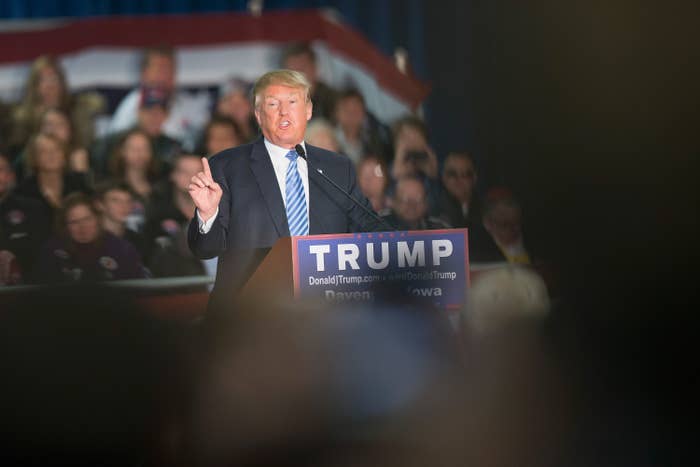 On Monday, Donald Trump called for a "total and complete shutdown of Muslims" entering the U.S. until the country "can figure out what is going on."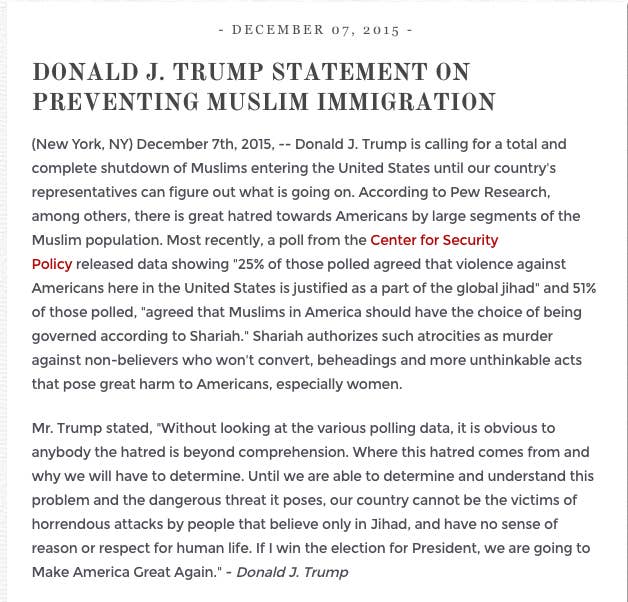 In recent weeks, Trump has attacked Muslims repeatedly following the attacks in Paris and in San Bernardino, California. He's called for the surveillance and closure of mosques, expressed support when asked about the possibility of a Muslim registry, and repeatedly and falsely claimed that "thousands" of New Jersey Muslims celebrated the fall of the World Trade Center in 2001.
Trump has been defiant in the face of criticism, and on Monday, as a poll showed the Republican down in Iowa where he's held an advantage for months, said the United States should stop all Muslims from entering the United States.
His campaign manager told the Associated Press this would apply to everyone, including tourists. According to The Hill, Trump's plan would also apply to Americans abroad who happen to be Muslim.
In a tweet, Trump called the proposal a "very important policy statement":
Several of Trump's GOP presidential rivals reacted to Trump's proposal on Monday afternoon.
Former governor of Florida Jeb Bush called Trump "unhinged":
Florida Sen. Marco Rubio expressed his disagreement in a tweet:
Ben Carson's communications director, Doug Watts, said in a statement to BuzzFeed News that Carson "would not advocate" keeping out immigrants based on religion.

"Everyone visiting our country should register and be monitored during their stay as is done in many countries," Watts said. "We do not and would not advocate being selective on one's religion."
Asked for comment on Trump's proposal, Ted Cruz spokesperson Rick Tyler sent a link to a Nov. 18 press release announcing Cruz's Terrorist Refugee Infiltration Prevention Act, saying, "Here is Cruz's position." Cruz's bill would block refugees coming from any country that "contains terrorist-controlled territory," like Iraq or Syria.

On the Michael Medved Show, New Jersey Gov. Chris Christie called Trump's position "ridiculous."
"There's no question in my mind, but there are folks in this race who don't care about what the law says because they're used to being able to just fire people indiscriminately on television," Christie said. "So, they don't have to worry about laws say or not say."
"And you do not need to be banning Muslims from the country," Christie added. "That's, in my view, that's a ridiculous position and one that won't even be productive."

Kentucky Sen. Rand Paul did not criticize Trump in a statement responding to the plan:
Ohio Gov. John Kasich said the proposal was just more of the same from Trump:

In a series of tweets, underdog candidate Lindsey Graham condemned Trump's statement and called for other candidates to do the same:

In Iowa, Carly Fiorina called Trump's proposal an overreaction:
Others were quick to denounce Trump's comments.
Democratic presidential front-runner Hillary Clinton said Trump's plan "makes us less safe":
Democratic presidential candidate Bernie Sanders also responded in a statement on Monday, saying, "Demagogues throughout our history have attempted to divide us based on race, gender, sexual orientation or country of origin. Now, Trump and others want us to hate all Muslims. The United States is a great nation when we stand together. We are a weak nation when we allow racism and xenophobia to divide us."

New Hampshire GOP Chairman Jennifer Horn called Trump's comments "un-Republican" and "un-American."
Robert McCaw, a spokesman and government affairs manager for the Council on American-Islamic Relations, also called Trump's comments un-American, saying, "It's totally un-American to deny anyone the chance to become an American citizen on the basis of their religion."

"The fact that Trump relies on the Center for Security Policy — an organization listed a a hate group by the Southern Poverty Law Center — speaks volumes about who Trump listens to when it comes to being informed about Muslims," he said.
McCaw said that his group and other Muslim leaders might have to stop responding to Trump's comments all together because it only seems to encourage him to talk even more about Muslim-Americans in a negative way. "Frankly, we're a little tired of responding everyday to what Trump says."
Conservative Christian leader Russell Moore called Trump's plan "reckless" and "demagogic." He previously criticized Trump's rhetoric on refugees.
When asked about Trump's proposal, a top White House aide said he wasn't sure if the administration would offer a direct response to Trump's plan. But he noted the President Obama's comments from the Oval Office Sunday night, where he warned against discriminating against Muslims in the wake of the San Bernardino shootings.

"It is our responsibility to reject religious tests on who we admit into this country. It's our responsibility to reject proposals that Muslim-Americans should somehow be treated differently. Because when we travel down that road, we lose," Obama said. "Muslim-Americans are our friends and our neighbors, our co- workers, our sports heroes. And, yes, they are our men and women in uniform who are willing to die in defense of our country. We have to remember that."