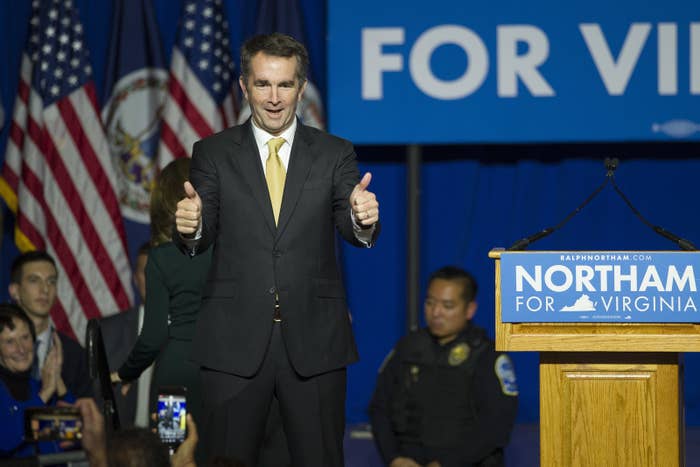 Weeks of brutal campaigning in Virginia ended Tuesday night when voters elected Democrat Ralph Northam as the state's next governor, offering a rebuke to President Trump and his repeated attempts to drum up support for the Republican rival.
Northam, Virginia's lieutenant governor, was leading Republican Ed Gillespie Tuesday night 54% to 45% with nearly all precincts reporting. Polling had generally favored Northam going into the election, though the race had tightened in recent weeks and Gillespie, the former RNC chairman, had hoped to snag a victory.
During his victory speech Tuesday night, Northam emphasized diversity in what appeared to be a thinly-veiled critique of Trump and his opponent.
"We live in a very diverse society," he told supporters. "It is getting more diverse every day. It is that diverse society that makes this country great. And as long as I'm governor, I will make sure that we're inclusive, that we welcome people to the commonwealth of Virginia. Our lights will be on. Our doors will be open."
Democrats dominated across Virginia Tuesday night, winning both the lieutenant governor and attorney general races.

The wins came after a week of infighting among Democrats, set off in part by a scathing tell-all book by former interim party chair Donna Brazile, some operatives had a pointed takeaway from their wins in Virginia in New Hampshire: the so-called "establishment" can and does win.
"Reality is restored," one Democratic consultant said.
Northam, running on a fairly progressive policy agenda in Virginia, was the candidate-of-choice during the summer Democratic primary among top elected officials in the state, including Gov. Terry McAuliffe and Sens. Tim Kaine and Mark Warner. The candidate preferred by progressives, former congressman Tom Perriello, supported Northam in the general election against Gillespie, but some grassroots activists and national progressive groups did not coalesce fully behind his candidacy toward the end of the race.
"I think tonight shows us Democrats that people like Terry McAuliffe and [DNC chair] Tom Perez who were in the director's chair for much of this race, still know how to make a really great happy ending without all the usual Democratic infighting we are famous for," said Mike Trujillo, a longtime party operative.

Asked about what the Northam race might mean for divisions among Democrats, New Hampshire party chair Ray Buckley simply stressed, "It's important that all Democrats work together for a solid sweep next year."
Progressive leaders framed the Virginia race as a testament to the grassroots energy and activism unleashed by President Trump's election. "The strength of the resistance is at wave proportions at this point," said Adam Green, the co-founder of the Progressive Change Campaign Committee.

Ilya Sheyman, executive director of the progressive group, MoveOn.org, said in a statement that as of Tuesday night, the Commonwealth of Virginia had officially "joined the resistance."
"Tonight's victories demonstrate the influence, power, and determination that a bold and inclusive resistance movement is carrying into 2018," Sheyman said.
Early reaction from Republican strategists involved in 2018 races covered a range of emotions: There were those who chalked Gillespie's loss up to Democrats holding a governorship in a state Hillary Clinton won in last year's presidential election. Others, though, see a warning sign for their party.
"If Washington can't get anything done, the party is going to feel it, not just in this cycle but in the future," one operative told BuzzFeed News.

A former Trump White House official, who requested anonymity to speak candidly, blamed Gillespie for not using the president more. The former official noted that Jill Vogel, the GOP candidate for lieutenant governor in Virginia who was outperforming Gillespie, campaigned with Bikers for Trump and with Corey Stewart, the far-right, Trump-like candidate whom Gillespie narrowly beat in the primary.
"Gillespie thought it was smart politics to campaign … with George W. Bush and not President Trump," the former official said. "He deserves what he's getting tonight."

Other Republicans cast a nervous gaze down-ballot, where Democrats were poised to make big gains in the Virginia legislature.
Virginia House Republicans "clearly didn't invest in the survey research to see troubled waters were ahead and to try and get out ahead of it," one national consultant said. "If they did see it, they committed a different malpractice and didn't do enough."
On Monday, Trump promised that voting for Gillespie would bring the economy "roaring back." Trump also tweeted that the Republican would be a "great governor," who would be "strong on crime," and would "never let you down."
By contrast, Trump claimed that Northam was "fighting for" an international street gang known as MS-13.

Trump's son, Donald Trump Jr., also repeatedly tweeted support for Gillespie.
After Gillespie's defeat Tuesday night Trump tweeted that the Republican "worked hard but did not embrace me or what I stand for."
Over the past decade, Virginia has become an increasingly blue-leaning state: Both the state's senators are Democrats, the state voted for Barack Obama twice and Hillary Clinton in November, and two of the state's last three governors have been Democrats.

Though current governor Terry McAuliffe (a Democrat) is fairly popular in the state, his would-be successor Northam struggled to articulate a clear message, especially on the issue of how he would either work with or against President Donald Trump.
Gillespie nearly won a Senate seat in 2014, running a sort of "Republican of the future" campaign. This time, he ran a campaign more in line with the cultural warrior issues championed by Trump over the last two years.
In the last several weeks, the race turned ugly, with a series of attacks gaining particular notoriety: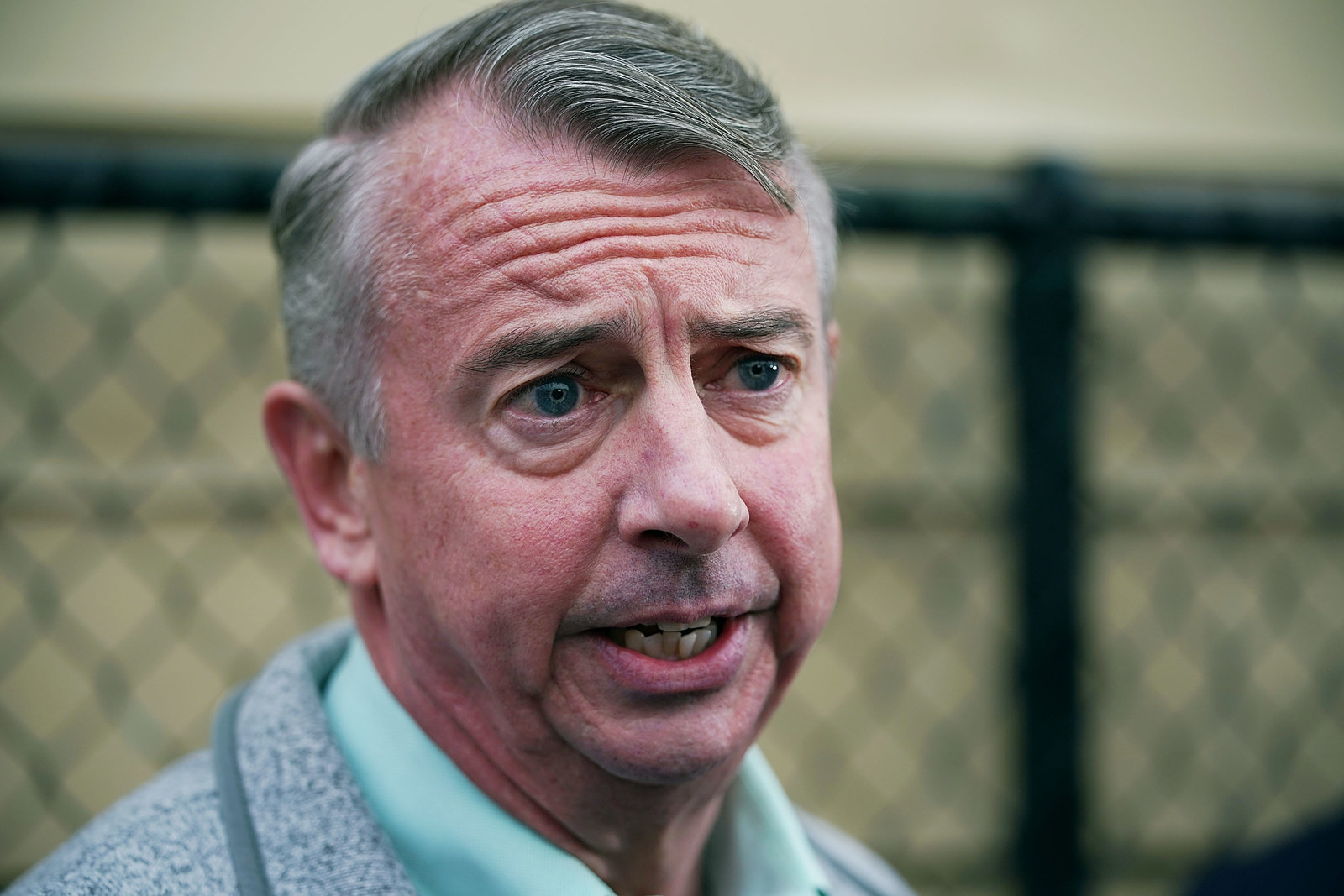 Gillespie and allies emphasized MS-13 (which is predominately a Latin gang, prompting accusations of racism), painted Northam as weak on the gang, and made a campaign issue of sanctuary cities (which Virginia does not have).
A Democratic group supporting Northam called Latino Victory Fund ran an ad that depicted a pickup truck with a Confederate flag on the back chasing minority children through the streets, capped off with a shot of the Charlottesville rally, asking if Donald Trump and Gillespie meant something like this when they wanted America to be great again.
Basically:
The nastiness continued through election day, with both the ACLU and the NAACP announcing reports of fraudulent calls telling people their polling places had changed.
Also on Tuesday, voters also went to the polls in several other states.
In New Jersey, Democrat Phil Murphy defeated Republican Kim Guadagno to become the state's next governor. Murphy will replace Gov. Chris Christie, a prominent Republican who supported Trump during last year's election.

In New York City, voters elected incumbent Bill de Blasio, a Democrat, to another term as mayor. He defeated Republican Nicole Malliotakis.

In Utah, voters overwhelmingly elected John Curtis, a Republican and the mayor of Provo, to fill Jason Chaffetz's seat in the US House of Representatives.
In Boston, voters elected incumbent Mayor Marty Walsh to a second term. Walsh defeated City Councilor Tito Jackson.