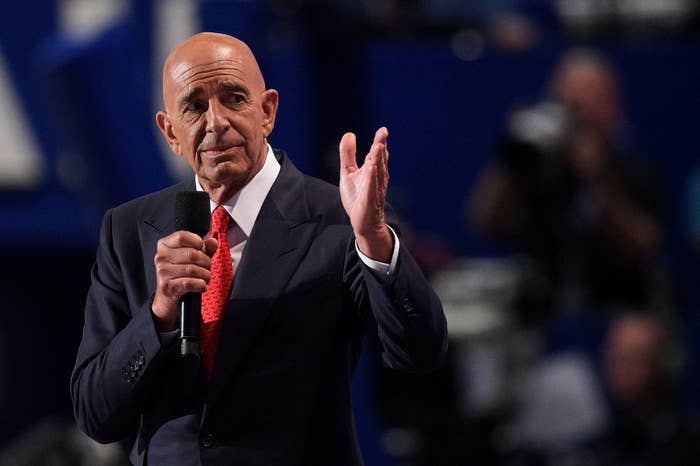 Top inauguration planner Tom Barrack told pool reporters on Tuesday that the event planners are focused on avoiding "a circus-like celebration" when the new president is sworn in next week.
Pool: Talking about actors... How concerned are you that you have enough performers, people to do readings, songs, all of that? Are you satisfied that you have what you need to fill the day, as it were? A typical inauguration day?

Barrack: Overwhelmed. We're fortunate in that we have the greatest celebrity in the world, which is the president-elect; side by side is the current president. ... So what we've done instead of trying to surround him with what people consider A-listers is we are going to surround him with the soft sensuality of the place. It's a much more poetic cadence than having a circus-like celebration that's a coronation. That's the way this president-elect wanted it. I think it will be contributive. It will be beautiful. The cadence of it is going to be "let me get back to work."

Pool: Tell us what he has told you he wants? What are some specific [things] he wants to be part of the day?

Barrack: He really wanted it to be about the people, not about him. So his instructions to me — by the way, which is the worst job in America; he gave the best job in America to all the bright people, he gave the party to me —was to figure out how to relate 200 years of history ... and couple hundred billion dollars in investments in a moment where we have to build bridges. He knows what his constituency is and he knows you need to reach out to constituencies who have questions, who have doubts. His instruction to me was the campaign is over, I am now president for all the people. I want you to build a bridge and tie them back in. I want to heal the wounds and I want to get back to work on Saturday morning.

Pool: Any new traditions?

Barrack: It's a delicate balance between abiding by tradition and the president-elect ... having his own fingerprint on a fresh canvas. Mostly he's abiding by tradition especially in the swearing-in ceremony. In the moment, when you look up that west Capitol entrance and that shift of power, in a moment goes from a very strong powerful man of one party to another very strong powerful man of another — that cadence and tradition of America allowing the power to change like that, it's sacred. So he's kept that pretty much the way it is.
Barrack also told reporters that the Trumps and the Obamas would meet for coffee the morning of the inauguration, and that the families will ride together to the Capitol.