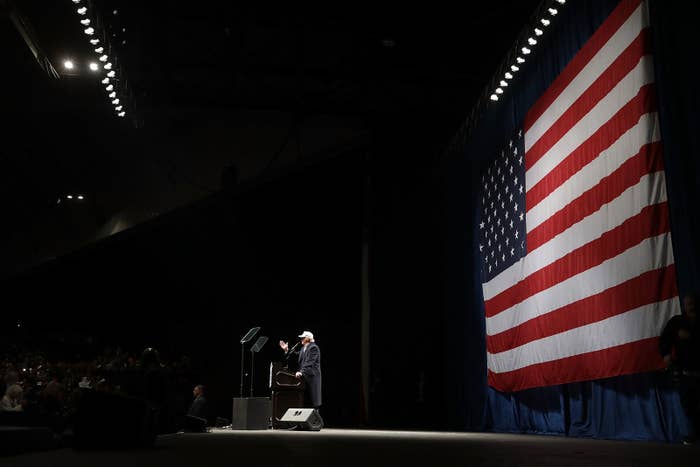 It's real: Donald Trump will be the next president of the United States.

The Republican nominee defeated Hillary Clinton, a stunning victory that concludes a stunning two years in American history.
"I will be president for all Americans," Trump said at his victory speech in Manhattan after saying Clinton conceded. He vowed to "unify our great country."
"Working together, we will begin the urgent task of rebuilding our nation and renewing the American dream," he said. "The forgotten men and women will be forgotten no longer."
Trump will enter office after he pulled the country into one of the darkest and most fraught elections in decades, one that brought forth deep schisms within both parties, and one that he ultimately dominated with his personality, words, and actions.
Underneath the Trump show, the election centered on massive economic and demographic changes taking place that seem destined to alter US politics. But for now, there are still many, many white voters — and they have delivered the presidency to Trump.
What happens next is unclear. Much of the political and national security establishment opposed Trump, and Washington Democrats in recent days have said they do not have a plan for a Trump presidency.
Few, if any, expected Trump to capture the Republican nomination last summer when he entered the race. His running for president was seen more as finally making good on a long-held dare: Since the late 1980s, the New York real estate developer had teased a presidential bid.
In 2015, he launched one, and with the aid of a pliant cable television apparatus, articulated the clearest platform in the party: stricter immigration policies, less trade, law and order, no cuts to entitlement programs, and a shift away from social issues. Those positions offered a sharp, populist contrast with many in the Republican field, as well as conservative orthodoxy in recent decades.
And from the very beginning, Trump offered another contrast: his willingness to cross any rhetorical line, including making racist and derogatory comments about Mexicans, Muslims, and others. At times, he could be shocking but in an entertaining way — for instance, he gave out Senator Lindsey Graham's phone number on live television to prove the point that only now did his opponents reject him — but his dark, anti-immigrant, conspiratorial overtones eclipsed all else at various points.
He said he would ban Muslim immigration and attacked the Muslim parents of a fallen soldier; he mocked a disabled reporter, accused a judge of mistreating him because the judge is Latino, and was heard more than a decade ago telling an entertainment reporter that he could grab women "by the pussy"; he threatened lawsuits, promised to loosen up the libel laws, and said soldiers would obey his commands even if they were illegal.
And still he won.
The defeat of Clinton — long expected to win this race by wide margins, despite the aura of controversy that never left her candidacy — defies expectations in recent months. It's terrain that Clinton knows personally; she lost the primary she seemed guaranteed to win in 2008 to Barack Obama. But the candidate herself cast this election's choice in existential terms, and herself as the "last thing standing" between us and the "apocalypse."
The results represent perhaps the sharpest break possible with generations of political leadership. One of the most ostensibly qualified candidates ever, and the first major party female nominee, Clinton positioned her candidacy as a counter to Trump, emphasizing shared American values and a turn against nationalism. She cast her signature policy issues — a citizenship-based immigration shift, a turn away from tough-on-crime justice policy, and new government initiatives on mental health, substance abuse, and early childhood education — as part of those values. Service, in Clinton's telling, is the highest calling.
She, however, faced difficulties throughout the election. If not for Trump, Bernie Sanders' performance in the Democratic primary might have been the year's biggest surprise. The socialist remained competitive in the race for months, stressing the importance of his "political revolution" of better trade deals and a clean break with Wall Street. Emerging activists associated with the greater Black Lives Matter movement pressed Clinton on past words and deeds on crime and black youth in the 1990s. Ethical questions about her family's foundation and investigations into her use of personal email and a private server shadowed the campaign for its duration.
And, of course, Trump dominated the proceedings, as well. For all the candidate's flaws advantageous to Clinton, few candidates in history have gone as aggressively against an opponent as Trump. He referred to her as "crooked," said she ran a criminal enterprise while secretary of state, questioned her health, and called her a liar. His rallies became known for the "Lock her up!" chant that, at one point, Gov. Chris Christie led the Republican National Convention audience in shouting.
Cast by an activist left as too hawkish and too corporate, and derided by the right as a corrupt leftist, Clinton never quite emerged with one comprehensive message. And her coalition — led by college-educated whites and people of color, especially Latinos and Asians — likely represents the demographic future of the Democratic Party, and could portend a realignment in the electoral map, as states like Georgia and Arizona finally become battlegrounds. But not yet.
Instead, the white voters who have formed the core of the Republican Party's support in recent decades voted again for the party's candidate, despite the enormous tensions within the party over Trump. Conservative intellectuals balked at his rejection of free-market constitutionalism. Many despised his treatment of minorities and women, especially Latino Republicans and the college-educated white women who voted for Mitt Romney in 2012.
In Trump's wake, a new white nationalist movement, the alt-right, flourished. Though narrow and mostly online, the loosely organized alt-right achieved notoriety during the campaign for their targeted use of graphic anti-Semitic and racist slurs and memes, directed especially at those who opposed Trump or championed perceived political correctness. Trump never condemned — or even commented on — the development.
His rejection of free trade and promises to steer the country toward a less interventionist foreign policy, too, reflect vast shifts in Republican dogma — and could ultimately change the country's direction for decades to come, if actually implemented.
These are the questions that Republicans, and now the rest of the country, will deal with.
In the interim, though, Trump's victory validates his base, whom Trump described in his nomination speech as the "neglected, ignored, and abandoned," "the forgotten men and women of our country, people who work hard but no longer have a voice."
"I am," he said, "your voice."