Loretta Sanchez Apologizes For Whooping "War Cry" Imitation Of Native Americans
The California Democrat, who is currently running for Senate, used the gesture to jokingly distinguish between Indian Americans and Native Americans, in a meeting with Indian Americans.
buzzfeed-video1.s3.amazonaws.com
Video of the event was shared by Uduak-Joe Ntuk with KCRA, a local TV station. Sanchez is running for the Senate seat soon to be vacated by Barbara Boxer, against California Attorney General Kamala Harris, who called the gesture "shocking."
Later, when asked about this, Sanchez literally ran away from reporters: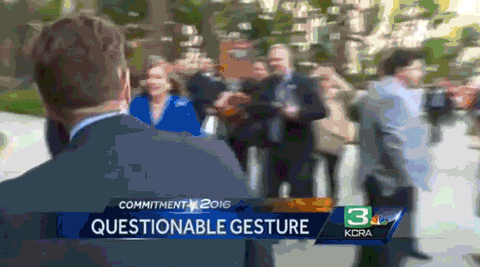 "In this crazy and exciting rush of meetings yesterday, I said something offensive, and for that I sincerely apologize," Sanchez told hundreds of delegates Sunday on the closing morning of the state Democratic Party convention in Anaheim.

Sanchez said she was proud of her record defending the rights of Native Americans.

"They know my record," she said. "They know how much I have spent, the time that I have spent with them at their tribal councils, listening to them, advocating for them. They know that I have always had their backs.

"And they know what many of you don't know -- that like so many Mexican Americans, I am proudly Native American on my mother's side."