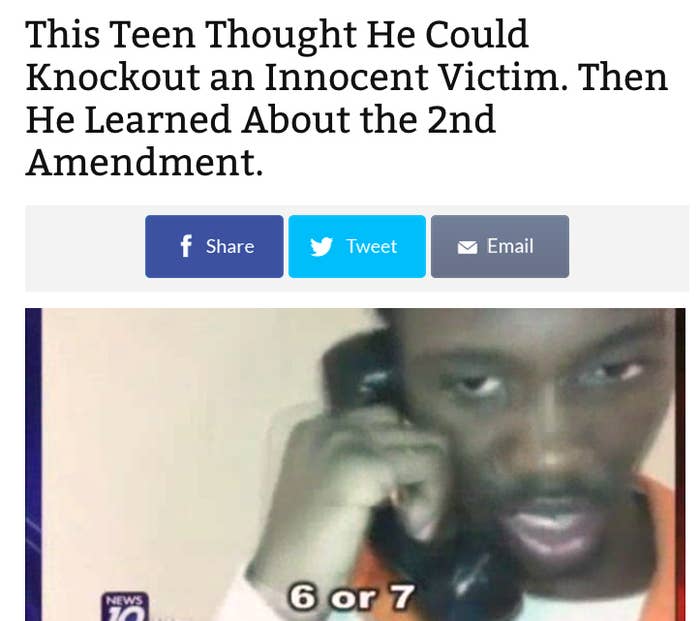 A newer conservative website, run by insiders but with an outsider appeal, has rocketed past its better-known competitors in traffic by aiming intensely at social sharing and taking advantage of a massive and accelerating shift toward Facebook as the key source of traffic to publishers.
The Independent Journal Review — which is invisible in the heated Beltway arguments among sites from the venerable National Review and Weekly Standard to the newer Breitbart, Free Beacon, and Daily Caller — appears to have outstripped all of them in traffic with a strategy that mimics its wildly successful liberal cousin, Upworthy.
Some recent headlines mirror Upworthy's play on the "curiousity gap" and its ideological appeal, like "This Teen Thought He Could Knockout an Innocent Victim. Then He Learned About the 2nd Amendment" (51,000 Facebook likes); and
"Judge Jeanine Takes Obama to the Woodshed for Lying in This Scathing Tongue-Lashing" (26,000 likes). Others are more straightforwardly heartwarming: "These Lovable Therapy Dogs at Walter Reed Make Life Just a Bit Better for Wounded Vets" (14,000 likes). (The existence of the "knockout game" is a matter of debate.)
It's the kind of publishing strategy that — paired with Facebook's recent decision to drive more traffic to publishers — has put Upworthy, according to the very roughly reliable traffic measurement service Quantcast, into the top tier of American publishers by traffic. (Quantcast generally undercounts traffic somewhat — a site's internal traffic numbers are usually higher.) IJR's Quantcast profile is private, but the site's co-founder recently shared data suggesting it is ranked 205, above the Daily Caller, The Weekly Standard, and Breitbart, and trailing only Glenn Beck's The Blaze — despite never having gotten a link from the key source of conservative traffic, the Drudge Report.
And while the site is unknown among the Washington, D.C., conservatives who dominate the movement media, it is a Beltway product, owned by a company founded by two well-connected Republican political consultants, former Tim Pawlenty adviser Phil Musser and Alex Skatell, a former staffer for the National Republican Senatorial Committee.
Like Upworthy, the site is focused on framing, not reporting.
"We don't have a traditional masthead model," said Musser, a co-founder of Media Group of America. "We're looking for relevant, timely, and quality content to serve our audience."
MGA's other operation is IMGE, a digital media consultancy that does work on behalf of corporate and political clients, including Republican Sen. Tim Scott and the Liberal Party of Australia.
IJReview.com is operated by Editor-in-Chief Bert Atkinson and a team of fewer than 10, who operate independently from the consulting business, according to Skatell. The site, which relies on pre-roll advertisements on automatically playing videos and large display ads, is "solidly profitable," he said.
While the site has begun to, in Musser's words, "seep into the edges of the conservative ecosystem as a place for news," pulling down Rush Limbaugh and Mark Levin radio hits and the replay of a well-trafficked video on Sean Hannity's, the source is social.
Helping power the site's numbers: an email list of almost one million, and the Facebook page Conservative Daily. That page stands at 3.2 million likes. (The founders declined to discuss in detail their growth strategy, but said they had paid to advertise on Facebook.) Three huge buttons for Facebook, Twitter, and email scroll with visitors.
Reading the site's coverage, one other thing is also absent: Much of an apparent editorial stake in the intraparty struggles over issues like immigration or national security that properties like Breitbart, RedState, and The Weekly Standard engage in. IJReview.com is just conservative news, political or cultural, distilled down and reframed.
The result is an audience largely outside of D.C., and broader in its interests than average consumers of political news.
"We're presenting stories for every American to see in a way they're more likely to click and share," Skatell said. "This helps because people who don't care as much about politics can still stay informed through engaged friends."