New Jersey Democrat Robert Menendez Indicted On Corruption Charges
Sen. Robert Menendez has been the subject of a federal investigation stemming from his relationship with a campaign donor.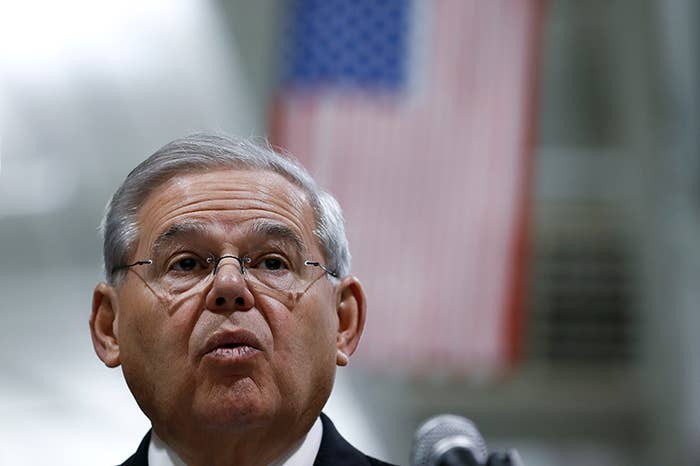 The Justice Department has indicted New Jersey Sen. Robert Menendez on federal corruption charges.
Menendez, a Democrat, has been charged with eight counts of bribery, three counts of honest services fraud, one count of conspiracy, one count of violating the Travel Act, and one count of making a false statement.
The investigation into Menendez concerned his relationship with a South Florida ophthalmologist and campaign donor, Salomon Melgen. Melgen was also indicted.
Federal prosecutors allege Menendez helped Melgen procure visas for three foreign girlfriends and went to significant lengths to help Melgen with an investigation into his medical practice's billing practices, including trying to arrange meetings with officials as high as Secretary Kathleen Sebelius.
On Wednesday evening, Menendez was defiant, vowing not to leave his Senate seat and noting that there were people "who have a political motive to silence" him.
"I am not going anywhere," he said, at an appearance in Newark. "I'm angry and ready to fight."
Menendez took undisclosed trips aboard Melgen's personal jet to the Dominican Republic and accepted thousands in donations from the doctor, his wife, and his business through a variety of mechanisms (for instance, the Melgens gave $60,000 to the Democratic Senatorial Campaign Committee when Menendez served as chair).
The senator advocated for Melgen on multiple occasions to Medicare officials, who accused Melgen of overbilling the federal program. Menendez also encouraged federal officials to enforce a port security deal worth millions to a Dominican company owned by Melgen.
Last month, Menendez said he was "not going anywhere." Whether Menendez would vote on the nomination of Loretta Lynch, who would oversee a potential prosecution as attorney general, and how he would vote if he does so, has become a matter of speculation in recent weeks.