Pat Roberts Outspent His Challenger (And The Senate Conservatives Fund) By A Lot On TV
Roberts has spent nearly $1.3 million vs. $769,875 to fend off a Tea Party challenge.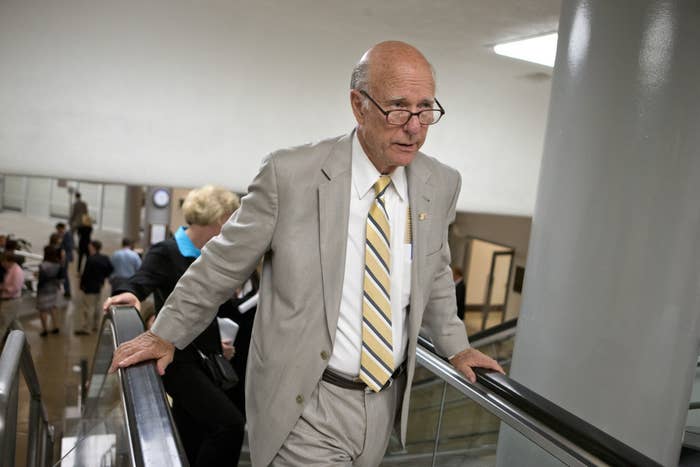 Sen. Pat Roberts hasn't debated his primary opponent, but he has outspent him on TV by a large margin: The Republican senator's campaign has spent nearly $1.3 million on ads this year, according to a source tracking the race.
His challenger, radiologist and distant Obama cousin Milton Wolf, has spent $403,445 on ads; the Senate Conservatives Action Fund has chipped in $366,430 in ads to his bid to unseat the 78-year-old incumbent. Despite Roberts' very conservative record in the Senate, SCF made his seat one of the group's priority races late last year.
All told, pro-Roberts ad spending outruns pro-Wolf ads $1.4 million to $794,338. (Roberts has also benefited from $126,529 in spending by the American Hospital Association, and Wolf from a few other smaller buys by tea party groups.)
Roberts is generally expected to win Tuesday night, but the race has been relatively close and there have been surprises this year, most notably former House Majority Leader Eric Cantor's defeat.
The race is also perhaps less than ideal: Roberts basically doesn't live in the state, and Wolf has had some strange episodes — he once posted the x-rays of gunshot-victim patients on Facebook, and said of Obama in 2012, "Some people say he's a Kenyan, and I don't know."