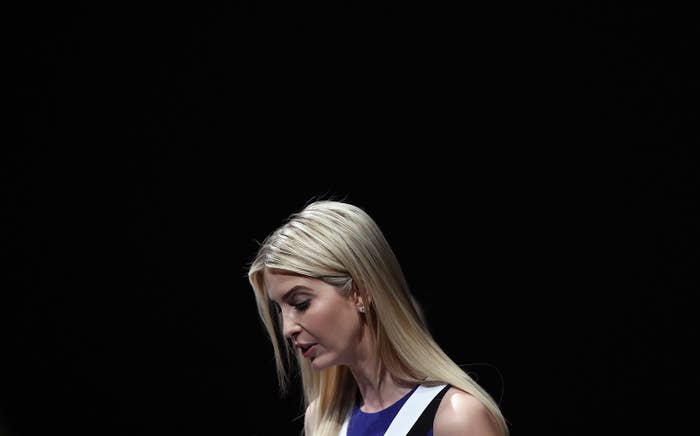 Ivanka Trump's new book, Women Who Work, reads like an alien who speaks only French wrote it with Google Translate.

"We enjoyed riffing on our core values," Ivanka writes in a section on personal mission statements. "We're training for marathons and learning to code," she offers randomly in middle of a paragraph about aspirations. She references the "modern, self-purchasing woman" and describes the act of "cultivating authenticity." One chapter instructs you to ask a dozen friends to write a "narrative about a time when you were at your best." Because Ivanka has a literal brand that sells material objects, rather than an existential ("my brand") brand, Women Who Work also produces surrealist exercises like, "At Ivanka Trump, my team and I are striving to create the lives we want to live." (At Katherine Miller, we are, too.)
If you accept that this is not a good book — it does not adequately achieve its stated purpose of advising women on how to navigate their careers — then there's actually something of worth to be found here, even something revealing. Women Who Work offers a portrait of Ivanka Trump.
That portrait emerges only against the text, though. Women Who Work repeats certain words over and over again in different pairings until they blur together: define, redefine, prioritize, architect (used repeatedly and bizarrely as a verb), essential, crucial, cultivate, connect, connections, authentic, authentically, organically, multidimensional (as in the multidimensional life that you, a woman who works, live) — but all must be in service of your passions.
Nothing defines the modern, self-purchasing woman like her passions.
"Hire for passion," Ivanka writes. "You can teach anyone to do virtually anything. You cannot teach passion."
"We're pursuing our passions and unabashedly making them priorities," she writes. Passion is "what you bring to the party." You must "devote yourself to your passions." You must "prioritize them" — that is, your passions — "to architect a life you will love." There's no "final destination," because "living a life according to my passions is really about the journey."
"Passion to me, and to many of the women I know, is our purpose, our reason for being. It's what infuses our lives with meaning," Ivanka writes. "Passion is what makes us feel most alive."
This goes on for pages and pages, and though nothing lingers quite like the haunting dullness of "Passion is what makes us feel most alive," the book repeatedly puts forth passion as absolute directive, a spur, without ever describing what that means in practice. This is ridiculous, obviously, to care this much about one word in a book meant as branding exercise. But still: Women Who Work decouples the concept of passion from any specific activity (the subject of Ivanka's is never quite clear) or any emotional experience (there are no feelings of doubt to be found here). It's an affectless passion. Imagine a group of 35-year-old women staring toward the horizon and repeating, without inflection: Passion is what makes us feel most alive. Passion is what makes us feel most alive.
The longer you read Women Who Work, you can end up in this kind of philosophical spiral. You can begin to reconsider what you're doing with your life and why. What is passion? What does it really mean? This isn't Ivanka's fault, exactly; the word "passion" has become a synonym for interest — an activity more than a feeling.
There's a certain kind of performative feminism, feminism of the affluent, that seems preoccupied with the idea of passion as activity. This is the feminism concerned with the relative corporate positioning and affirmation of women who went to top 20 schools (rather than, like, the interests of a college-dropout mom or the first woman from a black or Latino family to go to a state college). Passion then becomes something you do — like open a bakery or a lifestyle consultancy group after 10 lucrative but crushing years in banking — or it's self-care as a luxury item or maybe it's just a positive way of branding "intensity." We're talking the passion of a Nike Instagram ad (running through blue-gray city streets in neon orange sneakers, the word HEART appearing, set to a synth-bass line if you accidentally click the volume).
This all sets aside the idea of passion as intellectual suffering. The archaic definition of the word actually concerns the agony of martyrs (i.e., Christ's death on the cross). But even the technical modern definition entails interior violence. The word literally means "extreme, compelling emotion" — an emotion that implicitly has an "overpowering or compelling effect," something that NEEDS to be exercised, that owns you in some way, that can inspire sacrifice or despair or euphoria, something that can break you, actually. This ranges from sexual desire to the depth of emotions to a single emotion in the extreme, the personal investment that leaves you crying in some public place over the World Series. Life is difficult and complicated, and passion — an uncontrollable emotional vector — can be realized, or unfulfilled, or eternally fluid between the two, at the mercy of events beyond our rational selves.
To link any significant part of your life with a true abiding passion, then, is to risk fracturing the whole.
Which isn't to say Ivanka is devoid of passion. Weirdly, her book does offer — through a handful of details and a mental exercise in subtraction — a portrait. Again, the whole thing basically reads like the French alien wrote it, so anything that doesn't read that way stands out, creating a sharp silhouette.
She really likes running, for one thing: She loves training for races, loves intense hikes. Jared and she literally sort out loose ends while going on a weekly, scheduled run together (no music). Running actually sounds like her only hobby; the most detailed section of the book concerns complex hotel deals that Ivanka oversaw, as she attempted to shift the direction of the Trump Organization into a brand with real hotels. She mentions in passing that she micromanages Instagram crops. She routinely sends email at 11 p.m., and repeatedly and offhandedly describes the kind of ordered schedule that an intense person might favor. "Unlike Elizabeth," she writes of an example of a woman's cherished routine, "I've never really loved bath time, but it falls within our evening routine, so I try to make it special for the kids." (This produces the mental image of a glum Ivanka Trump willing herself to enjoy bath time.)
The subject of her kids, actually, produces this rare note of discord:
Becoming comfortable authentically expressing myself as a female executive with kids was a bit of a journey for me. So many of the women in my life — like my three sisters-in-law, whom I adore (two are stay-at-home moms, the other works outside the home) — had been so unabashed and transparent in embracing their new roles after having children, and yet I was rather guarded. Part of it was a preference for privacy, but another part was grappling with whether being a young female executive with a baby would undermine my authority in the eyes of my colleagues and peers in a very male-dominated industry. I didn't share a single picture of Arabella publicly until after her first birthday, at which point the paparazzi snapped a photo of us at an airport. I didn't want the first photo of my daughter to be sold to the press, so I posted an image myself on one of my social media accounts; after that, I began posting photos of our family more frequently. I wasn't expecting the overwhelming number of comments I received in response to these candid family snaps. So many people expressed surprise and relief that I was comfortable revealing a more private side of myself… "So amazing! You're not wearing makeup. I'm used to seeing you on The Apprentice…" [...] Knowing my family is in the spotlight, I decided I was going to embrace it.
Whether you buy her reasoning here or not, this needless admission of doubt in a cheerful book suggests that Ivanka is actually quite private. In these details, Ivanka emerges highly compartmentalized, driven, disciplined, guarded, family-oriented, obsessed with extending the business, obsessed with the details of selling that brand, perhaps disinterested in culture, perhaps unfamiliar with the messiness that accompanies the common feeling of not knowing what you want to do with your life, someone who likes the rigor of training for marathons and the structure of observing the Jewish sabbath. "Sometimes" she likes turning on Real Housewives and "eating a giant bowl of pasta with a glass of wine" — but, if Ivanka Trump is honest with herself, "it's kind of counterproductive." You can have a passion for feeling a certain way, and perhaps hers is for being in control.
But the company and brand and the negotiated privacy they offered will never be exactly what they were a few years ago. So if she does love that feeling of control — if that's even close to correct — then these days, Ivanka's experiencing a distinct kind of agony.