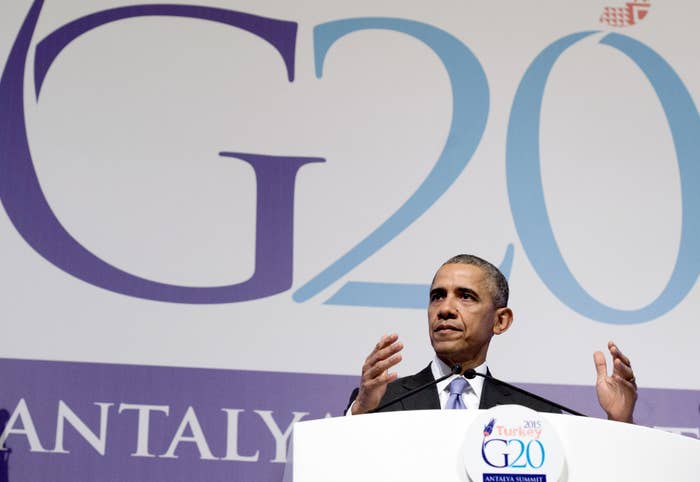 Toward the end of his press conference on Monday, President Obama became animated, sharply criticizing the idea that the United States should no longer accept refugees from Syria, or only accept Christians, as some including Ted Cruz have suggested.
"When I hear folks say that, well, maybe we should just admit the Christians, but not the Muslims," Obama said, "when I hear political leaders suggesting that there would be a religious test for which person who's fleeing from a war-torn country is admitted, when some of those folks themselves come from families who benefited from protection when they were fleeing political persecution, that's shameful."
"That's not American," he continued. "That's not who we are. we don't have religious tests to our compassion."
Earlier this year, as refugees flooded into Europe, the Obama administration pledged to accept 10,000 refugees in 2016. The administration so far has accepted just under 2,000 — the U.S. security vetting for refugees is significantly more involved than that of many European countries.

In recent days, a number of lawmakers have called on the Obama administration to halt those plans, citing security concerns following the Paris attacks. At least one of the attackers was found with a Syrian passport; his fingerprints matched those of someone who passed through Greece earlier this year.
On Sunday, Jeb Bush said that given the level of persecution against Syrian Christians, the United States should focus on bringing them into the country. "I think we need to do thorough screening and take in a limited number," Bush said on CNN's State of the Union on Sunday. "There are a lot of Christians in Syria that have no place now. They'll be either executed or imprisoned, either by Assad or by ISIS. We should focus our efforts as it relates to the refugees for the Christians that are being slaughtered."
Cruz, who has argued that the United States cannot take the security risk of accepting refugees all fall, told reporters on Sunday that Christians do not pose a "meaningful risk" to security.
"There is no meaningful risk of Christians committing acts of terror," Cruz told reporters, according to the Washington Post. "If there were a group of radical Christians pledging to murder anyone who had a different religious view than they, we would have a different national security situation."
Obama went on to talk about Pope Francis's calls to protect people of all faiths.

"The people who are fleeing Syria are the most harmed by terrorism, they are the most vulnerable," Obama said. "They are the most vulnerable as a consequence of civil war and strife. They are parents. They are children. They are orphans."