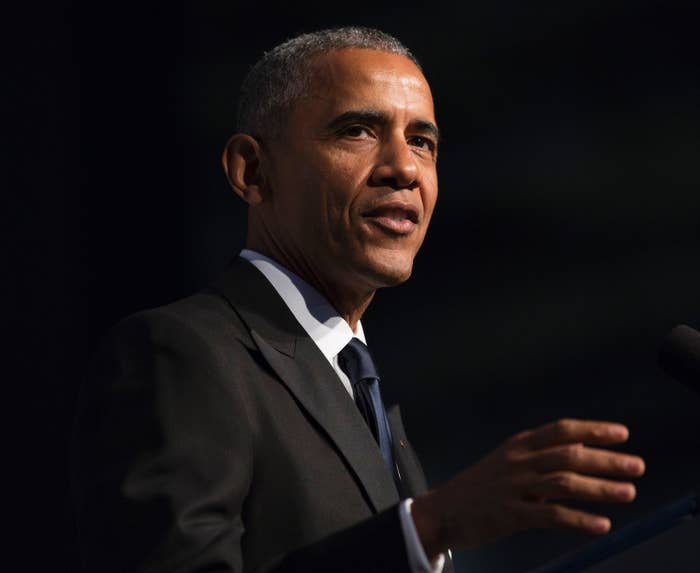 "Now, there's an extra spring in my step," President Obama opened his remarks to the annual Congressional Black Caucus Foundation dinner.
"I don't know about you guys, but I am so relieved that the birther thing is over."
"I mean, [ISIS], North Korea, poverty, climate change — none of those things weighed on my mind like the validity of my birth certificate," he said, before joking that with months left before the end of his presidency, it would be a "boost."
The remark was Obama's second joke in two days about Donald Trump's self-congratulatory announcement on Friday that he finally accepted that the president was born in the United States, an announcement in which he offered no apology and took credit for the conspiracy theory he propagated for years.
Though Obama did not specifically address Trump by name at length, his speech to the CBC dinner on Saturday night ultimately turned into both a defense of his record as president and an intense pitch to voters on behalf of Hillary Clinton.
"You may have heard Hillary's opponent say there's never been a worse time to be a black person," Obama said. "I mean, he missed that whole civics lesson about slavery and Jim Crow, but we've got a museum for him to visit."
(Trump has often said that black Americans "have nothing to lose" by voting for him, because, he says, they live in poverty, and that the Obama economy and Democratic control have been bad for black Americans.)
Framing his legacy as president as one step toward improved health care, criminal justice, and a better economy, Obama said it would be a "personal insult" and "an insult to my legacy" if black voters did not turn out in November, describing the history of voting rights and a series of comments about what is on the ballot even if his name is not.
"My name may not be on the ballot, but our progress is on the ballot," Obama said, voice rising. "Tolerance is on the ballot. Democracy is on the ballot. Justice is on the ballot. Good schools are on the ballot. Ending mass incarceration, that's on the ballot right now!"
"And there is one candidate who will advance those things, and there is another candidate whose defining principle — the central theme of his candidacy — is opposition to all that we have done," he said. "There's no such thing as a vote that doesn't matter."

"I will consider it a personal insult — an insult to my legacy — if this community lets down its guard and fails to activate itself in this election."
"You wanna give me a good send off? Go vote!" he bellowed to cheers.
Closing his speech, Obama described visiting the soon-to-open African-American History Museum, and viewing the shackles that slaves had worn, arguing that progress is not inevitable and depends on individuals. "All those ordinary people, all those folks who aren't in a history book — they never got a video providing a tribute to them. That's why we're here. That's how progress is sustained."