Nobody's Asked For Joe Arpaio's Endorsement, Not Even Donald Trump
Trump is "a very ethical guy," says the fellow birth certificate aficionado.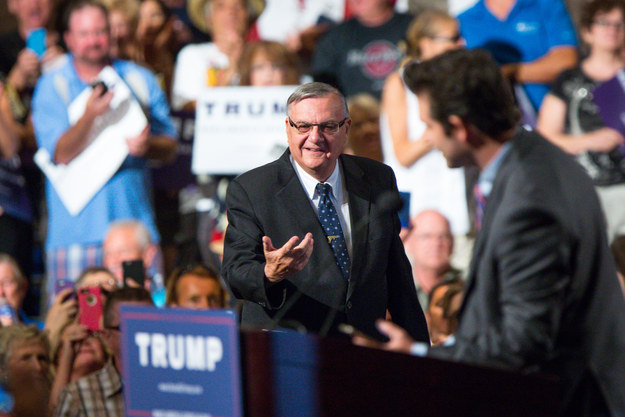 Nobody's asking Arizona Sheriff Joe Arpaio for his endorsement this time around, including the man he just introduced at an Arizona rally, Donald Trump.
"I haven't endorsed anyone for president yet," Arpaio told Aaron Klein Investigative Radio, which is broadcast in New York and Philadelphia. "Although last time around they all came either to my office or I met them in other forums wanting my endorsement."

Arpaio is known for harsh immigration enforcement — and an ongoing series of controversial statements or actions, including his 2012 investigation of President Obama's birth certificate. Earlier this month, Trump appeared with Arpaio before a speech in Phoenix on immigration.
In 2011, Arpaio endorsed Rick Perry, though a number of Republican candidates spoke or met with Arpaio — a time when Republicans were largely competing to look very tough on immigration enforcement.
"Nobody has asked me yet for an endorsement. Maybe I'm too hot. But they haven't asked me," he told Klein.
"Donald Trump did not ask me when I introduced him here in Arizona and had some conversations with him on the phone," Arpaio continued. "He's a very ethical guy. He hasn't asked me. But I agree with some of the programs, ideas he has on how to stop the illegal immigration problem."