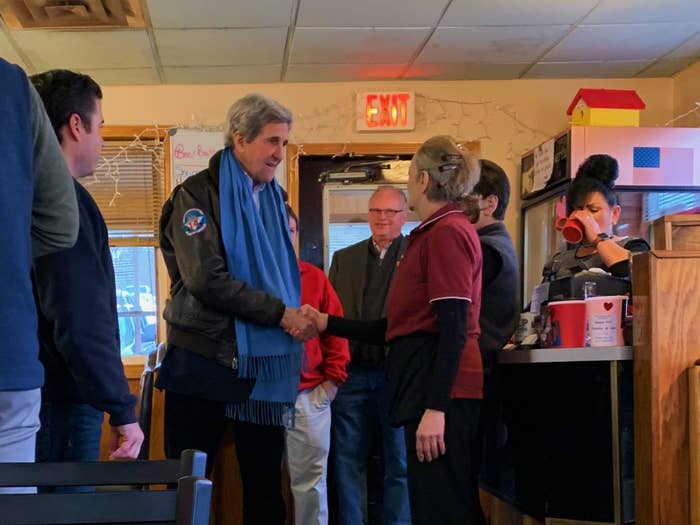 MAQUOKETA, Iowa — The scene John Kerry entered on Thursday was a nice one, inside a warm diner, right during that calming hour between lunch and dinner. Older couples sat in booths catching up and laughing quietly, under pink paper hearts for Valentine's. Spoons clinked against coffee mugs. Snow fell outside. Day faded into evening.
"Mr. Johnny!" said the owner, and there was Kerry — in a leather jacket and baby blue cashmere scarf — greeting and asking questions of the waitstaff. He and Valerie Biden Owens, the candidate's sister and adviser, met up there in Maquoketa, three hours east of Des Moines and three hours west of Chicago, to visit a pleasant room with precinct captains already prepared for Monday's caucus. He, in fact, had been there before.
Biden Owens introduced Kerry, numero uno on the list of Joe Biden supporters traveling Iowa in service of the candidate, as the quintessential statesman and Irishman, embodying the Irish "passion and principle, faith and fortitude, courage and commitment."
"Valerie, thank you, wow," said Kerry, "I accept the nomination."
Tanned and blue blazered, he talked a little about world affairs (he'd just been to Germany to present Angela Merkel with the Kissinger award) and impeachment ("Anyone want Alan Dershowitz to be their lawyer? My god."). But Kerry, far more than most high-profile supporters of any campaign, offered tactical advice, attentive to the details of the actual contest at hand. Kerry was game to do a quiet service to the campaign without affectation. How would these precinct captains convince supporters of a failed candidate that their "home" was with Biden?
His was the three-pronged argument: a) Biden's electability (addressed to supporters of candidates who "make appealing arguments that everything's free in life"), b) Biden's experience (addressed to supporters of candidates without "a little life under" their feet), c) Biden's experience in international relations (addressed, implicitly, to all of them). But like any Biden event you attend, even a quieter one like this, the emphasis is eternal:

"Joe Biden can win," Kerry said. "He can win."
Kerry ticked off states the other candidates couldn't win (they couldn't even go), and general election poll numbers of which they could only dream. Biden's own decency hasn't been questioned.
"Joe Biden and Barack Obama: not a whiff of scandal in all eight years," he said. "The only reason — remember how they threw, how they tried to distort my military record? They did distort my military record! And they threw the swift boat stuff at me? That's what's happening to Joe now.
"They're swiftboating him," Kerry said. "It's exactly what's going on. There's no foundation."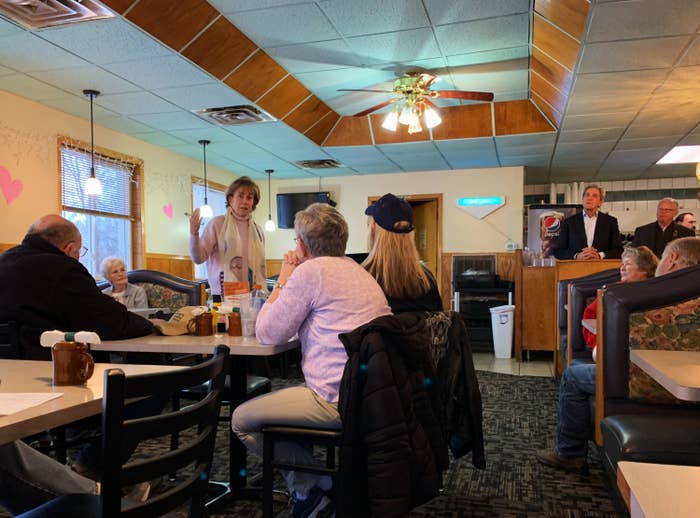 Kerry wanted everyone to apply their "practical common sense" to the situation. "If we go back to a 1972 that I remember well when George McGovern was our nominee — I loved him, wonderful human being — we lost 49 states."
McGovern's defeat, Jimmy Carter's ascent, and Carter's decline established the political universe that Democrats like Kerry and Biden, young liberals in a world dominated by Reagan Republicanism, came up in. After McGovern lost, politics got much more conservative. It was a generational defeat.
And it isn't a wild concern, exactly, but hearing this particular person make it can cause the mind to drift. Biden Owens, the woman who ran her brother's campaigns, alluded to the unspoken situation, herself, reminding the room of "what you were able to do for him in 2004 when you were pushing him over the finish line here in Iowa to allow him to represent us."
Kerry, of course, lost too.
He won Iowa, in part because of his own electability, then he lost the 2004 election.
The Biden campaign heralded Kerry's endorsement. And if Sanders puts on arena shows with Bon Iver and Vampire Weekend, the Biden campaign has sent young politicians, on the cusp of becoming national stars, like Atlanta mayor Keisha Lance Bottoms and Iowa's Abby Finkenauer for the final case that Biden's the one. But Biden's press releases mention John Kerry first. Their list also includes people like Chris Dodd, a former senator. They've all known each for other decades, from running for president to sitting in the Senate.
They're here to make the case that Biden, and Biden alone, can win.