Joe Biden Announces He Is Not Running For President
The vice president announced the news at the White House on Wednesday.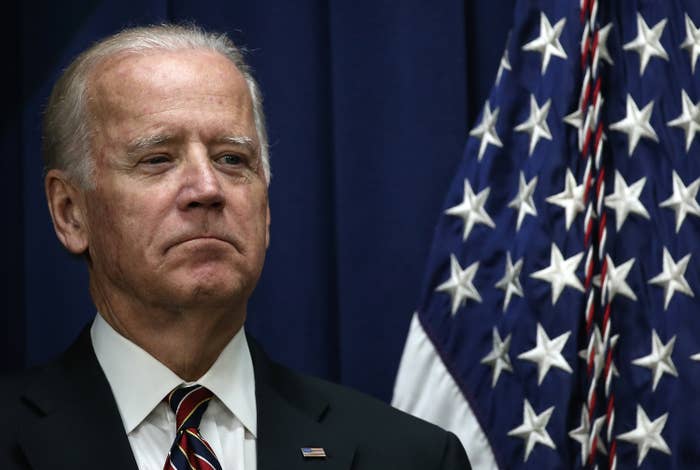 After months of speculation, Vice President Joe Biden announced he will not run for president.
Biden announced the news from the White House Rose Garden. He said on Wednesday that, as he had said before, that he knew the grieving process over the death of his son might continue past the point that he could realistically launch a bid for the presidency.
"I've said all along what I've said time and again to others: that it may very well be that that process, by the time we get through it, closes the window on mounting a realistic campaign for president," Biden said.
"I've concluded it has closed."
Biden's elder son, Beau, died from brain cancer earlier this year. Widely mourned, Beau Biden had served in the military, as Delaware's attorney general, and was the father to two young children.
Months after his son's death earlier this year, increased speculation about a late Biden entrance into the presidential field began, particularly as Hillary Clinton faced continued questions over her email protocol as secretary of state and particularly driven by the media. In the process, Biden passed reported deadline after reported deadline for a decision — first it was to be the end of the summer, then the end of September, then before the first Democratic debate, then, aides suggested, perhaps not until Christmas.

And now it's decided.
"While I will not be a candidate, I will not be silent," Biden said on Wednesday, before outlining his belief in President Obama's legacy, emphasizing the middle class, child care, and a more limited foreign policy.
"We have to accept the fact that we can't solve all the world's problems — we can't solve many of them alone," he said. "The argument that we just have to do something when bad people do bad things isn't good enough; it's not a good enough reason for American intervention."

Clinton is often seen as more hawkish than Biden — and Biden did not seem unaware of Clinton in his remarks, once again implicitly criticizing her answer in the Democratic debate last week that Republicans were her political enemy. He called the idea that Republicans would be the enemy "naive."
In a statement released after Biden's announcement, Clinton praised the vice president as a "good man."
"Like millions of others, I admire his devotion to family, his grace in grief, his grit and determination on behalf of the middle class, and his unyielding faith in America's promise," Clinton said.
Biden also spoke at length about taking a "moon shot" to find and develop a cure for cancer, and concluded his remarks by telling the assembled: "We can do so much more."
Biden had run twice before — in 1988 and in 2008 — to little success. Instead, Biden served out six full terms as a senator before becoming vice president.

A late entrance would have posed significant challenges for Biden: Clinton and Bernie Sanders have already raised millions, employed hundreds of Democratic operatives, and spent months campaigning in the early states, and especially in New Hampshire and Iowa.

The decision removes the last and likely the most serious challenge to Clinton's candidacy — although Sanders has significant support among progressives, particularly in the early states, Clinton remains popular with Democrats and a significantly more credible national candidate.