In Indiana And Nationally, Facebook Users Split On Governor As Religious Freedom Debate Rages On
What the conversation looks like about Gov. Mike Pence: Split and extremely active. There were 1 million interactions in Indiana alone.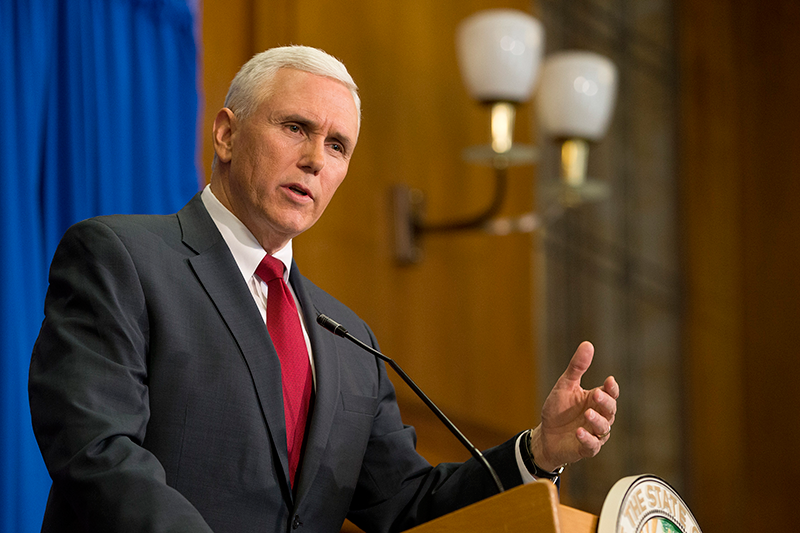 Inside and outside Indiana, the sentiment on Gov. Mike Pence is split, according to data provided to BuzzFeed News by Facebook.
The bitter debate surrounding the state's Religious Freedom Restoration Act exploded: In a seven-day period, there were 1 million interactions about Pence on Facebook in just Indiana alone.
The law prohibits the government from infringing on religious liberty unless certain standards are met. The law is similar but not identical to many of the RFRAs in other states; Indiana's includes private litigation and corporations. Critics alleged the law would open up the state to legalized LGBT discrimination; proponents argued the law codifies the legal process for conscientious objection.
On Thursday, Pence signed an amendment that prevents the law from being used as a legal defense to deny service based on sexual orientation or gender identity.
As the debate got bigger, though, the sentiment improved for Pence to about evenly split in Indiana (47% positive) and nationally (49% positive).
Nationally
You can trace the media explosion in the Facebook conversation about Pence: Between March 11 and March 17, there were 13,000 interactions about Pence. Based on data provided this year by Facebook, that's a pretty normal level of interaction for the governor.
As the RFRA debate picked up, the next seven days produced 164,000 interactions nationally.
Pence signed the Indiana RFRA into law on March 26.
Between March 25 and March 31, there were 4.86 million Pence interactions. (That's a 2,860% increase over the week prior and a 37,246% increase over that first seven-day period.) Hillary Clinton, who is expected to announce a presidential campaign any day, garnered 5.3 million interactions during the same period.
"Was I expecting this kind of backlash? Heavens no," Pence said Tuesday during a press conference.
Sentiment in posts improved to about even: Between March 18 and March 24, sentiment was 44% positive and 52% negative. Between March 25 and March 31, the number rose to 49% positive and 47% negative.
Indiana
Inside the state, meanwhile, the Facebook sentiment on Pence basically mirrors the national sentiment (though slightly more negative).
Between March 18 and March 24, there were 99,000 interactions. Facebook conversation during that period in Indiana was 42% positive and 55% negative.
The next week, there were 1 million interactions in Indiana — but the sentiment was 47% positive and 49% negative.
(The data pools are not the same: Facebook includes pages in the interaction numbers.)