If You Wanted An Epic Media Reckoning Over Trump And The GOP Primary, It Happened
Things got very rowdy at Harvard!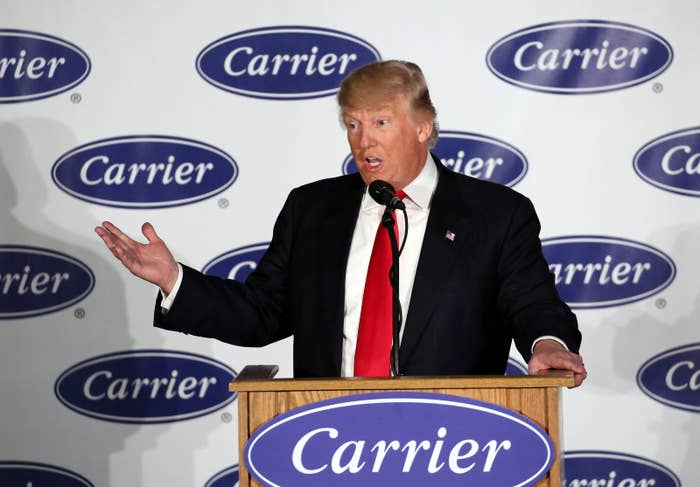 CAMBRIDGE, Massachusetts — Every four years, the Harvard Institute of Politics puts on a campaign conference for the purpose of recording history.
So we're all up here on campus, essentially in a conference room, followed by a dinner like you've been to in a hotel ballroom, and expecting something within the realm of a Harvard panel about journalism.
But then.
Moderator Sasha Issenberg Wednesday night at the Charles Hotel opened by reading off Les Moonves' infamous quote — the Donald Trump phenomenon "may not be good for America, but it's damn good for CBS" — and asking each of his panelists how Trump was for business.
First, Facebook's vice president of global communications Elliot Schrage. Then, Washington Post executive editor Marty Baron (good for traffic, "invigorating," "challenging," "trying" for reporters) and Associated Press executive editor Kathleen Carroll ("it was a challenge," though the global audience was interested).
Then, Issenberg turned and said, "So, Jeff, how good was Donald Trump for CNN?"
And then the audience actually laughed.
So that's where things started.
From there, the panel winded through everything from fake news to regrets to blacklists to how investigations were performed to how cable news covered rallies. All of it, however, especially from the dinner floor, carried through the anger — inside and outside the media, from both liberals and conservatives, from Trump fans and Clinton fans — at the media for doing this, for not doing that, for allowing this to happen. Afterward, I heard at least four people walk up to someone and go, "That was...interesting," the way you feel out how game your semi-distant cousin is for talking about a wedding toast. Basically: The media panel was lit.
And at the end — as serious as Baron and Carroll were — the core of the panel revolved around CNN, Zucker, and Trump, one of the dominating media stories of the campaign.
"We're living American history right now, we've been living American history for the last 18 months," he said. "It has been a roller-coaster experience for CNN with Trump. It's day-to-day whether he's going to go after us."
Zucker conceded as he has in recent months that the network and others aired too many Trump rallies early in the campaign, but also contended the last few months of the campaign — when "CNN sucks" became an extremely intense chant at rallies — indicated that CNN had provided both sides in its reporting and ultimately commentary. He noted that they paid contributors with campaign relationships on both sides.
But the issue of the primary coverage caused the biggest blowup.
"I would say in defense of the cable networks… This was early on, within a month, he was the frontrunner on the Republican side … and he was often making news at those rallies," Zucker said. "Did we probably take too many of them live? Yes, I think we did." (Zucker also drew laughs a number of times, joking that he'd come to the realization that they'd aired too many rallies when he spoke at Harvard the last time.)
"But I want to address something that I do know came up earlier, which is that many of the campaign managers said that they thought that it was unfair the amount of coverage and attention that Trump was getting," Zucker said. "And I would respectfully push back on the campaign managers who spoke here earlier today, because, frankly, respectfully, I think that's bullshit."
He said many of the same opportunities for interviews had been extended to other campaigns. And that's when Republican campaign advisers, including Rubio adviser Todd Harris, started heckling Zucker from the dinner floor.
"I don't remember getting invited to call in, though!" called out Carly Fiorina adviser Sarah Isgur Flores.
After some back and forth and a discussion and joke, it again came back to this issue. "My point is this: Cable news in general, and CNN in particular, should not be held responsible for the fact that Donald Trump said yes to those interviews," Zucker said.
Again the heckling started.
"It's not the interviews! This is, you know what, this is—"
"You showed empty podiums!"
"You showed hour upon hour of unfiltered, unscrutinized footage of Trump. It's not about the interviews."
Again, more back and forth. "These other candidates were asked to come on and declined."
"That's not true! That's not true!" chanted (other) people in the back corner.
Even when they opened it up for questions, a student tried to get one over on Zucker by asking about the ethics of employing operatives as commentators, given the issues the network faced with, for instance, DNC interim chair Donna Brazile providing the Clinton campaign with primary town hall questions — then, at the end of the question, announced he'd give the mic to former Trump campaign manager Corey Lewandowski.
That punchline didn't totally land, since when he handed over the mic, a grinning Lewandowski answered the question himself.