Bernie Sanders And Hillary Clinton's Mutually Beneficial Moment
Clinton and Sanders helped each other with a handshake. At the first Democratic debate, Sanders validated Clinton on the email controversy, and Clinton affirmed Sanders as an equal rival, worth debating forcefully. Both campaigns loved it.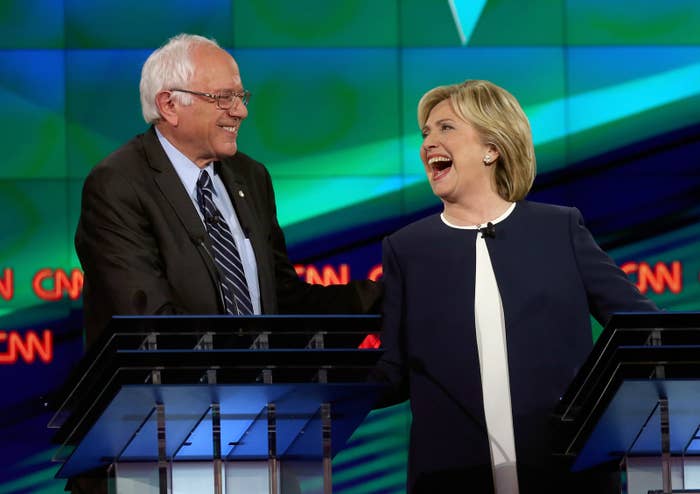 LAS VEGAS — For six months, Hillary Clinton barely said Bernie Sanders' name.
Tuesday night's debate presented a different image: The candidates, side by side, shaking hands, united in their distaste for the subject that has plagued Clinton all year, impatient to hash out substantive differences in their policies and platforms. Sanders was given an opportunity to attack the Democratic front-runner on the personal email account she used as secretary of state — and he declined.
"Let me say something that may not be great politics," Sanders said, after Anderson Cooper, moderator at the CNN debate, asked Clinton about her email account.
"But I think the secretary is right, and that is that the American people are sick and tired of hearing about your damn emails," Sanders said to applause and cheers.
Clinton nodded, laughed ("Me too! Me too!"), and, thanking Sanders, extended a hand — completing their mutually beneficial moment, which elevated him and validated her. Sanders might have said his refusal to attack Clinton on the email issue is bad politics, but on Tuesday, neither his campaign nor hers seemed to agree.
Immediately, Clinton spokespeople retweeted and tweeted statements and praise about just how right Sanders was, and what a great moment it had been.

A tweet from a Clinton spokesman:
A retweet from Clinton's communications director: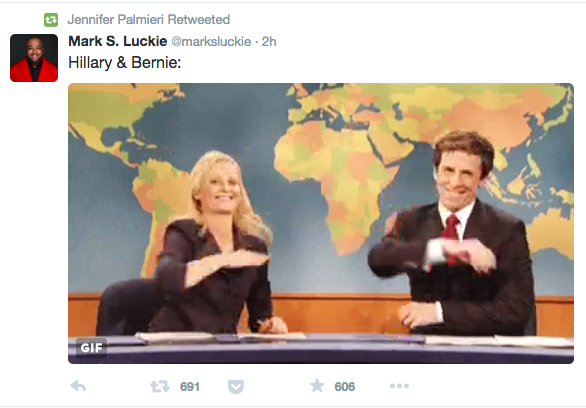 The Sanders campaign also had no regrets.
"He clearly had the best line of the night with the email line," said Jeff Weaver, the senator's campaign manager, following the debate. "There's no doubt about it." The moment wasn't planned in advance, Weaver said on CNN the next morning.
Voters, he said, don't care about "political gossip," nor do they see the election as "a soap opera" or "a baseball game."

"This is a life-and-death struggle for millions of Americans," said Weaver.
Late in the debate, the Sanders campaign even fundraised off the email moment, first with a clip of Sanders dismissing the subject, and ending with his salvo about what he believes Americans are truly interested in. Early on Wednesday morning, the Sanders campaign said it had already raised $1.3 million after the debate.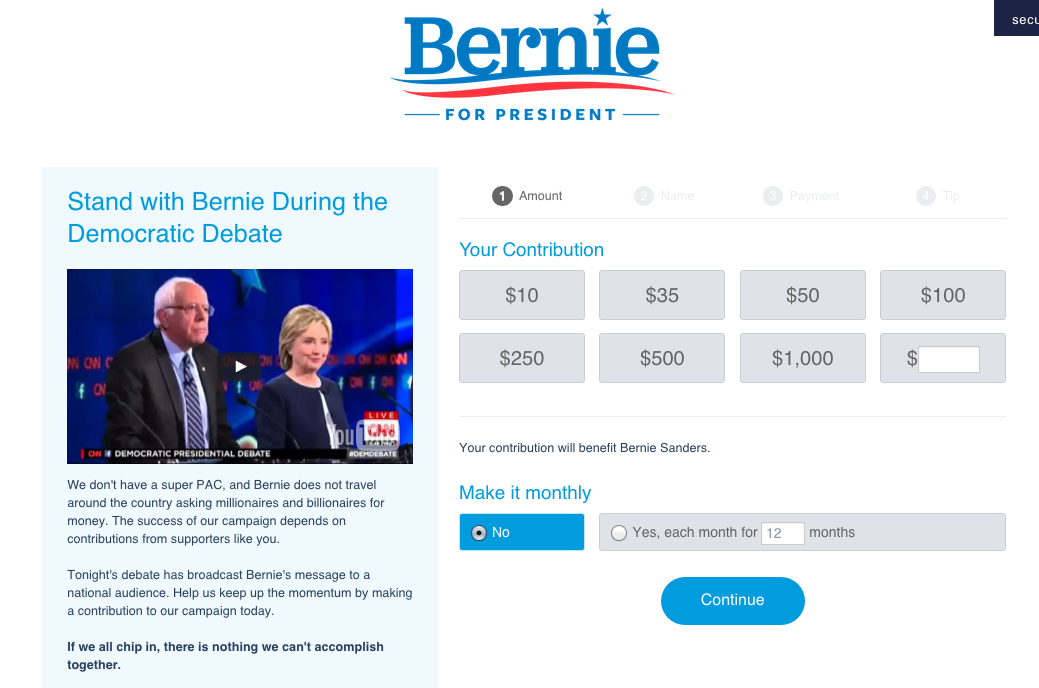 For Clinton, the affirmation — and lack of any kind of critique — from Sanders was an obvious relief for a candidate who's faced weekly and sometimes daily questions about the security and public statements surrounding her email account. And Clinton offered something in return on Tuesday, engaging directly with Sanders for the first time as an equal rival, worthy of forceful contrasts and policy critiques.
Early in the night, Clinton hit Sanders for his more moderate record on gun control, citing his vote against the Brady bill and for the so-called immunity provision. When Cooper asked if Sanders is tough enough on guns, Clinton was ready with a sharp response. "No, not at all," she said, underscoring her opposition to the immunity provision. "I was in the Senate at the same time. It wasn't that complicated to me."
Sanders leads Clinton in many early-state polls, particularly in New Hampshire.

"I think she recognizes that he's a rival," Weaver said.
Joel Benenson, Clinton's pollster, said it was "very nice and good moment for Bernie Sanders to do that" — but not the most important moment of the debate.
Clinton's exchanges with the other candidates on Tuesday were far more limited.
At one point, when Lincoln Chafee, the former governor of Rhode Island, attacked Clinton extensively, she flatly declined an offer from Cooper to respond. In other moments, Clinton debated more directly with Martin O'Malley, a candidate who has struggled to gain ground on Sanders. "You know, I have to say, I was very pleased when Gov. O'Malley endorsed me for president in 2008," Clinton said pointedly.
After the debate, speaking with reporters in the spin room, O'Malley supporters described the primary as a "three-man race." The former governor agreed with the assessment. "We had a very good night tonight, and I think for the first time a lot of people are going to be going onto my website and learning more about my candidacy," said O'Malley on his way out of the debate hall. "People across the U.S. who tuned in saw that, wow, there's more than just two candidates."
But, as was apparent on Tuesday's stage, the front-runner and her team is poised to keep the debate going with one person in particular. Clinton herself, for instance, took special note of the moment on Meet the Press last weekend when Sanders said he is "not a capitalist," according to Benenson, the campaign's pollster.
After learning about her rival's comment, Clinton dug in.
"I think her first reaction was, I want to see the whole thing," Benenson told reporters after the debate, where Clinton invoked "all the small businesses" created by capitalism. "She wanted to know exactly what he said. What did he mean? Is there something he meant other than what it sounded like?"
"I think tonight," he added, "we know it sounded like exactly what he said."