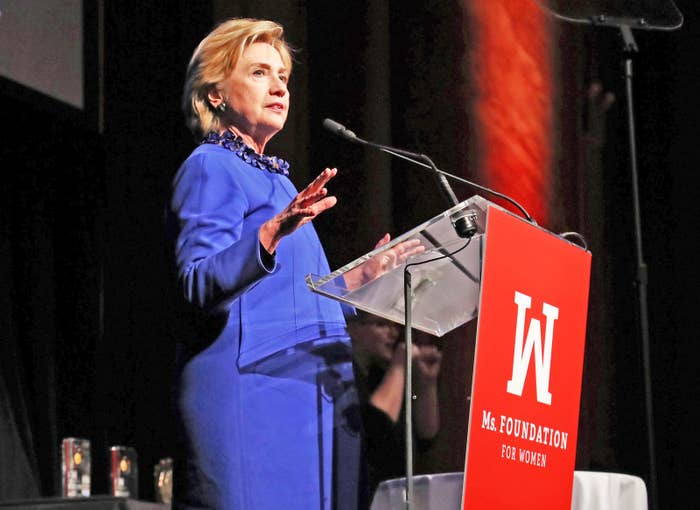 Hillary Clinton formally announced a new political group — Onward Together — on Monday, describing in a series of tweets the endeavor, her first since losing the November election.
The group, as reported by BuzzFeed News, will aim to connect established and new activist groups with one another, and to help them fundraise. The name, Onward Together, is a riff on her campaign's slogan.
On Monday, Clinton described that effort as one to "encourage people to get involved, organize, and even run for office," while tweeting the names of several groups that have led anti-Trump or grassroots Democratic efforts this year, like SwingLeft (which identifies potential districts to turn blue for would-be donors or volunteers), Run for Something, and Color of Change, which does a lot of criminal justice work.
Because the group is structured as a 501(c)4 nonprofit, it can accept unlimited contributions and is not required to disclose donors.
Organized over the last few months with former DNC chair and governor Howard Dean, the group is still in the early development stages.
The endeavor, and the idea that the Clintons will remain in politics, has already drawn a fair amount of scrutiny — each time Clinton has made an appearance this year, a relitigation of the 2016 election and a debate about what her role should be in the Democratic Party has tended to follow. (The RNC, for instance, was unimpressed on Monday afternoon, with spokesman Michael Ahrens saying, "The American people rejected Hillary Clinton six months ago because she's completely out of touch, untrustworthy, and embraced the failed policies of the past. If Democrats were smart, they'd realize it's time to move onward from Hillary Clinton altogether.")

"We're not looking to duplicate or replace the DNC or the DCCC or all that stuff," Dean told BuzzFeed News recently. "We're looking to give these folks the opportunity to do the building they're already doing on their terms, but in a more organized way, when the one hand knows what the other hand is doing."
Outside Your Bubble is a BuzzFeed News effort to bring you a diversity of thought and opinion from around the internet. If you don't see your viewpoint represented, contact the curator at bubble@buzzfeed.com. Click here for more on Outside Your Bubble.