Hillary Clinton Is Reminding Herself What A Presidential Campaign Is Like
What if this book tour is less a campaign than a test?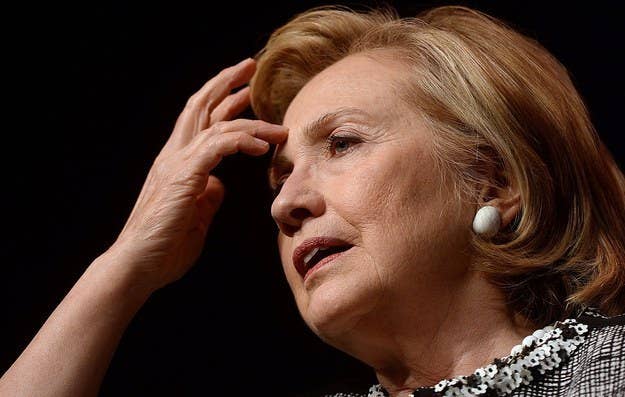 Last week, on Tuesday, Hillary Clinton did an event in Manhattan, then headed to Chicago for an event later that day.
The next morning, Rahm Emanuel interviewed her, then she flew back to New York for a luncheon Thursday and the kind of dinner (elephants!) that David Koch also attended. Philadelphia and D.C. on Friday. A Costco in Virginia on Saturday. Toronto and Boston on Monday.
She did interviews with Diane Sawyer last week (mixed, but decent performance) and NPR's Terry Gross (not a great showing). There was the People magazine interview, and the subsequent trolling over whether she held a chair or a walker on People's cover. This week, a Canadian television station. Tuesday, she literally went from a town hall at CNN — live from the neon campaign-style surreality of the CNN set — straight to a debate-style Fox News interview.
It doesn't end, either. She will blaze on all over the country to California twice, Seattle, Kansas City, Denver, and on and on, for at least another week.
This is a ludicrous schedule. It's insane, like the media version of an Iron Man race for one of the most recognizable people alive. If it weren't for Eric Cantor's surprise defeat and the hellish Iraq situation, Clinton's media saturation level would be even higher, if such a thing were even possible.
This is not a book tour. And so this speedball approach to promoting Clinton's book has been widely seen as a pre-campaign roll out, meant to workshop ideas and messages and inject Clinton's name into the midterm election year, buttressing her presence between exiting the State Department and the next presidential cycle. A pre-2016, public test of the Clinton brand: Don't forget Hillary Clinton, the diplomat.
But that wouldn't necessarily require appearances like a town hall interview, or the sheer grind of Clinton's travel schedule.
What if this is an entirely different type of test?
If you weren't sure you were running for president — you weren't sure you had the energy or the will for the unyielding bullshit of it all, the travel, the media, the labyrinth of past comments and old documents shaking loose, the indignity of asking donors over and over again until you raised a billion dollars — maybe you would create a challenge for yourself. Simulate running for president as best you could.
You could create something like a bank stress test for yourself. It's almost a luxury. You could artificially create the conditions of a presidential run. You could get a taste of the changed media environment, and the new young voters. You could look a whole lot of women in the eye and see if they're really excited about your run, or just meeting a celebrity at the bookstore. And you could look within, and find out if you can handle it again — and if you really want it.
Clinton does have to decide soon. In particular, she hasn't really committed yet to campaigning for Democrats running this November. If she chooses not to run, she can skip Iowa, North Carolina, Pennsylvania, and more. If she's running, she has to make those stops.
Those of us who write about the Clintons, the most enduring story of the American political press for a quarter-century now, are also testing our passion for this kind of campaign: The impenetrable bubble, the fossilized storylines, the generation of distrust. We spend a lot of time running our mouths about it on Twitter.
But what's Hillary thinking? And what if this Hillary Clinton book tour — which feels so much like a campaign that it must be a campaign — isn't a campaign at all? What if it's a test?