Hillary Clinton's Argument: I Am The Candidate Of Today
Even though she announced a while ago, this was Hillary Clinton's first big rally — in New York City on Roosevelt Island.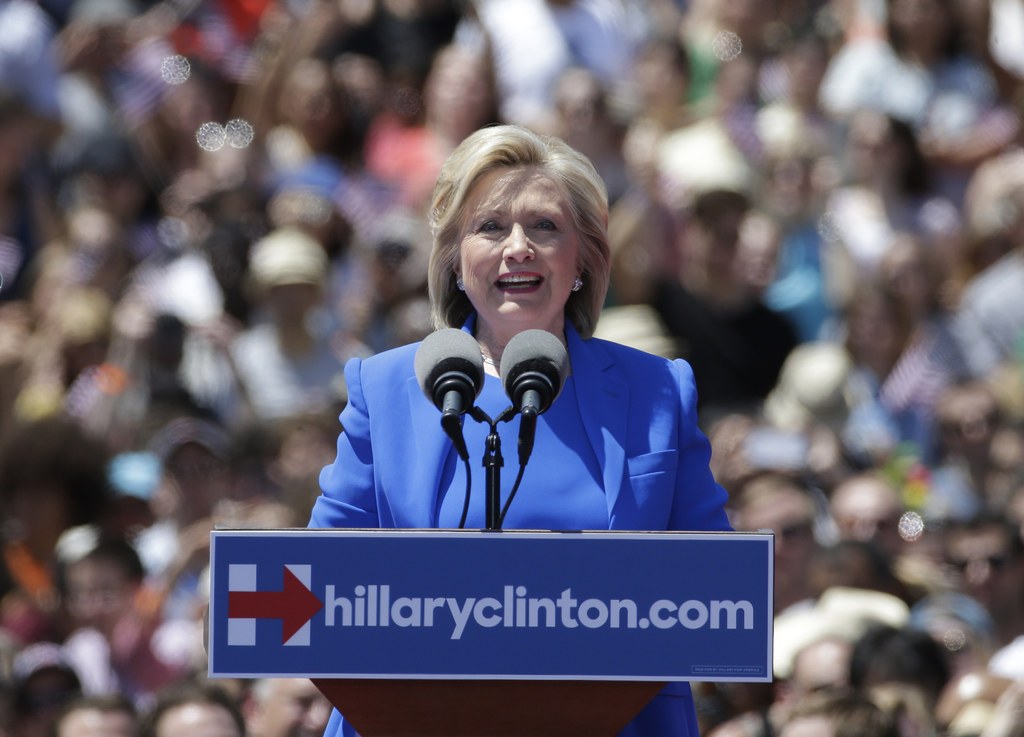 What We Know So Far
Clinton vowed to become "the youngest woman president in the history of the United States" during her first major campaign rally.
Clinton addressed hundreds of supporters at Roosevelt Island in New York City
Her speech focused heavily on domestic policy, with Clinton outlining her plans for improving the economy, strengthening families, maintaining national defense, and protecting American democracy.
Clinton has been campaigning for over a month but Saturday's speech was the most high profile of her campaign so far.
Updates
Framing herself as the best person to continue President Obama's legacy on a windswept day on New York City's Roosevelt Island, Hillary Clinton kicked off the second phase of her campaign with its first large-scale rally.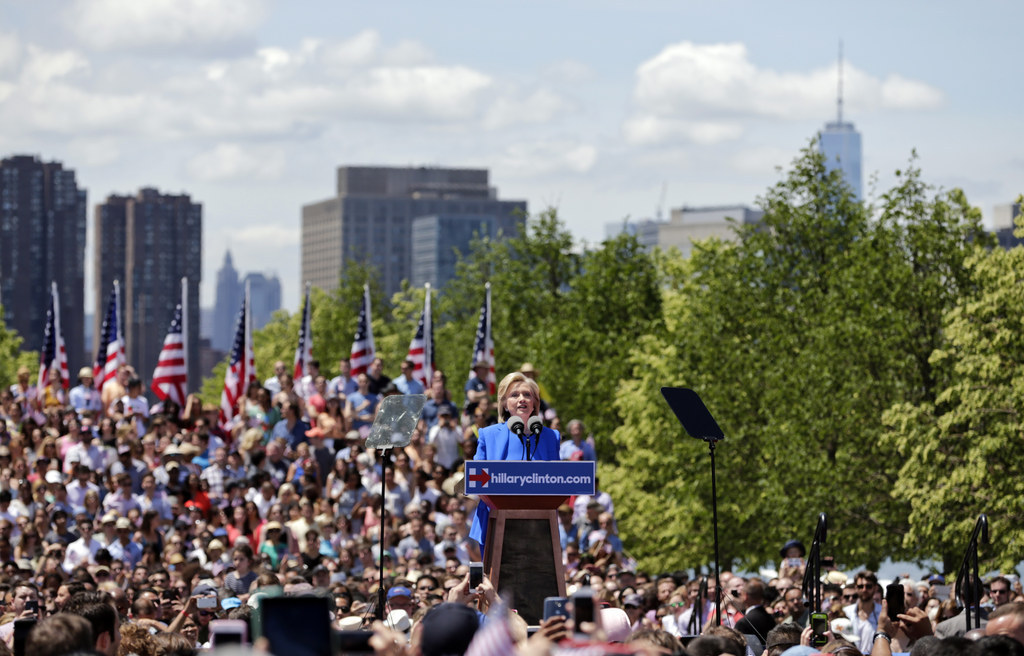 And in speech that was focused heavily on liberal domestic policy and was at times sharply partisan, she argued that she is very much the candidate of today — unlike the Republican field.
Held on an island sandwiched between Manhattan and Queens, the event featured the pomp and imagery that earlier events have lacked, and Clinton sought to reintroduce herself to voters and make the case for why she is running for president.
"America can't succeed unless you succeed," Clinton said. "That is why I am running for president of the United States."
And she was critical of the Republican presidential field.
"There may be some new voices in the Republican presidential choir but they're all singing the same old song, a song called 'Yesterday,'" she said, citing GOP stances towards climate change, abortion, immigrants and gays, and then quoting the lyrics to the Beatles' song from the 1960s.
In his presidential announcement, actually, Marco Rubio also used similar terminology, implicitly referring to Clinton as a candidate "from yesterday."
The intended parallels between the event held at Four Freedoms Park, named for those outlined by Franklin Delano Roosevelt in his 1941 State of the Union speech, and the four pillars of Clinton's campaign were on display as well.
Clinton's campaign has emphasized four broad elements — building the economy of tomorrow, strengthening families and communities, fixing the "dysfunctional" political system and getting "unaccountable" money out of politics, and protecting the U.S. from threats.
And on Saturday, those were rounded out by a heavy, if somewhat vague, emphasis on domestic policy. Clinton has called for overhauling the criminal justice system, fixing voting rights issues to make it easier for minorities and young people to vote, and tacked hard to the left on immigration.
"It's time to end the outrage of so many women earning less than men on the job with women of color often making even less," she said. "This isn't a women's issue, this is a families issue, just like raising the minimum wage is a families issue."
She said the unequal rates of incarceration are a family issue and giving a path to citizenship and "not second-class status" is as well, taking a jab at some Republicans who have called for legal status for undocumented immigrants, but not a path to citizenship.
Clinton, whose trustworthiness has dropped in polls since the presidential campaigns have geared up, used the event to talk about her experience serving Americans as first lady, senator, and Secretary of State, and talk about how her relationship with her mother informs the person and candidate she is and the president she would be.
In 2008, Clinton favored large rallies, which fed in to a sense of perceived inevitability that became a problem. She has completely avoided them thus far, but the event was an attempt by the campaign to hold an event complete with a lot of imagery and stagecraft. On Saturday, the campaign said 5,500 were in attendance for the speech; before the event, reporters tweeted photos of an overflow area with few, if any people, standing ready (later some people did arrive to fill out the space).
Before the event, Amanda Renteria, Clinton's political director told BuzzFeed News that the campaign has gotten a sense of what Americans are looking to hear from Clinton.
"Having been on the road in a lot of different cities the big question is who is she, why is she doing this, why does this matter? And today we're going to get a chance to hear who she is, why she's been doing this and what she's been fighting for," she said.
And while Clinton may not have Obama's star power or her husband's as a speaker, she made the case that she can make her own history.
"I may not be the youngest candidate in this race, but I will be the youngest woman president in the history of the United States," she said. "And the first grandmother as well."
Meanwhile, Vermont Sen. Bernie Sanders sends a hand-written note in a fundraising email to supporters before Clinton gets on stage.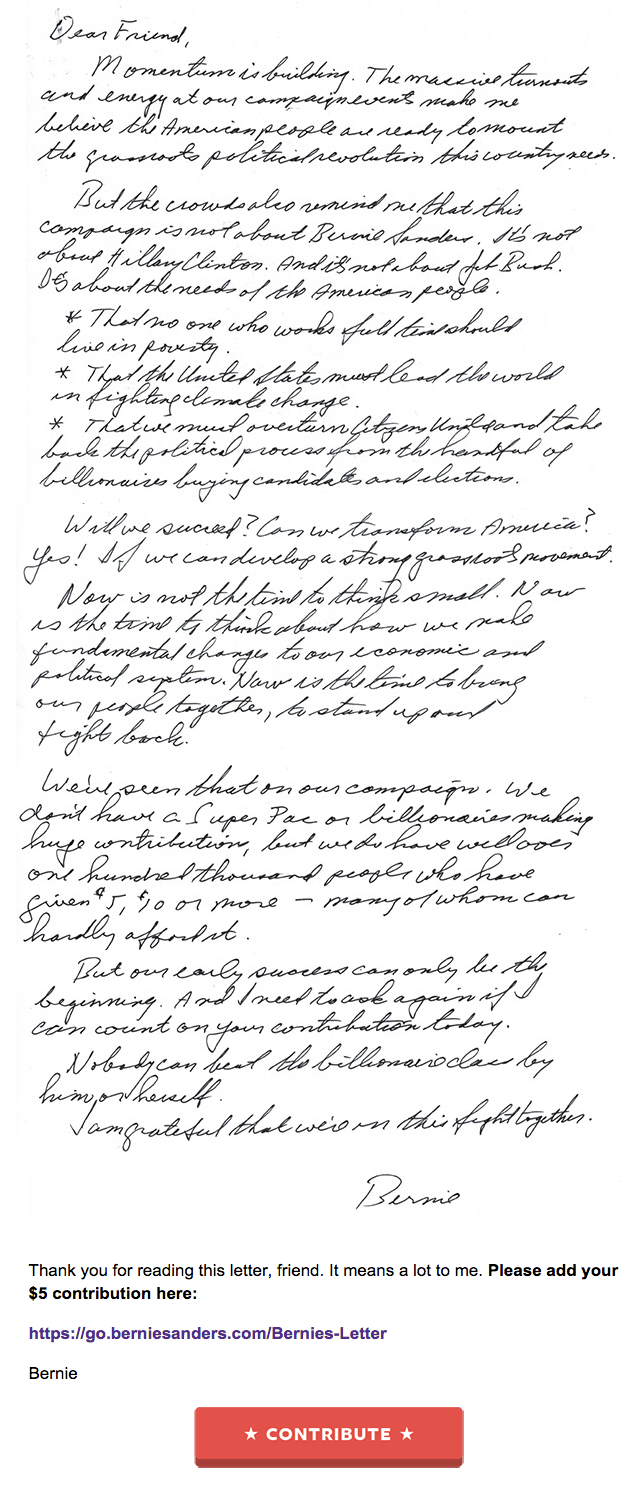 Hillary Clinton's about to take the stage on Roosevelt Island, where the crowd's filled up. This morning, it looked like there might sort of be a rather menacing backdrop:
Clouds ended up clearing, so it's doesn't look like a storm's about to hit as the candidate takes the stage:
But the crowd isn't that full: