Facebook Users Down On Indiana Governor
Mike Pence is navigating a big public reaction to his state's Religious Freedom Restoration Act, which he just signed into law.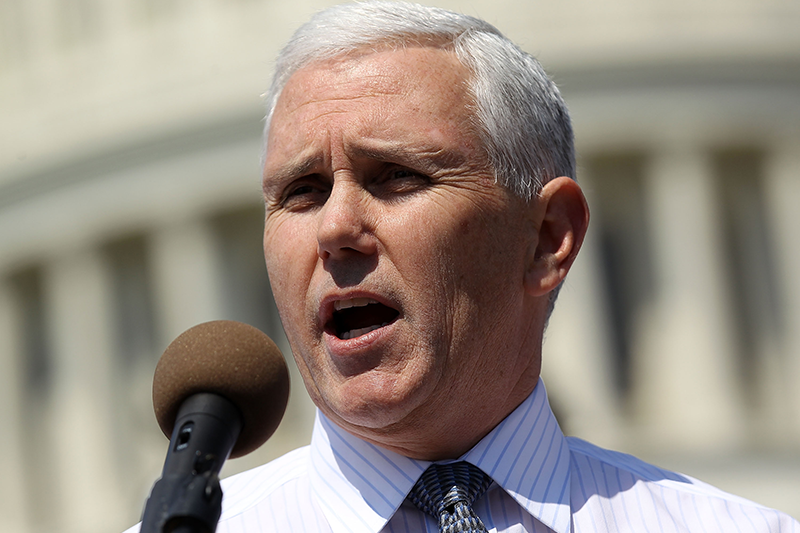 Debate over Indiana's new religious freedom law exploded last week — and as that happened, people were talking a lot more and a lot more negatively about Gov. Mike Pence on Facebook.
According to data provided in a BuzzFeed News partnership with Facebook, the Indiana Republican was far more talked about last week: He went from 13,000 interactions to 164,000 interactions nationwide (a 1161% increase over the week prior).
And he was talked about much more negatively — positive sentiment in Facebook interactions dropped from 70% the week of March 11 to 44% the week of March 18.
For context, the major presidential candidates tend to carry positive sentiment in the 50s and low 60s, and pull interaction numbers far greater. (Rand Paul and Jeb Bush, for instance, generated 912,000 and 766,000 interactions, respectively, last week.)
Still, the spikes demonstrate how quickly the Indiana RFRA — and Pence — have entered public consciousness.
The law, which is similar but not identical to the federal RFRA and 18 other states, prohibits the government from infringing on individual religious freedom, unless certain standards are met (the government demonstrates a compelling reason to do so, and can do so in the least restrictive way). The law has touched off a bitter and impassioned battle between conservative religious activists and many Republicans on one side, and LGBT activists and many Democrats on the other, particularly on the issue of whether the law can be raised in lawsuits between two private parties.
Pence, who is sometimes mentioned as a presidential candidate, signed the RFRA into law last week.