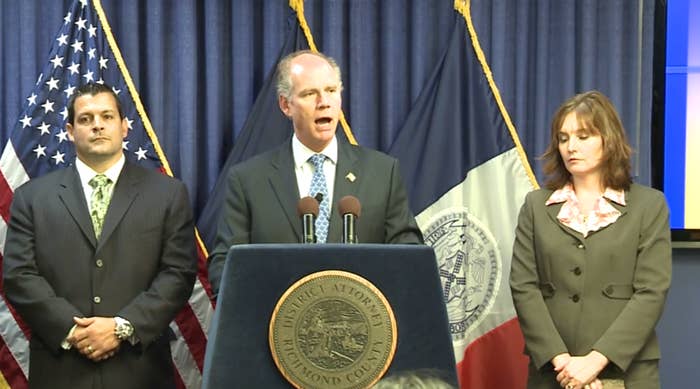 The Staten Island prosecutor who didn't win an indictment against a police officer who killed a cigarette vendor is considering running for U.S. Congress — a move that could open a new front in New York's heated debates over its police department.
District Attorney Daniel Donovan said in a statement Tuesday morning that he is "flattered" by the "enthusiastic expressions of support" he's received since Staten Island Rep. Michael Grimm announced Monday he would resign after pleading guilty to tax evasion.
"I will make an announcement after the due deliberation such an important decision deserves," Donovan said.
He also won early support from a police union official.
"Dan Donovan is a terrific public servant who dedicated himself to the borough of Richmond. We would encourage him to run to lend his voice on a national level," Roy Richter, the president of the Captain's Endowment Association, told BuzzFeed News.
Vincent Ignizio, a Republican city councilman from Staten Island, also threw his support in for Donovan.
"I think Dan Donovan is the most competent and qualified candidate we could ask for, and I am actively encouraging him to run," Ignizio told BuzzFeed News. "He has an exemplary record of public service for Staten Island and New York City that spans four decades, and is a proven Island-wide vote getter. He is the right person at the right time to help this borough and this district move forward."
Donovan, a Republican, was criticized from left and right for not giving a grand jury a lower charge, reckless endangerment, to consider, along with homicide and manslaughter charges against Daniel Pantaleo, who was shown on video choking Garner. The jury on Staten Island — home to many police officers — declined to indict Pantaleo.
The announcement of the grand jury's decision not to indict the police officers involved in the incident ignited large-scale protests in New York and other cities. One New York observer, Baruch College political scientist Doug Muzzio, said Donovan's run could become the focus of more tension.
"Just what city needs in this time of troubles and division," Muzzio said. "The prosecutor who couldn't/wouldn't get an indictment of something more than a ham sandwich."
But Hank Sheinkopf, a New York Democratic consultant, said the Garner case won't be a factor in the race at all.
"The borough in which the mayor of the City of New York is held in least repute is in Staten Island," Sheinkopf said. "What does that mean for a Democrat running for office? It probably has a significant impact."