Chelsea Clinton Is Pregnant
The daughter of Bill and Hillary Clinton announced Thursday that she is pregnant with her first child.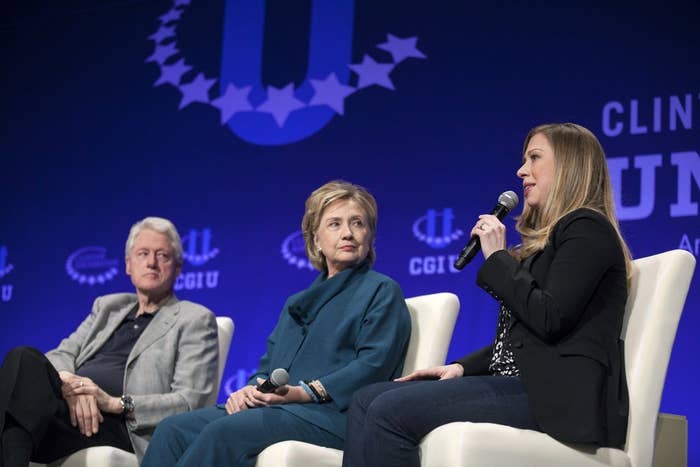 Halfway through a Clinton Foundation event at the Lower Eastside Girls Club, Chelsea's Clinton's husband, Marc Mezvinsky, slipped inside through a backdoor.
Not much later, Mezvinsky was on hand for the surprise announcement his wife would make at the very end of the Clinton Foundation "No Ceilings" panel here on Thursday afternoon. "Marc and I are very excited that we have our first child arriving later this year," said Chelsea, the only daughter of Bill and Hillary Clinton.
Chelsea did not specify a due date, or the sex of the child, who will be the Clintons' first grandchild. "I certainly feel all the better," Chelsea said, "whether it's a girl or a boy that they'll grow up in a world with so many strong female leaders."
About 100 people — most of whom were young women — crammed into the girl's club on 8th Street for what the Clinton Foundation billed as the first in a series of "conversations" about the challenges facing girls across the world.
Chelsea and Hillary Clinton appeared on stage with America Ferrera, an actress best known for her starring role in the ABC series Ugly Betty.
Ferrera, who moderated the hour-and-a-half conversation, started to close the event, when Chelsea lifted the microphone to her mouth.
"One more thing, very quickly," she said, before announcing the news, which was met with a flash of applause.
In interviews, Hillary Clinton has joked that she can't wait for her first grandchild.
Chelsea, who is 34, said late last year that 2014 would be "the year of the baby."
"I'm really excited," her mother said at the event.
"Obviously we are very excited about what's happening in our family," she added, "but we're also very excited because of what we're doing that we hope gives confidence and support to so many of you throughout our country."
The future grandparents both tweeted the news after the event: