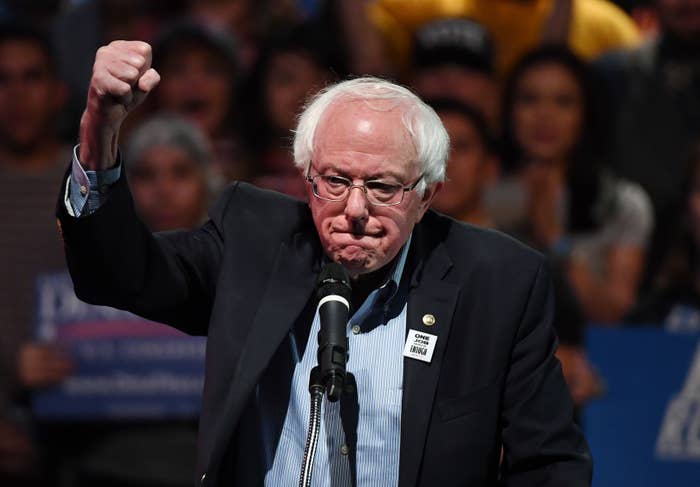 Bernie Sanders, who ignited a progressive movement with his 2016 presidential run, is running for president in 2020.
The 77-year-old independent senator confirmed his 2020 candidacy in an interview aired on Vermont Public Radio Tuesday morning.
"We began the political revolution in the 2016 campaign, and now it's time to move that revolution forward," he said.
Asked on CBS This Morning what would be different about his 2020 Democratic primary campaign after the last run, Sanders said, "We're gonna win."
A short announcement video posted on Twitter Tuesday morning and a longer one posted to YouTube pointed to what will likely be the core issues of his campaign: single-payer health care, free college tuition, a Green New Deal plan, and his fights against a "corrupt" campaign finance system, a "rigged" economy, and income inequality.
Two years after his campaign went from lark to dominating feature of the Democratic Party, Sanders has played an outsize role in shaping progressive politics. Single-payer health care has become a common cause of the party's biggest names; the high-dollar fundraising pioneered in the 2000s has become a sin; and a new class of socialist-oriented activists have moved to the fore of politics.

Whether he can do it again, and actually win this time, is the question. Buoyed by some Democrats' dissatisfaction with Hillary Clinton last time and approaching 80 years old, Sanders may face a tougher challenge in 2020 with a bigger field.

And it is a bigger field he joins. Since January, most of the high-profile candidates expected to announce have done so, including Sen. Elizabeth Warren, who shares some of the same economic populist interests as Sanders (though they differ stylistically and in some approaches for implementation). Sanders said on CBS on Tuesday that he is "fond" of the other senators who are running in 2020.

Asked on Vermont Public Radio Tuesday if, at his age, he can best represent "the face of the new Democratic Party," Sanders said he is "delighted" by the diversity of the new Democrats in Congress, but that "we have got to look at candidates, you know, not by the color of their skin, not by their sexual orientation or their gender and not by their age. I mean, I think we have got to try to move us toward a nondiscriminatory society which looks at people based on their abilities, based on what they stand for." He added that he still has "a great deal of energy" and that he has "been very blessed in my life with good health."
Sanders, unlike some Democratic candidates who have avoided explicitly talking about Donald Trump as they start their campaigns, has been willing to go directly at the president. On CBS Tuesday, he called the president a "pathological liar," a "racist," and a "xenophobe."
Perhaps because of his elevated status, Sanders has also faced a series of less than ideal headlines. Over the holidays, there were some nasty back-and-forth Twitter fights between more left-oriented Bernie supporters and more center-left Beto O'Rourke supporters, a sign of some of the division potentially ahead, and the lingering distaste some Clinton-supporting Democrats have for Sanders.
This year, Sanders and his top aides have apologized for how women say they were treated on the last campaign, describing a sexist environment where complaints about harassment were not addressed. In the Tuesday radio interview, Sanders said he was "upset" by the allegations, and that his campaign would hold training for staff to try and prevent future harassment.
He has also struggled in the past communicating his message to the kind of older black voters who make up a core voting bloc of the Democratic Party, though his favorability in public polling remains high across all groups.
Sanders has already started trying to build tighter relationships with black voters, most recently spending time in South Carolina over the Martin Luther King Jr. holiday in January, where he spoke during a roundtable and marched with Sen. Cory Booker for an MLK Day rally.
Some also think in that highly divided field, Sanders' unyielding message and devoted support will carry the day.

This past fall, as he campaigned on behalf of Democrats in the Midwest in the midterms, large crowds of enthusiastic fans greeted him — a sign of just how popular he remains.