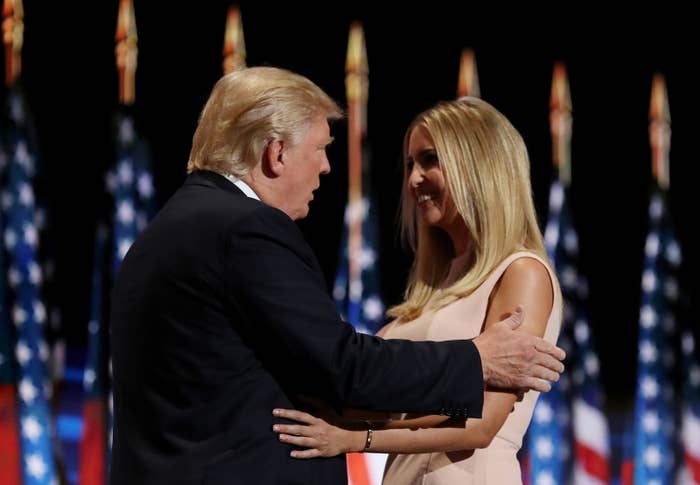 In a deposition earlier this summer, Ivanka Trump said she drafted a statement last summer in the wake of her father's comments about the "rapists" that Mexico sends to the United States — though she denied that she had asked her father to issue a "retraction."

The deposition — as well as those of Donald Trump and Donald Trump Jr. — is part of a legal dispute related to a restaurant lease in the Trumps' Washington, DC, hotel property.
When he announced his bid for the presidency, Trump infamously said that when Mexico "sends its people, they're not sending their best. … They're bringing drugs. They're bringing crime. They're rapists. And some, I assume, are good people." Following those comments, a chef pulled out of the hotel property, prompting the lawsuit.
Last summer, New York magazine's Gabriel Sherman reported that Ivanka Trump wrote "several drafts of a statement" to walk back the remarks (she declined to comment at the time). In June, she was asked whether she had drafted the statements, as had been reported.
"His statements were mischaracterized as being a categorical attack on Hispanics," Ivanka Trump said during her deposition. "And I felt that it was very important that he clarified the fact that that was not the case. He had not said that. He had not attacked Hispanic people. But that was the immediate narrative that had been spun."
In the deposition, Ivanka Trump said she "never" asked her father to issue a "retraction."
"I had suggested a clarification because I felt that his comments were being misconstrued," she said. "Not a retraction. I don't think that's my place."
Asked if she had written something, she responded, "I drafted something for myself, but — so I wrote something down. But it was — yeah. But it was not used." Ivanka Trump said she had written it down herself, but did not believe she still had the statement.
Asked what it said, Ivanka Trump said the following:
It said that I — it said — basically I was playing around with the idea of the fact that the media was spinning what he said to be about Hispanic people generally, as opposed to illegal immigrants, which he subsequently clarified on his own in countless interviews. And the fact that my father has a tremendous relationship with people of Hispanic descent. You know, this is — this is something that personally was very hard for me because I know how many friends my father has who are Hispanics, how many people work at our company who are Hispanic. So when the media took the narrative in a bad direction it was upsetting to me, because I know it to not be true. So I thought it would be helpful to — to articulate that. But ultimately he did. I mean, he's — he's very articulate and very capable of sort of speaking his opinion. And he said that numerous times. He said that, you know, how many Hispanic friends he has and how many — how fortunate we are to have so many great Hispanic people working for us. So I don't think there was any need to clarify after that point in time.
Donald Trump, in his deposition, said he did not remember having a conversation with Ivanka about the matter.
"Did anyone have any conversations with you about — along the lines of, 'Look, if you retract these statements, like, if you, you know, can clarify, modify, make it clear that you didn't mean what people are saying you meant, maybe we can salvage these deals'?" Trump was asked.
"I don't think so," he responded. "No, I don't think so. I mean, you would have to ask my children, but I don't think so."
Asked whether he had a conversation in which Ivanka "urged" him to issue a clarifying statement, he said, "No. Not that I remember."
The Trump campaign did not return a request for comment.
In July 2015, Trump did release a lengthy statement about Mexico, trade, and immigration.
During his deposition, Donald Trump Jr. appears to have been asked about that statement and whether he sent it to the chef, Geoffrey Zakarian.
"When Mr. Zakarian wrote, 'Thanks, but this is in no way an outright apology,' does that reflect the fact that he had asked you whether your father was apologizing for those statements or would withdraw them?" Trump Jr. was asked.
"I don't know," Trump Jr. responded. "As I said, I don't — I don't know if he asked me if — you know, for an outright apology. You know, we sent him the statement to clarify what was actually said. And, you know, I followed up saying, Hey, why don't we sit down tomorrow and see what we can talk about. And that's when I read about it in the New York Times."
Asked whether he viewed the statement as an apology, Trump Jr. said, "I don't know that I — it's — I don't know that it's mine to say. But I don't know that there's anything to apologize for. It's a political opinion. It had nothing to do with the lease."
Whether Zakarian was justified in pulling out of the project because of the comments is at the center of the legal proceedings. In her deposition, Ivanka Trump is clear about whether she was worried the comments could negatively affect the company.
"No," she responded. "I view politics and business as separate and distinct."