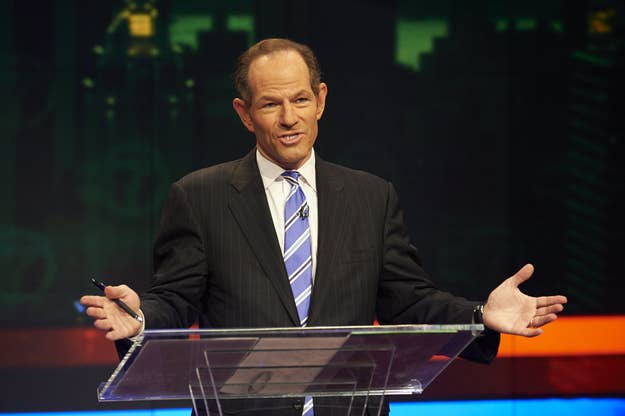 A former prostitute claims she slept with Eliot Spitzer — and that the former governor strangled her — in a new tell-all book. But the woman, Rebecca Woodard, never told prosecutors about the claim, according to a new report, despite a deal that required her full disclosure.
Woodard's claim is just the latest in a long line of sordid rumors that have trailed Spitzer since the prostitution scandal first broke in 2008, few of which Spitzer has denied. Possibly at the center of many of those rumors and claims, including the infamous black socks? Roger Stone.
The notorious political operative — described once by the Weekly Standard's Matt Labash as "a skilled confidence man" — has promoted Woodard's story in the last week as shamelessly as ever, and says he knows the former prostitute:

Woodard also claims the encounter with Spitzer was arranged by the former madame Kristin Davis — one of Stone's political clients, with her own shaky history when it comes to Spitzer.
A Spitzer spokeswoman denied to the New York Daily News that Spitzer was a client of Davis or Woodard.
Spitzer, Stone, and Woodard publisher Simon & Schuster didn't respond to requests for comment about Woodard's claims.
Stone has long been an antagonist of Spitzer's, even before the prostitution scandal. In 2007, Stone left an anonymous voicemail for Spitzer's real estate developer father, Bernard, threatening a subpoena for a campaign loan made to his son. Stone denied he made the call, which was traced to his wife's phone.
"They caught Roger red-handed lying," Donald Trump said of the episode. "What he did was ridiculous and stupid. I lost respect for Eliot Spitzer when he didn't sue Roger Stone for doing that to his father, who is a wonderful man."
When asked point-blank whether he lied about the call by LaBash, Stone replied, "Even if I did do this, which, like OJ, I didn't, it's not in my interest to cop to something I didn't do."
But Stone adheres to a political philosophy doesn't always put much stake in telling the truth, as he outlined in a 2011 Daily Caller column.
Here are four things you might not want to believe when it comes to Spitzer and prostitutes:
1.
Eliot Spitzer Had Rough Sex With Former Prostitute Rebecca Woodard
Woodard, a former call girl, claims in her new tell-all book that Spitzer paid her for sex — and choked her in the process. But federal investigators say she never disclosed the Spitzer encounter, despite a deal with prosecutors requiring her full disclosure, according to DNAinfo New York. "Could she have slept with Spitzer, and not told anyone?" one source told DNAinfo. "I guess anything's possible. But highly, highly unlikely, considering she told us everything else."
In the book, Woodard claims former madame Davis arranged the Spitzer encounter.
2.
Eliot Spitzer Slept With Prostitutes Provided By Kristin Davis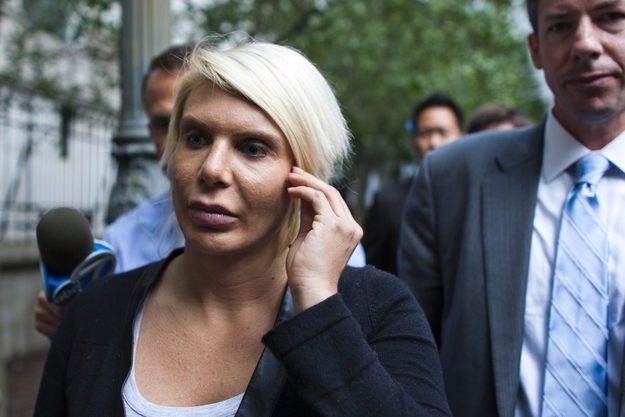 Davis was convicted of promoting prostitution in 2008, and is a political client of Stone's. She has intermittently claimed to have provided Spitzer with call girls.
But Davis' name did not turn up in the federal investigation into Spitzer's patronage of a different prostitution ring, and his name did not turn up in her conviction, as the New York Times' Danny Hakim explained in a fact-check piece last summer about Davis and Spitzer. Outgoing police commissioner Ray Kelly and former Manhattan district attorney Robert M. Morgenthau have both said Spitzer was not connected to the Davis case. When she pleaded guilty in 2008, her lawyer said she had no connection to Spitzer.
Since then, Davis has run campaigns for New York governor and, last year, New York City comptroller — against Spitzer.
3.
Eliot Spitzer Wore Black Socks During Sex
The infamous claim that Spitzer always kept his black dress socks on during sex has dubious origins.
Roger Stone first made the claim in a letter from his lawyer to the FBI about Spitzer's encounters with call girls. "It is also my client's understanding...that Governor Spitzer did not remove his mid-calf length black socks during the sex act," the lawyer wrote in the letter. "Perhaps you can use this detail to corroborate Mr. Stone's information."
"My client learned this information from a social contact in an adult-themed club in South Florida, believes it to be true, but of course cannot swear to its accuracy," he goes onto write.
But there were a few problems with that letter, as described by Alex Gibney, who directed a documentary about Spitzer:
Problem #1: The FBI never received the letter from Stone. Problem #2: Stone's letter -- dated prior to Spitzer's downfall -- only surfaced after Spitzer's downfall, leading some to wonder (because of problem #1 and because the address and the name of the agent/addressee were blacked out) if his letter had been back-dated to make it look as though he had sent it before the scandal.
A prostitute favored by Spitzer outright denied the claim. The black socks claim was later also made by Davis.
4.
Ashley Dupré Was The Main Call Girl In The Eliot Spitzer Scandal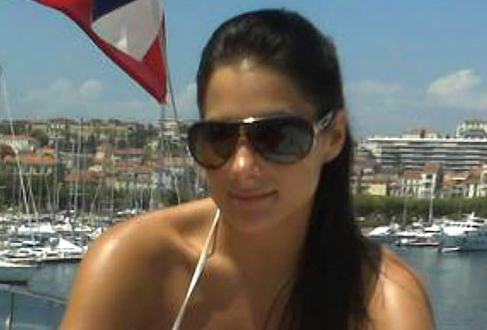 Dupré gained a high level notoriety in 2008 when the prostitution scandal first surfaced. But her interaction with Spitzer was just a one-time thing, despite the outsized media attention.
According to Gibney's documentary, Spitzer repeatedly saw an escort who went by "Angelina."
UPDATE: Roger Stone said in a brief interview that he broadly disputes this article, and that "my record of veracity is better than [Eliot Spitzer's]."
Stone emailed that the piece is "just plain wrong" and continued:
As early as 2009 Ex-Call Girl Irma Nici confirmed Spitzer's weird boudior garb--including Black socks
http://pagesix.com/2010/10/13/irma-spitzers-a-joke/

In 2013 Nici, now married with a baby, confirmed Spitzer's predilection for Black socks to the New York Times and that Kristin Davis booked her appointment on the record."Reporter" Danny Hakim chose not to include it in his story.

http://www.nytimes.com/2013/07/11/nyregion/madams-ties-to-spitzer-its-a-campaign-issue.html

A Second Hooker then told FBI that Spitzer cavorted in Black Socks (2009)
http://nypost.com/2008/04/24/two-on-one-vs-spitzer/

Hooker says Spitzer tried to choke her ( this was 2009 and the reporter was George Rush)
http://www.nydailynews.com/entertainment/gossip/eliot-spitzer-choked-sex-claims-high-end-call-girl-article-1.368842

I met Rebecca at that time and she told me 1) Spitzer was tried to choke her 2) she was being used as a informant for the Manhattan DA and they they would take away her baby if she didn't co-operate.

When I learned about Spitzer's use of hookers I instructed my Lawyer to send the information to the FBI. Spitzer Documentary film makers Alex Gidney claims the FBI denies receiving such letter. In fact, the FBI does not comment on anonymous tips and Gidney can't tell us WHO at the FBI said they never got the letter. That's because they never said it. Gidney's movie and a companion book by Peter Elkind -who AG Spitzer leaked to when Elkind was at Fortune and who was a college classmate of Spitzer ,was funded by Bernard Spitzer

Spitzer liked to choke me says Hooker booked by Davis (2013)-- a third escort goes on the record saying Spitzer tried to choke her.

http://nypost.com/2013/12/29/call-girl-tell-all-eliot-spitzer-liked-to-choke-me-was-into-struggle/

http://www.nydailynews.com/new-york/spitzer-escort-recalls-hell-hook-madam-anna-gristina-informant-article-1.1561533

FACT--Spitzer is a consistent liar

Spitzer lies constantly--he told the NY Daily News Editorial Board he only engaged a prostitute ONE time (excepts from NY Daily News Ed Board) 2013

http://stonezone.com/article.php?id=575

Spitzer even lied about voting for Barack Obama--

http://www.washingtonpost.com/blogs/post-politics/wp/2013/07/11/eliot-spitzer-didnt-vote-in-2012/

My animus towards Spitzer stems from the illegal financing of his two campaings for Attorney General and his perjury in a civil suit about the source of funds. Spitzer would later admit to the New York Daily News that he took $9 Million in illegal loans from his father. In other words he had to cheat to narrowly beat Dennis Vacco. How can you be the Sheriff of Wall street if you break the law to get elected.

Your piece needs revision or at least balance.

Happy New Year

R

PS--And when you want to know the facts on Lis Smith--let me know.
[BuzzFeed ed. note: Hakim's story does discuss Nici. He writes that she "said in an interview that she had provided services to Mr. Spitzer, as she has previously told Page Six."]