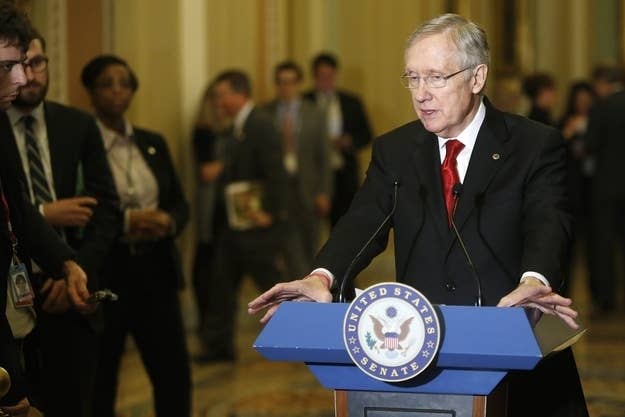 When Majority Leader Harry Reid went to the Senate floor this week to blast the Koch brothers and Americans For Prosperity, calling the personal stories in their anti-Obamacare ads largely untrue, the Republican response was swift.
"An apology is in order," said Wisconsin Sen. Ron Johnson in a statement. South Dakota Republican John Thune, too, called for an apology.
No one should be holding their breath: Democrats see attacks on the Koch brothers and any of their affiliates as one of the most effective messaging tactics they have heading into to the midterm elections. Reid didn't just say the ads were untrue; he called the Kochs "un-American" and accused the billionaire brothers of trying to buy elections.
With the Democratic majority in the Senate on the line and vulnerable House Democrats fretting over Obamacare's troubles, get ready to hear candidates and committees invoke the Koch name at every opportunity.
"There's no downside to any elected official in this country attacking the Koch brothers. None, zero, zip," said Jim Manley, a former Reid aide and Democratic strategist. "You always need a foil, and it's taken a while for Democrats to get to this, but they are as good as any a foil given their efforts to buy elections left and right in this country."
One AFP ad featuring a Michigan woman with leukemia, who strongly criticizes Obamacare and says the law "jeopardized her health," has served as a particular flashpoint between the two parties. Politifact has called it " misleading and, at best, lacking critical context." In response, Republicans have claimed the majority leader was essentially attacking the cancer patient.
Despite opening himself up to that criticism, few in the Democratic campaign world see a downside in Reid painting the Kochs as electoral villains.
Democrats involved in House and Senate races told BuzzFeed that internal polling shows high disapproval for the Koch name among the Democratic base and independent voters — even as AFP's brutal anti-Obamacare ads blitz vulnerable candidates.
"They are a rallying cry for the Democratic base heading into the midterm election and a touchstone for independent voters who are looking at who is funding you as a reflection of where you are standing on the issues," another Democratic strategist said.
Mark Holden, a senior vice president and general counsel for Koch Industries, said as much in comments to Politico Playbook Friday — though he argued part of the reason is that AFP's ads "are having an impact."
"Using the Kochs' name is part of the Democratic playbook: They use pejorative language and demonize us," he said. "We saw it in '10, we saw it in '12, and now we're seeing it again. Whether Sen. Reid likes it or not, Charles and David Koch have First Amendment rights. We believe in tolerance and civility and respect, and would appreciate some of the same from Sen. Reid and his colleagues. The [Americans for Prosperity] ads are having an impact, which is why the Democrats are reacting the way they are. A lot of the Democrats use it for fundraising — stir up their base. It's also to intimidate those who disagree with the administration. They see what happens, and it squelches political dissent. That's why you see the proposed new IRS regulations for 501(c)(4)s — that's part of it, as well."
AFP sees the Democratic attack on the Kochs as a tired argument and one they will not ultimately win.
"They know they cannot defend this law, and no one on the left that has to face the voters wants to defend this law," said AFP President Tim Philips. "If you can't defend it, you have to attack and build up a bogeyman. They are making a calculated political decision, it's wrong and dishonest."
AFP has already poured tens of millions of dollars into races across the country and is showing no signs that they will let up. And practically every time a new ad goes up, the message in response from Democrats is the same: The special interests and the Kochs are imposing their will. To wit, when AFP announced a $1.4 million ad buy in North Carolina against Sen. Kay Hagan, Hagan's campaign spokeswoman told Politico the Kochs were trying to "buy a Senate seat because they know Kay will always choose the best interests of North Carolina over their special interest agenda"
Democrats are also looking at past races as a reason to stay on message when it comes to the Kochs. Justin Barasky, a spokesman for the Democratic Senatorial Campaign Committee, worked on the 2012 campaign of Sen. Sherrod Brown in Ohio where AFP spent millions boosting Brown's opponent Josh Mandel.
"Having that much money against your candidate by special interest groups makes things more challenging but it allowed us to contrast the agendas of the two candidates," Barasky said. "They knew Sherrod Brown would never go along with their agenda and Josh Mandel would. Every time an ad went up, it allowed us to say they know Josh will do their bidding in the Senate."