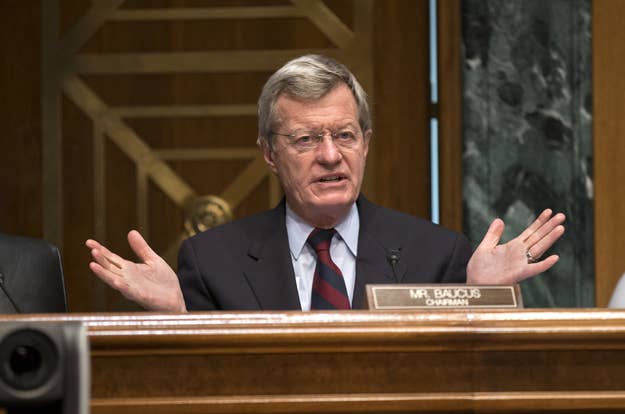 There are very few things that can bring the Tea Party and liberal Democrats together.
The retirement of Sen. Max Baucus (D-Mont.) was one of them.
Since Baucus announced his retirement on Tuesday, the news has been met with near jubilance among House Democrats and conservative groups alike. Everyone in Congress has critics, but the base of Baucus detractors is broad, bipartisan, and vocal, arguing that his long career has been governed not by ideology or conviction, but by self-interest and an unrelenting focus on helping out his friends and sending pork back home.
Asked about Baucus's retirement, one progressive House Democrat snarked, "Oh, is he? How sad. Maybe we'll actually get things done now."
Rep. Jim McDermott (D-Wash) simply smiled and replied, "Brian Schweitzer?" referring to the former Montana governor who may jump into the race. "I like him. He'll make a good Senator."
The general dislike for the Montana Democrat even inspired a satirical 2001 column in The Onion "written" by Baucus headlined, "I'm Such A Shitty Senator."
The reasons for the anti-Baucus sentiment vary depending on the critic.
The Tea Party Patriots blasted out a statement that "claimed victory" for the retirement. Baucus is reviled among Tea Party groups because of his role in creating the health care law. The Montana Republican Party blasted him in a statement last week, accusing him of being two-faced on guns and healthcare: a liberal when he is not running for re-election and a conservative when he is.
There's no love lost between Baucus and the liberal arm of his party. As the Chairman of the Senate Finance Committee, Baucus was an accomplished but at times an infuriating figure to his party. He helped pass the Bush Tax cuts with Republicans, but was key in blocking the privatization of Social Security. He was critical in passing the Affordable Care Act but Democrats griped that he slowed down the process in a futile attempt to try and get Republicans on board. He supported an assault weapons ban in 1994, but last week voted against a bill for expanded background checks to the dismay of Democrats and the White House.
"I wish that Sen. Baucus, since he wasn't going to run again, would have voted for the gun control measure. That was a little bit confusing to me. Because it's hard to imagine that he has a principled position on background checks," said Rep. Jan Schakowsky.
At a recent Senate Finance hearing, Baucus told Obama administration officials that implementation of the health care law had been a "train wreck." Republicans pounced on the remark, pointing out repeatedly that Baucus had been instrumental in creating the law. Democrats were equally stunned by the remark.
"He had a lot to do with the passage of Obamacare, and I'm hoping that this period of his retirement, he'll help out with the implementation and get it moving," Schakowsky said.
The Progressive Change Campaign Committee, a group that immediately launched a "Draft Schweitzer" campaign, didn't mince words when it came to Baucus.
"Max Baucus was a major roadblock to popular progressive reform. Whether it was holding up healthcare reform and opposing the public option, or being one of the few Senators to vote against background checks, Max Baucus has a history of taking millions from Wall Street, insurance companies, and lobbyists -- and then turning his back on the people of Montana," said PCCC co-founder Adam Green.
His retirement was a surprise to nearly everyone, including his Senate colleague Jon Tester, and Baucus aides say he did not make the decision lightly. He has been aggressively fundraising, and is now sitting on a $5 million war chest. At the time of the vote against the gun control measure, Baucus had not yet made the decision to retire.
The news even stunned donors in Montana, who were shocked to learn that Baucus would step down so soon after the checks had been written.
"He was beating the drums and everything was in motion," said one Baucus donor. "He was raising just tons of money, and voted against the gun control measure and we were just going to shut the fuck up and support him. He told everyone, '100 percent, I'm running.' So yeah, I'm a little pissed right now."
Baucus said in a statement on Tuesday that it was he wanted to spend more time with his family, and called the decision not to run "extremely difficult."
"After thinking long and hard, I decided I want to focus the next year and a half on serving Montana unconstrained by the demands of a campaign," he said in a statement. " Then, I want to come home and spend time with Mel, my son Zeno, and our family enjoying the Montana public lands we've fought hard to keep open and untarnished."
Much of the animosity, particularly among Senate Democrats, can be traced to the Bush tax cuts. Democrats, led by former Majority Leader Tom Daschle, were trying to hold the line on the massive cuts to tax rates, particularly for the wealthiest Americans.
Despite — or, some who know Baucus would say, because of — Daschle's aggressive efforts to keep the Montana Democrat in line, Baucus broke with his party to support the cuts.
"Daschle was furious that Baucus was playing footsie with the Bush administration," a lobbyist close to Baucus's world said.
The episode put even greater strain on an already difficult relationship: "I don't think they ever personally connected, and I don't think he felt like Baucus was a team player," the lobbyist said. Daschle's tight control of the conference also rubbed Baucus the wrong way, as did his insistence on loyalty.
Baucus's close personal and working relationship with Republicans like Sen. Chuck Grassley helped pave the way for a prescription drug benefit bill that became one of Bush's only domestic policy achievements. The pair were a rare bipartisan operation, but for Democrats, that was a bad thing. Regardless of Baucus' intentions, Daschle and many other Democrats "felt Baucus put his own self interests above the caucus, above the party," the lobbyist explained.
Not that the strong-willed Baucus seemed to care. "That's why everyone hates Max," one former aide said.
Ironically, it was Reid, one of Baucus' few friends in the Senate, who worked to keep the Montanan within the fold and to blunt criticism of him in Democratic circles.
When he took control of the Conference following the 2004 election, Reid decided to pursue a different approach with Baucus, giving him more autonomy to run his committee how he saw fit, and Baucus seemed to settle back into the flock. And then came the gun vote.
His supporters say that Baucus inspires animosity on both sides of the aisle precisely because he isn't beholden to any party.
"Republicans hated him when he killed privatization of social security, Republicans loved him when he did the tax deal and Democrats hated him. When he did Medicare part D, Democrats hated him and Republicans loved him. When he passed health care, Democrats loved him again," said a Democrat with close ties to Montana politics. "Because he's independent and does what he thinks is right, he's not predictable and that makes people angry."
"And people need to remember, there is no one, I mean no one, who has done more for the Montana Democratic Party," the Democrat added. A source close to Baucus said that though the Senator was a Democrat, he was a "Montana Democrat," and the recent feuds that Baucus was having with his party had more to do with the left-ward drift of the caucus than it did with the positions Baucus has been taking.
As Baucus stays in charge of the Senate Finance Committee, he'll attempt to move forward working out a deal overhaul of tax code with Ways and Means Chairman Dave Camp (R-Mich.).
But a former longtime senior Senate aide was skeptical that leadership would let him attempt a deal.
"They learned a long time ago to very skeptical of any deal that he's going to cut with Republicans," the former aide said. "Any deal that he cuts is probably going to be so bad I doubt he can sell it to Democrats much less Republicans."
John Stanton contributed to this report.