Why Congress Is Talking — And Fighting — About Afghanistan Again
The deep divide that never went away. Splits within both parties as the administration tries to plan for what's next in a post-Karzai Afghanistan.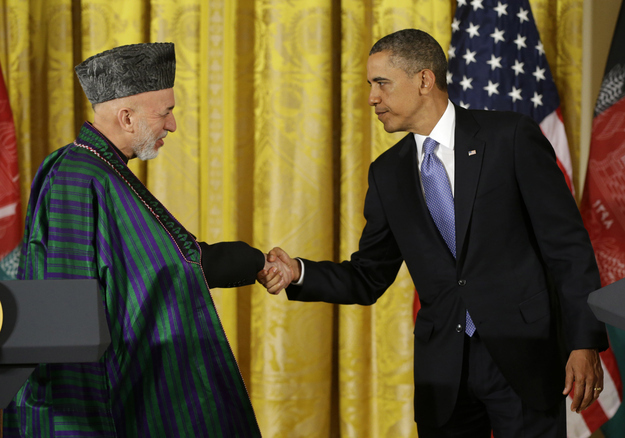 WASHINGTON — The most closely watched race on Capitol Hill next month isn't in the United States. It's the presidential election in Afghanistan.
Who replaces Afghan President Hamid Karzai will carry deep consequences for the U.S. troop presence in the country, where Karzai has been in office for more than a decade. But where Congress will ultimately stand on the matter is anyone's guess.
Thirteen years after the United States invaded Afghanistan, lawmakers in both parties are bitterly split on how many U.S. troops should be in the country, how long, and for what purpose. With the U.S. mission in the country set to expire at the end of this year, and the administration trying to figure out what's next, the debate over what America should be doing in Afghanistan is ramping up again.
A coalition of liberal Democrats and libertarian-infused Republicans believe it's long past time to return all troops to the United States. That, more hawkish Democratic and Republican lawmakers believe, would undermine progress made in the last decade.
"I don't think people understand what a complete withdrawal from Afghanistan means in the long run," argued Rep. Adam Kinzinger, a Republican who served as an Air Force pilot in Afghanistan and Iraq. He's worried about what he calls "kind of this brand of isolationism creeping into our party."
"It's about regional stability," Kinzinger said. "Thousands of Americans have died to bring freedom to oppressed women, to oppressed people, in a very bad part of the world. It's been fairly successful and there's a lot more stability."
Kinzinger's view contrasts sharply with those of Rep. Walter Jones of North Carolina, who has long forcefully and vocally opposed staying in Afghanistan any longer — and is also a Republican.
"I join with Democrats on this often quite frankly, who believe as I believe, why in the world would you stay when you have spent $1.2 trillion in two wars?" Jones said. "And what do you have to show for it? More bombing? More death? It's crazy."
"Thirteen years later, nothing," he continued. "What is says to me is that we've never had a foreign policy that is realistic. I can dream and dream that we can make everything better but sometimes dreaming won't get you anything. I think our policies in Afghanistan are nothing but a pipe dream."
Alongside those longstanding tensions, many on Capitol Hill are in "watch-and-wait" mode until the Afghan election. The next president of Afghanistan — and whether he is seen as a trustworthy negotiator — will likely determine the fate of the bilateral security agreement (BSA).
The Obama administration has focused on reaching a BSA, which would establish the number of troops to remain in country post-2014 to Afghan forces with security training. But those negotiations have repeatedly hit dead ends with Karzai refusing to sign the agreement. Defense Secretary Chuck Hagel announced last month that the United States would prepare a so-called "zero option" to withdraw all troops left in the country should a BSA not get signed.
On the Hill Wednesday, U.S. Gen. Joseph Dunford testified before a Senate committee that a full withdrawal would be devastating for the progress that has been made in Afghanistan.
"Withdrawal in my mind means abandoning the people of Afghanistan, abandoning the endeavor that we've been on for the last decade and providing al-Qaeda space within which to begin again to plan to conduct operations against the West," Dunford, a top commander, said.
Democratic Sen. Tim Kaine, who chairs the foreign relations subcommittee on the Middle East, said he had spoken with Iraqi foreign minister Hoshyar Zebari, who "regrets" not entering into a security agreement with the U.S and said the country was an example of why a BSA with Afghanistan was so essential.
"I think the administration has accepted the practical reality that the bilateral security agreement is necessary, but they aren't going to get there with Karzai so we have to wait until after the elections," Kaine said. He thinks that, once the elections are over, the goal is a structured agreement that balances training for Afghan forces "with the kind of protections we need."
"As a practical matter we just need to let the elections take place and work to find that agreement. If we can't find an agreement we'll do what we did in Iraq. That's not the desired outcome," Kaine said.
That question — whether the administration is serious about a full withdrawal — is playing heavily on the minds of both camps.
Rep. Peter Welch, a liberal member from Vermont, took Hagel's announcement as a tacit acknowledgement from the administration that a BSA might never get signed, hopeful as the administration might be that Karzai's successor will be willing to sign one.
"What you have is many advocates saying there's got to be a residual force and there's legitimacy to that argument, but when practical ability to implement it is zero, it's time to pull the plug," Welch said. "Whatever theoretical validity there is to talk about a residual force, there's no practical ability to have one that depends on the cooperation of Karzai or in all likelihood his successor."
Some Republicans who believe a BSA is essential say Hagel's "zero option" comments came too soon — and they are banking on the outcome of the presidential election.
"My argument has always been then perhaps we should wait until we have a new president we can negotiate with," said Rep. Michael McCaul. "I mean don't announce plans for a complete withdrawal until then. "
"The problem is it's sending a message to the Taliban and al-Qaeda that the U.S. is not determined to stay. This public disagreement that is going on is emboldening the enemy," Kinzinger said of Hagel's "zero option" planning. "I wish the administration would have maybe waited to make the comment until the new president is elected."
Rep. Mike Pompeo, a Kansas Republican, predicted that if the administration moved to bring all of the troops home, there would be "a great deal of pushback from Congress."
"A number of members of Congress will come out and make clear this is an unacceptable way for America to proceed," he said. "We've lost thousands of Americans in Afghanistan, and we saw what happened in Iraq when we didn't support them."