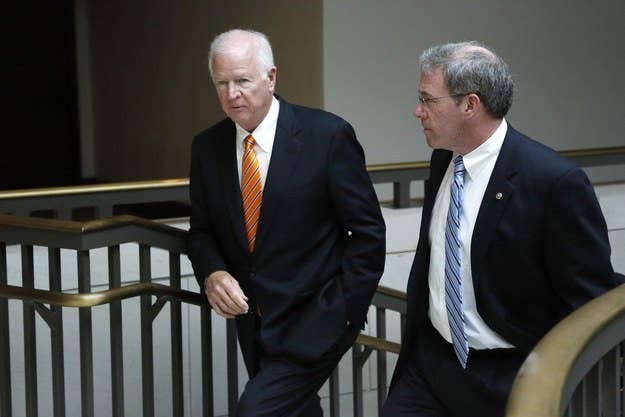 WASHINGTON — The top two Senators on the Senate Intelligence Committee said Tuesday the White House had reached out to apologize for not giving them notice about the deal to exchange five Taliban prisoners for Sgt. Bowe Bergdahl.
Sen. Saxby Chambliss, the Republican ranking member of the committee, told reporters that a "high-ranking" White House official called him Monday night to apologize. Chairwoman Dianne Feinstein said she received a similar call.
"They said it just been called to their attention that I had not received advanced notification of this transaction," Chambliss said. "You can't undo what the president has done. They said they we'll give it to you next time."
The White House has increasingly come under fire from members of Congress for not alerting members prior to Bergdahl's release, and many Republican senators have said the president blatantly broke the law by not notifying Congress 30 days in advance that he planned on transferring prisoners out of the detention facility at Guantanamo Bay.
The White House has called Bargdahl's situation "unique and exigent," requiring them to move quickly. White House press secretary Jay Carney said Monday of the prisoner swap that it should not be a "surprise to members of Congress that this was possible, because we had been working to secure Sgt. Bergdahl's release for a long time."
Chambliss said he was out of the loop on the Bergdahl release and did not find out about the swap until after the fact.
"I haven't had a conversation with the White House on this issue in a year and a half. If that's keeping us in the loop than the administration is more arrogant than I thought," he said.
Feinstein, the committee's chairwoman, likewise did not get a heads up on the deal. She told reporters on Tuesday that Deputy National Security Adviser Tony Blinken called her to apologize.
"It's very disappointing that there was not a level of trust sufficient to justify alerting us," she said.
Majority Leader Harry Reid appeared to be one of the few to know about the deal in advance. He said he learned on Friday of the exchange. Republican Minority Leader Mitch McConnell said he did not find out until Saturday morning.