What Happened To Authorizing The U.S. Military To Fight ISIS?
It's been almost three months since Obama asked for a new authorization for the use of military force and there's been little movement on the issue "We're going to do one thing at a time," said Sen. Bob Corker.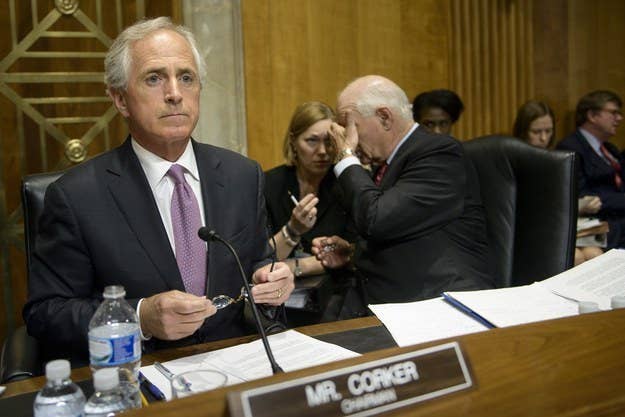 WASHINGTON — It's been nine months since the United States began operations against ISIS and almost three months since President Obama sent a letter to Congress requesting a new authorization to continue to fight the terrorist group in Iraq and Syria.
But a full Congressional debate to give an authorization for the use of military force (AUMF) has for now been pushed to the wayside. Bipartisan legislation on an Iran nuclear agreement has taken center stage in the Senate (it passed 98-1 on Thursday), Congress is about to run-up against a deadline to reauthorize sections of the Patriot Act, and both chambers are fighting to move forward on legislation dealing with trade.
"We're going to do one thing at a time," said Sen. Bob Corker, the Senate Foreign Relations Committee chairman, who added he was focused on getting the Iran legislation off the floor. "People are still having discussions about a way forward. We don't want to start the process unless we know we can finish it."
In a later interview, Corker told BuzzFeed News he was still having ongoing meetings about an AUMF and his committee would address it "soon."
"We obviously need to make a decision about it very soon. That and the state department authorization are the two next things that need to occur. We're not talking August, it's soon," he said.
The senators who have been calling for a new AUMF since the operations against ISIS began took to the floor on Thursday to again push for Congress to begin working on legislation.
"The silence of Congress in the midst of this war is cowardly and shameful. How can we explain to our troops, our public or ourselves this complete unwillingness of Congress to take up this important responsibility?" asked Democratic Sen. Tim Kaine.
After his speech Kaine said the time lag between the start of the military action and Congress even beginning to address a new authorization "creates a horrible precedent."
"We're very engaged in the discussion and we're very aware that this Iran bill needed time and it was time sensitive but we really think it's time to turn to [the AUMF]," he said. "We don't have a matter of such urgency other than this... I do feel like congressional action is a little bit like what we Catholics get in the confession — it can forgive some past missteps — so a congressional authorization that happens will be retroactive and will cover what's already been done as well as what's the strategy going forward. "
While Corker and others deal with the complicated task of crafting any sort of authorization that would receive bipartisan support, the Obama administration has already said they believe they have the authority to continue to conduct operations under the 2001 AUMF. There's a pocket of senators, like Lindsey Graham and Marco Rubio, who have said they won't vote for an AUMF that constrains the president in anyway. Others like Kaine, and Arizona Republican Jeff Flake want to support an AUMF that ensures limits on the size and scope of an authorization.
Flake, who joined Kaine on the floor Thursday morning, was optimistic that the panel might be able to turn to an AUMF in the coming weeks.
"We're agitating for it," he said. "We've both talked to Corker and [ranking member Ben] Cardin and we've said, 'Let's do it right now. Take the success from the Iran bill and move ahead with this.' I'm hopeful that's what happens."
Democratic Sen. Bob Menendez, who served as Foreign Relations chairman in the last Congress, was able to pass a version of an AUMF along party lines, but that bill never made it to the full Senate floor. Menendez said his conversations with Corker led him to believe that there was little chance of the panel taking up a new AUMF in the near future.
"From what I've heard from the chairman's remarks and conversations I've had with him, I don't see that happening anytime soon," he said. "It's difficult if you want a bipartisan one because there's a balance to be struck between giving the president the wherewithal to fight (ISIS) but not giving him a blank check and finding that balance is critical." "
"I think for the chairman part of the problem is there are people on his side of the aisle who on this occasion would be happy to give the president a blank check," he added.
Kate Nocera is the DC Bureau Chief for BuzzFeed News. Nocera is a recipient of the National Press Foundation's 2014 Dirksen Award for distinguished reporting on Congress.

Contact Kate Nocera at kate.nocera@buzzfeed.com.

Got a confidential tip? Submit it here.