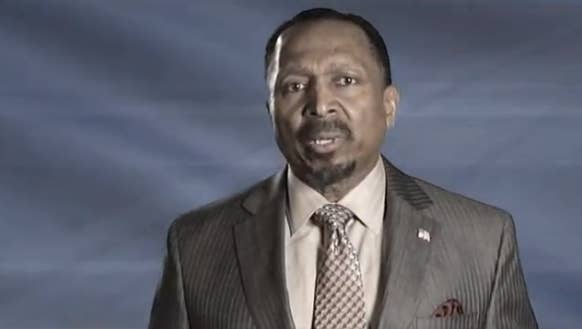 WASHINGTON — The Republican candidate for Virginia's Lieutenant Governor, Rev. E.W. Jackson, is getting a decidedly cool response from his state's Republican establishment in Washington, who weren't eager to associate themselves with the conservative firebrand's history of anti-gay and anti-abortion statements.
Republicans have largely, and happily, lined up behind Attorney General Ken Cuccinelli, the GOP's candidate for governor. But Jackson's surprise win at the state's nominating convention last weekend immediately had Republicans fretting about his effect on Cuccinelli's bid against Democrat Terry McAuliffe.
So just how toxic is Jackson, who once said homosexuals were "very sick"?
"I'm not going to comment on him," said Rep. Frank Wolf of Jackson. "I endorsed Ken Cuccinelli, I think he'll do a great job. I've worked with him on prison reform, and he's a very good candidate."
But Jackson?
"No, I'm not saying anything."
Rep. Bob Goodlatte, who also had endorsed Cuccinelli — and even appeared at an event with both men in Roanoke on Monday — did not return repeated requests for comment.
Rep. Rob Wittman speedily walked away from a reporter when asked about Jackson. Subsequent, repeated calls to his Capitol Hill office went unreturned.
Jackson beat out six other candidates to win the party's nomination at the convention and is a favorite among grassroots activists in the state. But with his nomination almost immediately came the unearthing of his past statements: he has compared Planned Parenthood to the Klu Klux Klan, once wrote "Obama clearly has Muslim sensibilities," and said he believed the repeal of Don't Ask Don't Tell was a "disaster of historic proportions."
Jackson defended his comments to a Fredericksburg paper on Tuesday and said they were a part of his religious beliefs.
"I'm a Christian. It's not because I hate anybody. But because I have religious values that matter to me. So attacking me because I adhere to those principles is attacking every churchgoing person, every family that's living a traditional family life, everybody that believes we all deserve to live," he said. "I don't have anything to rephrase or apologize for. People should not paint me as one dimensional."
But even those that were willing to give a tacit endorsement to Jackson did so more out of party loyalty than personal support.
For instance, Rep. Morgan Griffith said "sure" when asked if he would endorse Jackson.
"There's no think to it, he's the Republican nominee," Griffith said in an interview with BuzzFeed. "He has to defend his statements on his own. At the same time he is not a political person of long standing and so he's going to say things that aren't the way people in the political elite might want them said. But he's a hard working man, who came up and fought and scratched and clawed and he's making something out of himself. Anyone who wants to attack that does so at their own peril."
Through a spokesman, Majority Leader Eric Cantor said he was committed to helping keep the Governorship in GOP hands.
"The Congressman is eager to help Republicans win in Virginia in November and will work hard to that end," said spokesman Rory Cooper.
When pressed, Cooper said the Congressman will not be defending any of his past statements.
Even Cuccinelli, a social conservative himself, wouldn't comment to the Washington Post about views Jackson has held.
"I am just not going to defend my running mates' statements at every turn," he said. "They've got to explain those themselves. Part of this process is just letting Virginia voters get comfortable with us, on an individual basis, personally."
Outgoing Lt. Governor Bill Bolling, a moderate Republican who withdrew his bid for governor late last year, came out harshly against Jackson's statements.
"These kinds of comments are simply not appropriate, especially not from someone who wants to be a standard bearer for our party and hold the second highest elected office in our state," he told Politico.