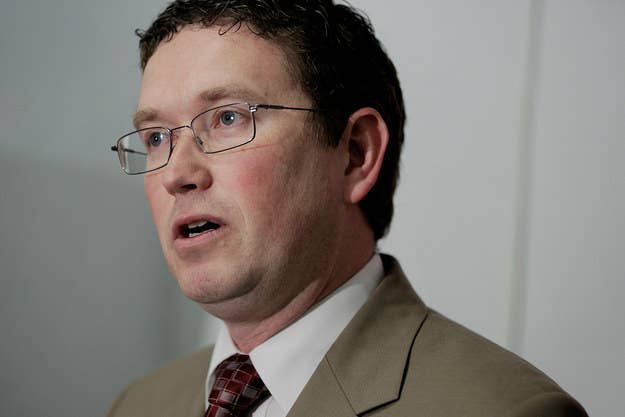 WASHINGTON — Shortly after Thomas Massie arrived in Congress, the freshman Republican sought out Zoe Lofgren — a liberal from California — on the House floor.
He wanted to know if electric car company Tesla was in her district because he proudly owned one and he charged his car solar panels at his home.
Tesla isn't in Lofgren's district (it's just outside of it), but the conversation left her baffled. Massie is from a deeply conservative Kentucky district.
"I thought well, that's interesting, let me find out some more about this guy," Lofgren recalled.
The pair struck up an unlikely friendship after Lofgren pitched him on several technology bills she'd been working on. They've continued to be some of the loudest (and at times effective) voices in Congress on curbing surveillance programs.
Increasingly, in fact, Massie has become a go-to member of the Republican conference for Democratic members looking for a GOP member to sponsor legislation on everything from surveillance, to industrial hemp, to cell-phone unlocking legislation. Some Democrats have also teamed up with him on a raw-milk bill he recently introduced in Congress. These are the areas that typically unite libertarians and liberals in Congress but Massie, a self-described "crunchy con," arrived in the House with the reputation for being the kind of Tea Party Republican liberals revile. He's an ardent supporter of gun rights and has several times introduced legislation to undo some of the District of Columbia's gun laws. He regularly votes against government spending and has a near perfect voting score from both FreedomWorks and Heritage Action.
But his early opposition to surveillance programs have drawn him accolades from the Democratic side of the aisle, as has his willingness to buck his party leadership. And as the House and Senate attempt to re-authorize portions of the PATRIOT Act in the coming month, Massie plans on being at the center of that debate — again with a Democrat. He recently introducing a bill with Wisconsin Democrat Mark Pocan to repeal that 2001 law passed in the wake of 9/11 and overhaul many of the NSA's surveillance programs.
"Sometimes people can confuse partisans with ideologues," Massie said in an interview. "Here's the difference between a partisan and an ideologue: An ideologue reads the bill, every word, period and section; a partisan reads the whip recommendation."
"No one should ever confuse me with a partisan; I'm clearly an ideologue. That means if something I care about lines up with something a Democrat cares about there's nothing that gets in the way of us working together," he said.
Massie is not particularly well-liked by Republican leadership. He's twice voted against John Boehner for speaker. He's at the center of a group of Republicans that tends to infuriate his conference leadership and won't hesitate to vote against their priorities if he doesn't agree with them. He's proud of all of that and smiles broadly when he notes that he'll "never be the guy on a conference committee or a committee chairman."
Massie does things differently in the House, perhaps because his path to politics was pretty unique: He graduated from MIT with degrees in engineering, started a technology company, sold that company, and moved back to Kentucky with his wife, Rhonda, where they now live entirely off-the-grid on a cattle farm. He was elected in 2012 special election out of a seven-way primary in a heavily Republican district and has been the thorn in the side Boehner and his allies ever since.
That hasn't stopped Democrats from believing that he's sometimes their best option for getting their legislation through the House. Last June, Lofgren convinced Massie to take on the role as lead sponsor of an amendment to a major defense bill that would to end so called "back door" searches by the NSA.
Massie understood that his standing with leadership might have hurt her case more than it would help it, so he tried to convince four other Republicans to take the lead sponsorship role. When they all declined, he decided to do it. Lofgren and others had done the lion's share of work on the amendment but she said she truly believed it needed to be a bipartisan bill in order to get traction on the floor.
"He had the guts to put his name on it. Afterward, he said, 'I feel bad because you did the work on it,' but he had the guts to put his name on it," she said.
In a late night vote, the amendment ended up passing with a veto-proof majority.
"That was really the highwater mark for me," Massie said. "Our feeling with that bill was it had to have a Republican sponsor as the primary sponsor. I hope that I'm never in the minority but I say to my Democrat friends, 'If I'm ever in the minority, please put your name on one of my bills so that it has a snowball's chance in hell of passing.'"
It's incredibly unlikely some of Massie's legislation — particularly his bill with Pocan to repeal the PATRIOT Act — would ever pass the House, let alone get through the Senate. But putting Massie's name on a bill could have other benefits: Massie is able to tout the legislation in places Democrats won't go. FreedomWorks has been supportive of Massie's work on surveillance, as has pundit Glenn Beck.
"The outside groups are very interested in what I'm doing. There's an ad on Glenn Beck's show everyday that FreedomWorks is running about [the surveillance state repeal act]," he said. "I don't think a Democrat could go to FreedomWorks and say, hey can you promote my bill? I didn't ask them to promote it but it makes it easier for those groups to support something like this when there's a Republican like me on the bill."
"I mentioned Mark Pocan and Zoe Lofgren on Glenn Beck's show last week and it was in a nice way, but I thought, man, I'm going to get them in trouble," he said laughing.