"There's A Wealth Gap," Says Jeff Sessions, Republican Trade Deal Opponent
The Alabama senator voted to move forward with debate on fast-track trade authority, but remains opposed to the deal.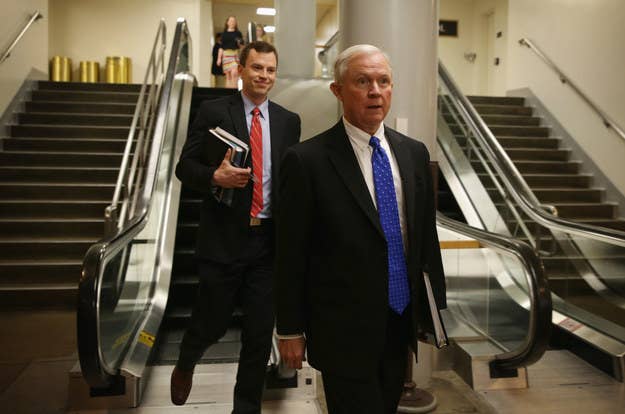 WASHINGTON — As Senate Republicans fumed that Democrats blocked a trade bill supported by President Obama, there was at least one GOPer who didn't seem to mind that the bill was defeated: Alabama Republican Jeff Sessions.
Sessions voted with Republicans to move forward with debate on giving the president fast-track authority, arguing that he wanted to support Majority Leader Mitch McConnell's desire to have a floor debate about the bill. But he has been outspoken in recent months about his issues with trade-promotion authority, making him something of an outlier in the Senate Republican conference (along with Rand Paul who said recently he opposed fast-track but, like Sessions, voted to proceed with debate).
Though a primary motivator for Sessions' opposition has been related to his mistrust of the president on immigration issues, he argued that his stance was perhaps more in line with voters than some of his colleagues and struck something of a populist tone when asked why he opposed the trade deal.
"I saw a poll recently that suggests Republican voters oppose the bill more than Democratic voters. I don't know how accurate that is but I think people are hearing concerns because things aren't going well," he said in an interview. "There's a wealth gap, why? Somebody can get more wealthy by building a factory in a foreign country than laying off people here. The factory builder gets more wealthy but not the people who get laid off. So we believe in trade but I think there's a belief that trade agreements haven't worked… I'd like to see a far greater emphasis on the economic benefits of it and not just perceived political benefits."
"I'm very uneasy about it. I see a lot of problems with it," Sessions added after the vote. "I think we are at a point in history where we cannot afford to lose a single job in this country to unfair trading practices."
In a memo circulated in last week, Sessions had charged that there were "numerous ways TPA could facilitate immigration increases above current law" although leading Republicans and the Obama White House strongly refuted that argument.
"That's a false issue," Senate Finance chairman Orrin Hatch told Politico.
Kate Nocera is the DC Bureau Chief for BuzzFeed News. Nocera is a recipient of the National Press Foundation's 2014 Dirksen Award for distinguished reporting on Congress.

Contact Kate Nocera at kate.nocera@buzzfeed.com.

Got a confidential tip? Submit it here.