The Only Thing Some Democrats Like About The Benghazi Select Committee: Trey Gowdy
"I would look at Mr. Gowdy as the one honest broker in this whole circus."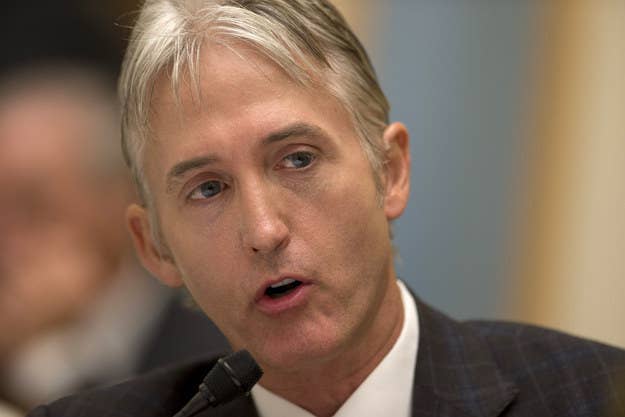 WASHINGTON — Democrats have harshly criticized the Benghazi select committee, calling it a political sideshow and questioning Republican motives behind the effort.
But what some key Democrats aren't questioning is the man who will lead the committee, Rep. Trey Gowdy.
While Gowdy is decidedly partisan and one of the most vocal critics of the Obama administration regarding its response to Benghazi, he has built up an enormous amount of goodwill among some of his Democratic colleagues, particularly those he's worked with on the Judiciary and Oversight committees. On the record and in private, Democrats praise Gowdy as fair and forthright.
"I would look at Mr. Gowdy as the one honest broker in this whole circus," said Rep. Lacy Clay, a Democrat who serves with Gowdy on the Oversight and Government Reform Committee. "That's probably why, with Gowdy at the helm, we would need full participation — because we would be heard and we would be able to defend some of the allegations that would arise."
"Every indication I have had in working with him on the Judiciary Committee is that he's thoughtful, careful, and trying to reach the truth," Rep. Luis Gutiérrez said. "That's been my experience. We disagree on many, many things, but he has a very clear moral compass."
The comments from Democratic lawmakers stand in contrast to some of the statements from the party's leadership, which has been just as critical of Gowdy as the entire select committee process.
As Minority Leader Nancy Pelosi continues to mull whether or not her caucus will participate in the panel at all, some of her members point to Gowdy and their positive relationships with him as exactly the reason why members shouldn't boycott the committee.
Only seven Democrats joined Republicans in voting to establish the committee last week, but the caucus remains split on how to move forward. House Speaker John Boehner has repeatedly promised that the committee wouldn't turn into a political circus, and Democrats want — in writing — some assurances that the process would be fair. Specifically, they want the committee to function differently than that of Chairman Darrell Issa's Oversight committee. Issa's combative style has enraged Democrats and even rankled some fellow Republicans.
So Democratic leadership was quick to connect Gowdy to Issa, blasting out an email to reporters that Gowdy would be nothing more than Issa's "mini-me."
"Gowdy claimed to have evidence of a Benghazi cover-up just days before the evidence somehow disappeared — a tactic eerily reminiscent of Congressman Issa's behavior on the House Oversight Committee," the email read, pointed to instances where Gowdy had gone on television to claim he had evidence of the White House having a "systemic intention to withhold certain documents from Congress" and later walking that position back.
While practically all Democratic members are united in their opposition to the committee, the message that Gowdy chair the committee stands in stark contrast to the opinion of Democrats who have personally worked with the lawmaker and, for now, are giving him the benefit of the doubt.
"I try not to get my Republican friends in trouble because I speak highly of them," said Gutierrez, an Illinois Democrat who counts Gowdy as a friend. "Look, I don't see him that way. Maybe I just cloud it out."
Whatever personal respect some Democrats have for Gowdy, a few in the caucus are in a "wait-and-see" mode with to see how he'll handle the chairmanship.
"I like Trey Gowdy, we've come to get to know each other and like each other. We've jousted, but I think he's an honorable person and I think this is a real moment of truth for him," said Rep. Gerry Connolly. "It's a real existential moment. You have two choices here: You can rise to this occasion and make your mark and prove that you are willing to buck your party for the sake of truth and fairness or you can just feed the beast and be remembered as a partisan hack."
As the House voted last week on the establishment of the committee, Gowdy was seen sitting on the floor, not talking to Republicans, but engaged in what appeared to be a friendly conversation with Democratic Reps. Peter Welch and later, Elijah Cummings, the ranking member on the Oversight Committee who has often battled with Issa.
Welch, who also serves on the Oversight committee, said that Gowdy hadn't "designed the process" of how the Benghazi panel would work and slammed the Republican leadership for the lack of balance on the committee. But like others, Welch believes that Gowdy is trying to approach the chairmanship in a way that's fair.
"He's been on the prosecution side but he has a respect for procedure, rules, evidence, and fair process because it's not just about winning a case for him, but there has to be confidence in the outcome," Welch said. "He's not designing the process. I do believe he comes at this with a sense of fairness. I do believe that. Trey as an individual will try to be fair."
That's not the view of everyone in the caucus. Like the Democratic leadership team, Rep. Jerry Nadler, who serves on the Judiciary Committee with Gowdy, immediately compared him to Issa.
"By appointing Congressman Gowdy as its chairman and refusing to allow Democrats to participate in a meaningful way, Republicans are setting up another kangaroo court, just like Chairman Issa's committee hearings," he said in an email to BuzzFeed. "If Congressman Gowdy were serious, he would stop politicizing Benghazi in service of the Republican obsession with Hillary Clinton and would allow fair hearings which, at the very least, would not depose witnesses without Democrats present and would hold votes on subpoenas. It would be great if Congressman Gowdy and the Republicans on his committee stopped making unsubstantiated claims and baseless accusations about Benghazi, but I'm not optimistic."
Cummings, one of the most high-profile Democrats to have sparred with Issa and who is close to Democratic leadership, has said that he has "no faith" in the Benghazi select committee but praised Gowdy for coming out to implore Republicans to not fundraise off of the proceedings. The GOP's campaign arm has continued to fundraise off of the committee, despite those calls.
"I have tremendous respect for Mr. Gowdy, and I am glad that he said that the fundraising should not be done on the deaths of these four people," Cummings said on the House floor. "And I hope that the Republican Conference will finally agree with that. We are better than that."
In a statement to BuzzFeed, Cummings reiterated his "respect" for Gowdy but said he did not believe that the committee will be conducted differently.
"Given the repeated abuses we saw under Chairman Issa, Democrats will have no faith in this select committee unless they put in writing fair procedures that give Democrats equal access to witnesses and documents," he said.
Kate Nocera is the DC Bureau Chief for BuzzFeed News. Nocera is a recipient of the National Press Foundation's 2014 Dirksen Award for distinguished reporting on Congress.

Contact Kate Nocera at kate.nocera@buzzfeed.com.

Got a confidential tip? Submit it here.