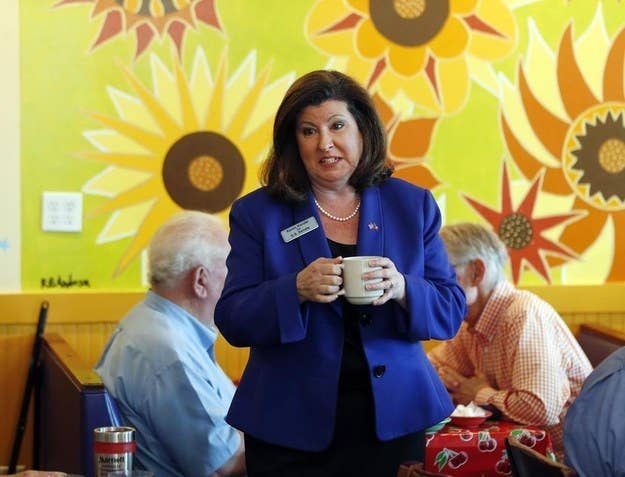 ATLANTA — The Republican primary for Georgia's Senate seat has been long and grueling, pitting seven candidates against one another in an unpredictable race.
But before voters even head to the polls on Tuesday, Karen Handel is already acting like a winner.
The former Georgia secretary of state has surged in recent weeks despite a significant cash disadvantage, a lack of paid media, and a number of political foes stemming from her brutal 2010 gubernatorial runoff with Georgia's current governor, Nathan Deal. Now she's vying for one of two spots in July's runoff primary vote. Her come-from-behind campaign has surprised many Republicans in the state — almost everyone, in fact — except for maybe Handel herself.
"I have been underestimated my whole life," she told BuzzFeed after an event in Atlanta with Erick Erickson. "I have felt all along there is a tremendous amount of support for me across this state. They are so hungry for a genuine individual, who can sit across a table and talk to them like a real person."
That sort of appeal has worked. Handel, who most recently was an executive at the Susan G. Komen Foundation, boasts fervent supporters who are ferociously loyal to her. And she's secured key endorsements from the conservatives like Erickson, Sarah Palin, and Rick Santorum.
Handel is deeply conservative and her positions on abortion, immigration, and the economy don't differ wildly from Reps. Paul Broun or Phil Gingrey, two of the most conservative candidates in the seven-person field. She wants to repeal the 16th Amendment in favor of a flat tax and opposes any kind of "amnesty" for illegal immigrants. But her allies say that she's a better messenger on these positions.
She's quick to mention her conservative credentials and tie them to her life story: Handel left an abusive home at the age of 17, worked minimum-wage jobs, and never graduated college. When a video leaked of one of her main opponents, businessman David Perdue, disparaging her as a just a "high school graduate," the Handel campaign pounced and never let go, seeing a further opportunity to talk up her life story as a significant advantage.
"I can't even believe the opportunities I've had in my life," she said. "I left home at 17, anything could have happened to me but here I am. No one else in this race can talk about how conservative principles make life better than I can talk about it. I worked multiple minimum-wage jobs, and I worked really hard and I was able to move up the economic later. Georgians will relate to that."
"Just look where I am today," she added.
Polling shows the likely outcome of Tuesday's primary will pit Perdue — the front-runner — against either Handel or Rep. Jack Kingston in a July runoff. Turnout for the primary will likely be extremely low, which Handel believes will be to her advantage.
"That's disappointing from the process standpoint, obviously," she said. "It's a shame that the fewest number of people are going to have such a big say when it comes to who is going to be in the runoff. But on the flip side a low turnout is very good thing for us, because I know we have the most committed supporters out there."
Indeed, it's tough to find a Republican in Georgia that doesn't have strong feelings about Handel. Her opponents, like Perdue, have criticized her for leaving two elected offices to run for higher posts, arguing to Politico she's put "self-interest over the interests in serving the constituents." And her tense relationship with Deal has contributed to her difficulties raising money in the state, several Georgia Republican sources said.
"She's polarizing in the sense that there are a lot of people who really hate her. But her supporters are really there for her," said one state Republican official. "A political poobah inside the Beltway would say there's no way in a competitive primary, Karen Handel, running against legitimate candidates, could get in the runoff with no money whatsoever. And yet she might."
Republican consultant Chip Lake, who resigned from the Gingrey campaign earlier this year, called Handel's race with Deal "very spirited" and much of the Georgia Republican animosity toward her stems from her willingness to battle it out and anger party leaders.
"I don't know that she owes anybody anything. She's very outspoken, she's not afraid of a fight and sometimes stylistically when you have those traits, it can make you a very strong candidate but it can also rub people the wrong way," Lake said. "It's contributed to her success but it's also contributed to the stigma she might have by some Republicans statewide they might not like."
"She really is the only one in this race that doesn't have anything to lose," he added.
Republicans worried initially that, because of the crowded primary field, the state might nominate gaffe-prone Gingrey (who once said Todd Akin was partially right about rape) or Broun (who has called evolution "lies straight from the pit of hell"). Neither man looks likely to do well on Tuesday, and a significant number of tea party and conservative supporters have turned to Handel instead.
"I know pretty much everybody on our side whose running," Erickson told Handel's supporters on Sunday. "I hated to take sides but I look at the race and you've got some good friends of mine in the race and it's just not happening for them."
"I want someone to go to Washington, D.C., and not just tell the other side 'No' but our own side as well when they deserve it," he added, calling her an "unwavering conservative." "Someone who is going to hold people accountable, someone who is accountable."
Democrats charge that no matter who comes out of the primary, the runoff will only push the candidates further to the right. A Democratic Senatorial Campaign Committee memo argues that candidate Michelle Nunn is "positioned to beat anyone" who emerges from the primary. The memo also not-so-subtly hints at a likely general election attack on Handel, focused in part on her tenure at the Komen Foundation, when she pushed the organization to stop giving money to Planned Parenthood and resigned after the foundation reversed that decision.
"[H]er explosive tenure at Susan G. Komen cost the organization $77 million and severely hurt the organization's ability to deliver for Americans affected by breast cancer," it reads.
Democrats will undoubtedly use Handel's time at Komen against her as part of a larger "war on women" message that will be employed in several key battleground states. However, Handel is convinced just by virtue of being a woman, she is better suited than anyone to take on Nunn.
"It's a different dynamic when there are two women discussing 'the war on women,'" she said. "It's not going to go very far with me."
Handel's resignation from the Komen foundation turned her into a hero among anti-abortion activists and earned her a healthy amount of respect from the party, even from many of her critics.
"At the GOP state convention there was a resolution passed in honor of Karen Handel for what she did for life related to Susan G. Komen. And I think that was the turning point," said Martha Zoller, a conservative columnist and radio host. "That was the point where all factions in the party came together, and said, 'Yes you stood up for your values.' You lost your job for your values and you didn't take the severance package."
Handel also played down the animosity between herself and Deal, saying that if she gets the nomination, the two would work together for the good of Georgia Republicans.
"I've seen both he and the first lady multiple times since and everyone is looking forward to November and it's imperative that we keep this seat," Handel said. "The governor understands that and he's going to do whatever is necessary that we keep Georgia in republican hands."
Lake — the Republican consultant — said that even if Handel comes in third place, it would be a moral victory for her because she's "earned a lot of people's respect."
"Whether you like Karen Handel or not I think everybody has got to agree that she has exceeded expectations of what most people thought would happen in this race," he said.
Supporters here on Sunday were nervous, but extremely optimistic that Handel would secure a spot in the runoff, promising to make phone calls and knock on as many doors as they could before Tuesday's election.
"It's just been boots on the ground that believe in what she says, and believe that she can do this. The old way Republicans used to do it," said former state party chairwoman Sue Everhart. "I think her boots on the ground is why we win."