The First Real GOP Debate Of 2016 Is About The Patriot Act
Expect the Senate floor to look more like a Republican presidential debate stage in the coming weeks, with candidates Rand Paul, Marco Rubio, and Ted Cruz facing off over the size and scope of the government's domestic surveillance program.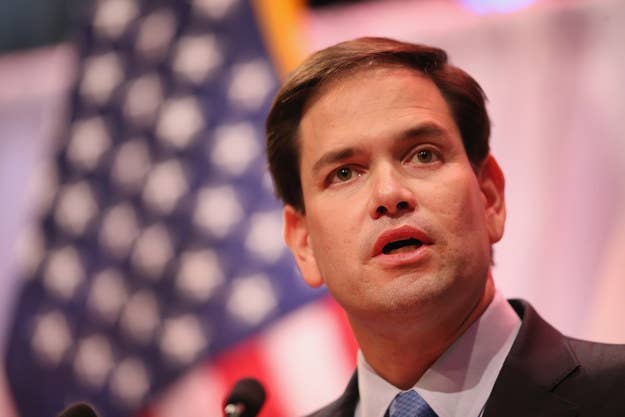 WASHINGTON — The first real debate of 2016 kicked off in earnest on Thursday after a federal court ruled that the Patriot Act does not allow the National Security Agency to mass collect the phone data of Americans.
The debate over privacy and the size and scope of the 14-year-old post 9/11 law that vastly expanded government surveillance practices pits pits Kentucky Sen. Rand Paul in a fight against Florida Sen. Marco Rubio and his more hawkish allies in the Senate.
Expect the Senate floor to look more like a presidential debate stage in the coming weeks: The fight over how to tackle the Patriot Act will be front and center in Congress as portions of the law, including section 215 which allows the government to bulk collect metadata of phone records, are set to expire June 1st.
There are some differences between the announced Republican candidates in the Senate (Rubio, Paul, and Texas Sen. Ted Cruz) but nowhere are their differences clearer than over the Patriot Act.
Following the court ruling, Rubio joined Majority Leader Mitch McConnell, and Senators Tom Cotton and Richard Burr to offer a full-throated defense of the NSA and accused critics of the programs of lying.
"Why are we even having this debate other than the fact that it is expiring?" Rubio said. "It is because a perception has been created, includuing by political figures that serve in this chamber, that the United States government is listening to your phone calls or going through your bills as a matter of course. That is absolutely categorically false."
"The next time that any politician — senator, congressman, talking head, whatever it may be — stands up and says that the U.S. government is standing up and going through your phone records, they're lying."
Rand's statement could not have been more diametrically opposed to Rubio's.
"This is a monumental decision for all lovers of liberty," he said of the court ruling and called for Congress to "immediately repeal the Patriot Act provisions."
Paul has made his criticisms a central part of his platform for 2016. He tweeted last week that on "day one in the Oval Office, I will END the NSA's illegal assault on your rights."
Rubio supports a measure introduced by McConnell to reauthorize current law without any reforms or changes some members have been calling for. Paul last year helped kill legislation reforming elements of section 215 last year because it did not go far enough, much to the dismay of privacy advocates who saw the bill as their best chance to rein in the NSA.
McConnell has yet to schedule a debate on his Patriot Act bill, and it remains to be seen how Paul plans on responding. Making things even more awkward, McConnell has said he supports Paul's bid for the presidency. Sergio Gor, a spokesman for Sen. Paul, said in an email the senator plans "on introducing some items" but "stay tuned for details over next few days."
Rubio told BuzzFeed News that he thinks these programs are "important to our country."
"And if they find someone abusing those programs they should be prosecuted and put in jail. But these programs are critical and they need to be extended," Rubio said.
That leaves Cruz, who has signed onto a bill called the USA Freedom Act, a bipartisan piece of legislation that ends bulk collection of records and implements other surveillance reforms while keeping and extending key portions of the program.
"We need to vigorously go after terrorists and at the same time respect the constitutional rights of law-abiding Americans," Cruz said last week. "There is no need for the federal government to seize and possess bulk metadata. USA Freedom Act protects our constitutional rights but also ensures that the government has the tools to go after terrorists. We need to walk and chew gum at the same time."
Cruz was adamant that he would not support a straight reauthorization of the Patriot Act. Following the court ruling, Cruz released a statement calling on Congress "to immediately pass the USA FREEDOM Act."
The programs expire at the beginning of June, but Congress is set to recess in two weeks for the Memorial Day holiday. It's unclear at this point, how McConnell will move forward.
Sen. John McCain, a supporter of McConnell's move on the Patriot Act, played down the divisions within the conference and was optimistic about reauthorization getting done.
"They're running for president and their agenda is their agenda. I don't think it hurts us, I think we'll find a way to come together."
Kate Nocera is the DC Bureau Chief for BuzzFeed News. Nocera is a recipient of the National Press Foundation's 2014 Dirksen Award for distinguished reporting on Congress.

Contact Kate Nocera at kate.nocera@buzzfeed.com.

Got a confidential tip? Submit it here.