The Die-Hard Conservatives In Washington Haven't Picked A Candidate Yet
It seems probable that most people like Justin Amash and Mark Sanford will endorse Rand Paul — but they are careful to say they haven't yet. "We all want to sort of wait and see who is viable, who is putting together a decent campaign."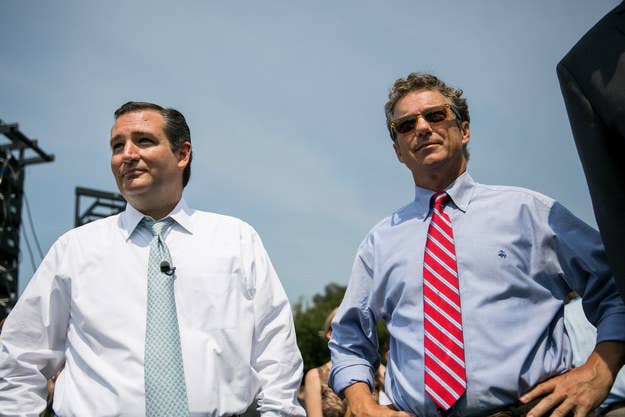 WASHINGTON — There was never any doubt in Rep. Thomas Massie's mind that he was going wholeheartedly endorse his fellow Kentuckian, Rand Paul, for president.
Massie, like Paul, considers himself a card carrying member of the "liberty movement" and is steadfast in promoting the libertarian ideas that Paul and his father have espoused.
"Rand Paul is Ron Paul 2.0: Same algorithms, better user interface. His principals are very much intact, he's just better at articulating them," Massie said in a recent interview.
Massie was on hand for Paul's kick off several weeks ago in Louisville, Kentucky, and has told the senator he'll do whatever he can to assist Paul's campaign.
But in Washington, Massie is an outlier. Despite the formal launch of the 2016 cycle, many Republicans on Capitol Hill have adopted a wait-and-see approach to official endorsements — even the die-hard libertarian or libertarian-influenced ones who consider themselves aligned with Paul ideologically, even if they've done work for or with the candidates.
Take, for example, Mick Mulvaney. The South Carolina congressman shot a direct-to-camera video shortly after Paul announced his bid. Mulvaney called him a "tremendous candidate for president."
In an interview with BuzzFeed News, though, Mulvaney said while he was "happy to do it," he made the video because "a friend of mine was coming to South Carolina." He pointed out he'd done events with former Texas Gov. Rick Perry recently and, of course, he appears with his senior senator, Lindsey Graham, "all the time."
"I know you think my video was a big deal and a semi-endorsement," Mulvaney said. "It wasn't."
"We all want to sort of wait and see who is viable, who is putting together a decent campaign," he added.
Likewise, Rep. Mark Sanford introduced Paul in his own South Carolina district recently. But he too stopped short of officially endorsing him. Sanford declined to comment further on his support for Paul, but told Bloomberg Politics that he wasn't planning to "stay neutral over the long run."
You can safely assume Paul will most likely have the support of Justin Amash of Michigan, another true libertarian who frequently quotes Friedrich Hayek on his Facebook page and is best known for his antagonism toward NSA surveillance. But even Justin Amash was also careful to say that he'd not yet made that endorsement official.
"That's not to say I won't endorse him, but I haven't made any public endorsements," he said.
There are, of course, two other senators running for president — and one, Texas Sen. Ted Cruz, shares a similar base of support on Capitol Hill with Paul. He too has been looking for endorsements among House Republicans. Six House GOPers told BuzzFeed News that they'd received calls directly from Cruz about an endorsement, in addition to hearing from other Republicans likely to jump into the field. (His chief of staff also recently sent letters to members asking them to say supportive things in public about Cruz.) Many of those not yet committed but who are leaning towards Paul, described Cruz as their likely second choice.
"I'm friends with both of them. Rand and I go back a little further than Ted and I. I think they would both be great presidents," Amash said.
This week, Texas Rep. John Culberson handed Cruz his first official endorsement. Ted Yoho, a Florida Republican said he'd been called by Paul, Cruz, Jeb Bush, and Scott Walker, but had not made a decision about who he'd eventually support.
"We have got a great field but it's so early. There'll be self-inflicted wounds, there will be things that get flushed out. I'm watching, but it's too soon," Yoho said.
Rep. Tim Huelskamp, another conservative from Kansas, said he hadn't decided on a candidate yet, but considers himself close to Paul and Cruz. However, he was clear on who he won't be supporting.
"The whole field is better than the alternative on the other side," he said. "But I think Kansans voted for Bushes a long time and they don't want to do that again. They are looking for new ideas, new blood and new people outside of the Clinton and Bush families."
Kate Nocera is the DC Bureau Chief for BuzzFeed News. Nocera is a recipient of the National Press Foundation's 2014 Dirksen Award for distinguished reporting on Congress.

Contact Kate Nocera at kate.nocera@buzzfeed.com.

Got a confidential tip? Submit it here.