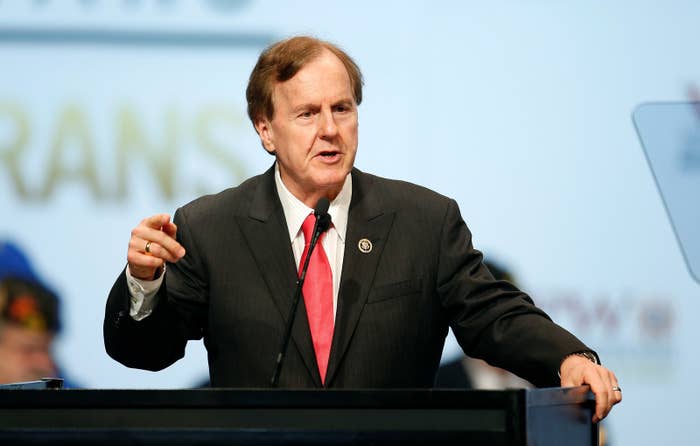 WASHINGTON — North Carolina Rep. Robert Pittenger, who told the BBC that protesters in Charlotte "hate white people because white people are successful and they are not," is circulating several statements of support from black pastors to his colleagues on Capitol Hill.
Pittenger had made the comment to the BBC in the wake of violent protests following the officer-involved death of Keith Lamont Scott. The comments quickly spread on social media and Pittenger later issued an apology saying his answer to a reporter's questions "doesn't reflect who I am."

Now he's trying to prove it to his fellow members of Congress. A source provided the letters to BuzzFeed News and said they were being hand-delivered to each congressional office by members of Pittenger's staff. A cover note from Pittenger says, "Please note the three letters from African-American Pastors in Charlotte regarding our 25-30 year relationships on multiple outreach efforts." After a request for comment, Pittenger's office forwarded the letters and said the congressman was going to "let his public apology and the unfiltered statements from local African-American pastors speak for themselves."
"In my relationship with him I have never seen or perceived a racist spirit or heard a negative racial comment," wrote Pastor Robyn Gool.
Pastor Charles E. Mack Sr. wrote that he was not "offering an escape for his statement...about 'Blacks hating successful White folks," but "as my mom use to teach her children, engage your mind before putting your mouth in gear, he did not do it that time and has apologized, that statement or comment do not in any way represent this man."
A third pastor, Cynthia L. Davis, remarked that Pittenger had been actively involved with the black community.
"Your support, particularly of our young black males is glaringly evident as you serve on the Board of Advisors of the Male Leadership Academy of Charlotte."
Read the full letters here.