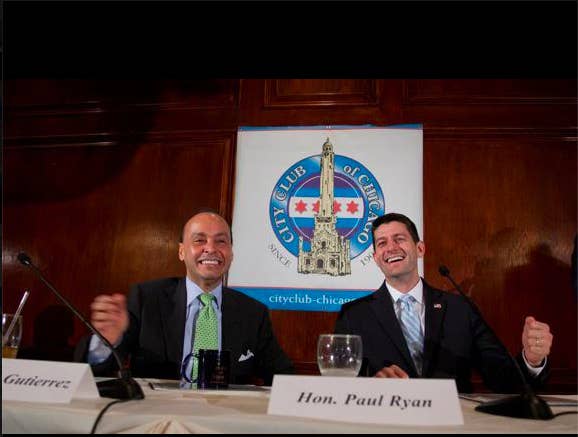 WASHINGTON— It's not often you'll hear a Democrat say there should be more Republicans like Paul Ryan in the House.
But that's exactly what liberal Chicago Rep. Luis Gutierrez, D-Ill., thinks Ryan, R-Wis., — best known for his budget that Democrats love to hate and his role as Mitt Romney's running mate — is a key ally of Gutierrez's on immigration reform. And in the fierce legislative battle that has come to consume that issue on the Hill, their unlikely partnership could be crucial to getting an immigration deal done in the deeply polarized House.
Their odd-couple friendship began years ago in the House gym, where early morning workouts inevitably turn into locker room conversations about policy. Gutierrez says he isn't part of the cadre of lawmakers who faithfully work out with Ryan, but years of early morning run-ins have fostered a relationship of trust — and a degree of mutual admiration — between the two men.
"These guys are like chiseled … I think the best thing that they do is actually put their shirts and suits on because if you saw what they looked like, you couldn't listen to them," Gutierrez said. "But the group that works out is pretty pro-immigrant. Maybe there is a correlation between working out and loving immigrants."
Both men acknowledge they are about as far apart ideologically as two congressmen can be, but unlike so much of the partisan bickering that happens in the House, they actually seem to trust each other.
"He's very liberal," Ryan said of Gutierrez. "He and I don't see eye to eye on virtually every issue except on this. What I've learned about Luis is that he's a man of his word and he really wants to get this done. He's not trying to play politics, he is sincere in trying to find common ground to solve the immigration problem and I very much appreciate that. He's true to his word."
As Gutierrez continues to craft a bipartisan immigration reform bill in the House, he has kept in close communication with Ryan, who could end up being an important Republican broker to conservatives wary of immigration reform.
"He is one of the bedrocks of the Republican Party and his support helps immensely," Gutierrez said.
Ryan has been supportive of immigration reform efforts since he worked as a young staffer in Jack Kemp's office, and there's the often-forgotten fact that Ryan was a co-sponsor of the 2006 immigration reform legislation in the House.
"He has a very clear economic point of view but he also has a moral point of view. Everyone goes well really? Paul Ryan? But he thinks about the social justice issues," Gutierrez said. "These are his words: 'Luis we just can't, as Catholics, we can't have a permanent underclass. That's not who we are."
As the Senate continues to debate the "Gang of Eight" immigration reform legislation, the situation in the House is infinitely more complicated — a fact of which both men are acutely aware.
House conservatives are becoming increasingly vocal in their opposition to any legislation that would include an earned pathway to citizenship for immigrants living in the country illegally. Rep. Steve King, an Iowa Republican, went so far as to hold a six-hour "press conference" to rally support against the Senate bill. At least a dozen of his House colleagues showed up. The House Judiciary Committee has begun to work piecemeal immigration legislation, but some conservatives object even to that, arguing it could be used as a vehicle to go to conference with the Senate to get immigration reform passed.
And the House gang Gutierrez is a part of, which has been meeting for years, has yet to introduce legislation. Ryan, who is not a part of the House gang, views his role in the process as a sort of liaison between the group and the Republican conference.
"What I try to do is calm the rhetoric and keep the emotions in check and work on this issue methodically and focus on the facts. I had hoped the gang would have produced a bill by now but I still think there are good relationships that were forged there that can be very productive going forward," he said.
"I want to be encouraging of this group because I think we need bipartisan reform and Republican principles of the rule of law, of securing the border are very important and they need to be a part of any reform. Luis understands that:
the key is bridging these gaps," he added, noting that Gutierrez has been very willing to "concede to Republican principles" to get immigration reform accomplished.
When Ryan was on the vice presidential campaign trail last year, he returned to the House several times to cast votes, and Gutierrez pulled him aside one morning in the gym.
Of course, the Chicago Democrat wanted nothing more than to see Ryan and Mitt Romney lose the election and he promised his buddy that he'd do everything he could "so he'd never be vice president."
But their immigration bond trumped electoral politics.
"I said, 'Well you know you might be vice president, not that I'm going to help you in anyway. But if you win can I get to call you about immigration? Are we still going to collaborate?' And he said, 'Absolutely, even more,''" Gutierrez recalled. "So I said 'OK, well get me an office next to yours because I'm going to be there a lot if you're Vice President Paul Ryan.'"
Ryan recalled it thusly:
"I thought we were going to win the election and I said, 'Luis when the dust is settled we need to work on immigration reform. Its something I feel we need to do.' And I said that from the position of expecting to be the vice president of the United States."
Obama's victory didn't stop Ryan and Gutierrez from continuing their conversations. As national Republicans evaluated how they could win more Hispanic votes, eyes turned to immigration reform. But Gutierrez says that Ryan's interest in reform was never about politics.
"He's never talked to me about it in those terms," he said.
Ryan has continued to argue for an immigration fix, and recently butted heads with conservative radio host Laura Ingraham over the issue. Ryan charged that whatever the House produced would be different from the Senate bill, but there were economic benefits to getting immigration reform passed.
Gutierrez reached out to Ryan early in the year to see if the busy budget chairman could think of any Republicans to join Gutierrez in Chicago for an immigration summit. To his surprise, Ryan said he would come himself.
"I didn't want to walk up to someone who just ran for vice president and say, 'Would you share a stage with me in Chicago?' And he said, 'I'm an hour away, I can come down,'" Gutierrez recalled. "It's one thing for Paul and I to talk in the gym or the House floor, you have to have public expressions of these things. What he received is what other Republicans would receive. There was a warm embrace, applause, thankfulness, and gratitude which was expressed by hundreds of people in the room."