Syria Air Strikes Reignite Calls For New Congressional War Authorization
"Everybody can come back at a moment's notice. Everyone is in their districts ... we can all go back and I hope we do," Rep. Iliana Ros-Lehtinen said.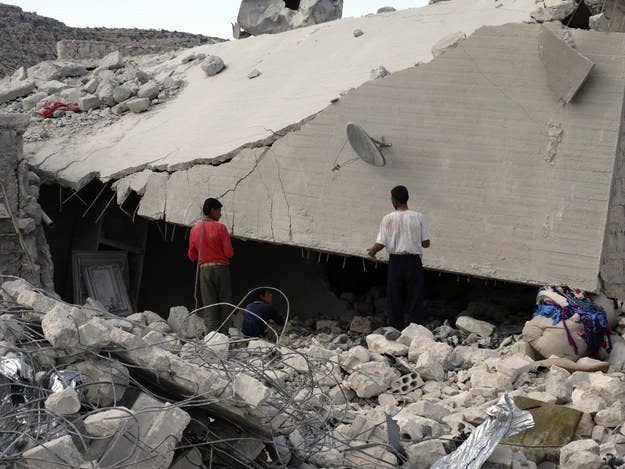 WASHINGTON — Democratic and Republican lawmakers Tuesday called for a new vote authorizing the use of force against ISIS, with several arguing the Obama administration's air strikes against ISIS and Al Qaeda affiliated organizations in Syria should prompt Congress to return from recess and vote before the November election.
Although the White House has insisted it has the authority to conduct airstrikes under the 2001 Authorized Use of Military Force, or AUMF, congressional critics have rejected that interpretation as overly broad, and even administration supporters believe a new AUMF should be put into place that reflects the current war on terrorism.
"The president should have come to Congress and still should come to Congress for authorization," Republican Rep. Ileana Ros-Lehtinen told BuzzFeed News Tuesday. "I believe there's broad support for it, we have our mission and I believe we're going to do an excellent job. We're building a coalition, we're getting Arab countries involved and I don't think he should be afraid or ashamed to come to Congress. I think he's waited too long."
In fact Ros-Lehtinen, who chairs the Foreign Affairs Committee's Subcommittee on the Middle East and Central Asia, argued House Speaker John Boehner and Senate Majority Leader Harry Reid should call both chambers back from recess to formally authorize Obama's war.
"Everybody can come back at a moment's notice. Everyone is in their districts, those days of flying all over the world on CODELS are a thing of the part, we can all go back and I hope we do," Ros-Lehtinen said.
Rep. Chris Van Hollen, a leading House Democrat, agreed, arguing in a statement, "It is time for Congress to step up and revise the 2001 Authorization to Use Military Force in a way that supports the targeted actions underway, but also prevents the deployment of American ground forces that would drag us into another Iraq War." In a tweet from his official account, Van Hollen explicitly called on Boehner to "bring members back to debate/vote on AUMF that supports current mission but ensures no ground troops."
But with an election less than two months away — and few members looking to take ownership of a war that could become a major political liability — it's unlikely either Boehner or Reid would bring members home.
The concern for some members is that by the time the lame duck session rolls around, the U.S military strikes will be so far along, a late November vote would not actually do much.
"It is impossible to make the claim we are not at war right now," said Sen. Chris Murphy, who has long been calling for a vote on authorization. "If last night's airstrikes were a preview of the level of military activity we can expect over the coming weeks it will be increasingly hard for Congress to sit at home without weighing in."
"The cake may be baked by the time the lame duck comes around," he continued. "For those people who may want to vote no, the horse may have left the barn by the time we get to late November."
Still, advocates for a new AUMF argued the strikes will almost certainly make it impossible for Congress to avoid the issue in the post-election lame duck session.
"I think this will only guild support [for a new AUMF] … I think that force is going to be pretty irresistible," Rep. Adam Schiff, a Democratic member of the House Permanent Select Committee on Intelligence, told BuzzFeed News.
Democratic Sen. Tim Kaine, who like Schiff has introduced a new, limited AUMF, said during a speech at the Center for American Progress that the "president shouldn't be doing this without Congress. And Congress shouldn't be allowing it to happen without Congress." In response to a question from BuzzFeed News, Kaine said he was feeling confident leadership would bring an AUMF for vote during the lame duck session. Sen. Bob Menendez, the chair of the Foreign Relations Committee in the Senate, has said that he will begin drafting an AUMF for mark-up in his committee.
"You've got Sen. Menendez, along with Sen. [Dick] Durbin who has been public that we've got to have an authorization vote: both in leadership," Kaine said. "[Minority Leader] Sen. McConnell has been saying we've got to have it. I've had other discussions with members of leadership…but I really feel like now in both houses and both parties theres a strong belief that we have to."
Rep. Mike Pompeo, a Republican member of the Intelligence Committee, said he was happy to vote on an authorization but was more concerned that the president had not laid out to Congress a comprehensive strategy and legal framework for what he is doing.
"Every president before him has provided that when they faced a threat like this," Pompeo said. "And in nearly every case Congress has said, 'You bet, we're happy to join you' and as the president presents his plan for that and his strategic vision behind it, I'm confident members of Congress will support that, as well."
The administration remains adamant that Obama has the authority to conduct strikes against ISIS anywhere in the world under the original 2001 law.
A senior administration official Tuesday argued that while the organization is no longer part of Al Qaeda, its past affiliation with the terrorist network means it is covered.
"We don't believe that Congress would have intended to remove the president's authority to use force against this group simply because they group had a disagreement with Al Qaeda leadership. So based on that history, based on their longtime connections to Al Qaeda and based on the fact that they continue to be in conflict with the United States and US partners and allies we believe that that the 2001 AUMF would still apply," the official said.
Evan McMorris-Santoro and Rosie Gray contributed to this report