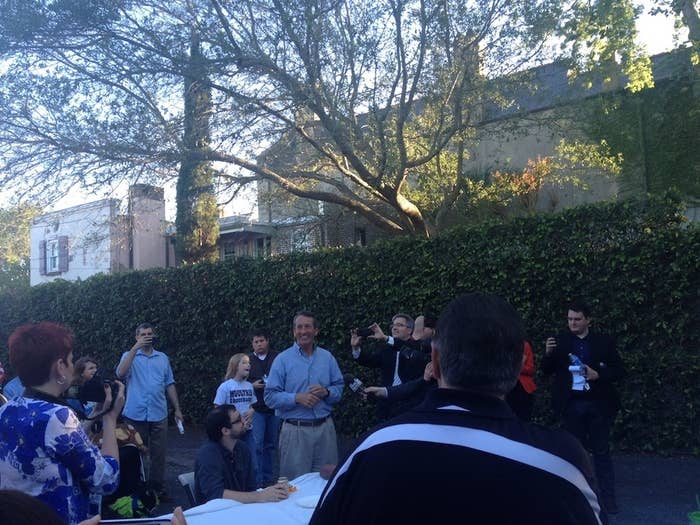 CHARLESTON, S.C. — Win or lose, Mark Sanford is having the time of his life.
Driving, walking, and shaking hands with the formerly disgraced former governor through South Carolina's 1st Congressional District, it's hard to remember that this was a guy whose national ambitions were shattered when he disappeared to Argentina for several days in 2009 to cheat on his then-wife.
Equally hard to remember is that when he entered the race there was a collective groan from Republicans across the state and in Washington, D.C., who thought Sanford's past was a liability that would put a safely Republican seat in Democratic hands for the first time in decades.
"The thought was, it's too early, you do a tour, you write a book, you do all those things to rehab your image and then you run," said one former Sanford staffer. "But it turns out he's crazy as a fox and it looks like he's going to pull this off."
The race is close: His opponent, Democrat Elizabeth Colbert Busch, comic Stephen Colbert's big sister, has run an aggressive campaign, with plenty of support from national Democrats, presenting herself as an independent alternative to Sanford. Money has poured into the district. Sanford's ex-wife accused him of trespassing, and the National Republican Campaign Committee said they were sitting this one out. Charleston's largest newspaper, the Post and Courier endorsed her, arguing that for voters suffering from "Sanford fatigue," Colbert-Busch was a "welcome tonic."
If voters were tired by Sanford, he set out to prove on the final days of the campaign that he was not tired of them. In his uniform of khakis, a checkered shirt, and a belt decorated with South Carolina flags, he has crisscrossed the district in a blue Chevy with a pretty young staffer named Martha, who Sanford describes as a terrible driver and whose hopeless job it is to keep her boss on time for events. She is largely unsuccessful at this task because Sanford will talk to to anyone who was willing to listen to him, even the ones who hate his guts.
The national media has been enraptured by Sanford's attempted comeback and this past weekend a small swarm of reporters descended on Charleston. Of course there were lots of questions about the affair, the trespassing, his family, and just how voters would ever take him back.
"You guys just want to write a story about how no one likes me," he declared on Saturday.
His aides stood by watching helplessly as Sanford then made it his mission to prove just how wrong we all were by taking a group store-to-store to find a "woman that doesn't like me."
He pointed to one woman, declaring she "looked biased," and it turned out she was actually a huge supporter. There was some eye rolling from people he approached in a coffee shop — yes, of course they knew who he was — but if anyone was angry, they were far too polite to say it. When Sanford shared with one woman his mission to help us find anti-Sanford sentiment, she expressed her disapproval for his past behavior but said she would vote for him anyway.
He then went into a drugstore, bought a giant chocolate milkshake, and talked to everyone inside until Martha finally wrangled him back in the car for the hour and a half drive to Beauford.
On Monday, Sanford insisted on making a pit stop at a Whole Foods in Mt. Pleasant in between scheduled events. He politely interrupted several folks in the produce aisle, asking them to consider voting for him, and many of them said they already were. A cashier gleefully greeted Sanford, telling him what a fan she was. Then he ran into a Colbert Busch supporter, Marion Sullivan, whom he introduced to reporters as his downstairs neighbor.
"We've been giving each other a hard time for how many months now? We live in the same building," Sanford said.
"I told him he shouldn't run, that he should stop embarrassing the state but he didn't take my advice," Sullivan said with a smile. "I put Colbert Busch stickers on my front and back bumper so he can see them in the garage."
"This is fun, huh?" Sanford said. "Good to see you!"
Only a few weeks ago, Sanford's chances at winning the House seat were unlikely. Republicans were loathe to say his name, and Jenny Sanford's trespassing accusations seemed to doom his already difficult climb (he claims he was watching the end of the Super Bowl with his son. A court hearing is this Thursday). And a string of oddball campaign stunts, including a debate with a cardboard cutout of Nancy Pelosi, prompted mockery in the press.
"People got it, people totally got," he swears. "When she dumped $370,000 into this race ... and a whole host of Democratic groups come in and dump over a million dollars into this race, what you are really having is a debate with those folks that are funding the radio and TV ads."
Sanford might be right: He has made up a remarkable nine-point polling deficit against Colbert Busch, and the race is now neck and neck. His attempt to tie Colbert Busch with national Democrats, and Pelosi specifically, struck a nerve with Republicans in this conservative district who, after writing him off, were giving Sanford his second (or is it fourth?) look.
"What other Republicans like me are thinking, it is not really about the 1st Congressional District but where we are going as a country," said state Rep. Chip Limehouse, who ran against Sanford in the primary. "Do we want socialism to prevail or do we want capitalism? I think the country is focused on this race because of that."
Former South Carolina Governor Jim Edwards offered this dire warning:
"It's a battle for the soul of America," said Edwards. "We've got to keep every vote we can in the House to keep Obama from being dictator. He's practically a dictator now."
Unhelpful to Democrats is the fact that many voters here are more than willing to look beyond Sanford's past.
"He's the most learned candidate for our issues that we have," said Joan Cobb. "She's been slinging mud, he talked facts. His personal life is his personal life."
There are definitely Republicans who might sit this race out, and as always, turn out will be key. Sanford has picked up some much needed, if not late, endorsements from GOP'ers in the state, like Sens. Lindsey Graham and Tim Scott.
Despite the apparent momentum in Sanford's direction, Colbert Busch and her supporters still believe the race is theirs to lose.
"To me this is always a one- to three-point race. And it's always been about turnout," said Congressman Jim Clyburn, a South Carolinian and the third ranking Democrat in the House. "The polls I have been paying close attention to are never beyond three points and as close as one."
For Colbert Busch to win she'll need to convince enough voters that she won't be a rubber stamp for Democrats and pick up Republican crossovers. She too is canvassing the district, only instead of a blue Chevy, she's riding in a hard-to-miss campaign bus with the slogan "Elizabeth Means Business" on the side.
"We need her around here. This state is so needy in a lot of ways, but Elizabeth is a breath of fresh air," said Sharon Bohn. "We need some one who is agreeable and everything isn't 'no, no, no.' Sanford just says no to everything."
As much as Sanford will insist that the past is in the past (he says it's only relevant to the campaign because the media insists on bringing it up), it is still the first thing people in the district know about him. As Sanford shook hands in a diner Monday morning, a man remarked to Sanford's communications director he had no interest in shaking hands with "a former philandering governor."
His supporters acknowledge the mistakes Sanford has made but say his conservative record more than makes up for it.
"I wouldn't necessarily want him marrying my daughter, or my sister. But his constitutional voting record is more than enough to carry the day versus the absolutely unconstitutional voting positions of his opponent," said John Hull. "It's no contest, it's good versus evil."
If comments like these upset Sanford, he wasn't showing it. Sanford was happy to talk about it, and happy to talk to reporters in general. He took turns driving with reporters (even getting behind the wheel of BuzzFeed's rental) so they'd have a chance to talk to him one-on-one.
"If you've been where I've been back in 2009, it's all a blessing," he during our car ride. "If I have the chance to serve in this role, I'll be thrilled. If I don't, I'm at peace. I'll go back to real estate."
As Monday's exhaustive campaigning came to a close, Sanford met with a group supporters, including two of his sons, for a small backyard barbecue.
"In politics," he said, thanking the people who'd been with him through the race, "you don't have to wait till your funeral to find out who your friends are."