Social Conservatives Flummoxed By Senate GOP Silence On LGBT Anti-Bias Bill
It's inexcusable that no Republican senators are willing to stand up and defend the Constitution," said the American Family Association's Bryan Fischer. Only one GOP senator spoke out against the legislation.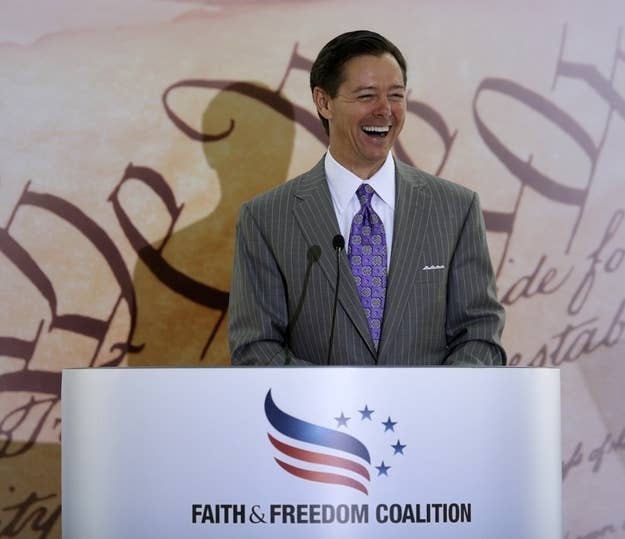 WASHINGTON — As the Senate passed the Employee Non-Discrimination Act on Thursday, just one Republican senator — Indiana's Dan Coats — took to the floor to oppose it.
The silence from the Senate Republican caucus stunned social conservatives, who have been arguing that the legislation, which provides workplace protections for gay, lesbian, bisexual, and transgender employees, will undermine religious liberty.
"I'm mystified and deeply disappointed, because there are profound constitutional issues at stake here," said the American Family Association's Bryan Fischer. "The entire First Amendment is being put up for auction by this bill and it's inexcusable that no Republican senators are willing to stand up and defend the Constitution."
"I believe they have been intimidated into silence by the bullies and bigots of Big Gay," Fischer added. "They know if they speak out … they will be the target of vitriol, the target of animosity, and very likely, the target of hate."
Groups like the Family Research Council and Ralph Reed's Faith and Freedom Coalition have been forcefully opposed to the legislation. In a USA Today op-ed, Reed said that the bill was a "dagger aimed at the heart of religious freedom for millions of Americans. The bill's so-called religious exemption is vague and inadequate."
Daniel Horwitz, policy director at the Madison Project, blamed Republican leadership for not doing more to fight against the bill and wrote on RedState that "GOP leaders refused to marshal opposition against cloture."
"With leadership that refuses to fight on anything, leaves the carcass of the fractured conference to Democrat scavenging, and completely surrenders on even the most bedrock social/liberty issues, what is left of the GOP in the Senate?" he wrote.
Ten Republicans ended up supporting the landmark legislation — ENDA would ban sexual-orientation or gender-identity discrimination in most workplaces. In addition to ENDA co-sponsors Sens. Mark Kirk and Susan Collins, Republicans Sens. Kelly Ayotte, Jeff Flake, Orrin Hatch, Dean Heller, John McCain, Lisa Murkowski, Rob Portman, and Pat Toomey supported the legislation. Flake had initially said he was concerned with the bill's gender-identity protections but ultimately supported the bill. That means, save for Coats, no other Republican lawmaker said anything in opposition. In fact, both Ayotte and Portman spoke in favor of the bill's protections for religious liberties.
Majority Leader Harry Reid told reporters on Wednesday that conservative Sen. Ted Cruz, who Reid had believed would make a floor speech in opposition, refused when given the opportunity. Cruz's spokeswoman told the Huffington Post the senator had no plans to talk about ENDA.
Republican Sen. Jeff Sessions, who opposed the bill but did not cast a vote on the legislation Thursday, said he didn't feel the need to speak out simply because he said it is not his obligation to talk about every issue.
"I don't speak on 90% of the bills to go through here, so I don't have any plans to speak on this," he said.
And Arkansas Sen. John Boozman said his constituents were familiar enough with his positions that he didn't need to go on the floor to make them clear.
"This is something that's come up periodically since I've been in Congress and people know where I am at," he said. "I've been very, very clear as to where I am at; Arkansas is very, very clear. They feel like we don't need this particular law."
House Speaker John Boehner has said that he opposes ENDA, making it unlikely the House will take up the legislation and leading him to be praised by FRC president Tony Perkins.
"We commend Speaker Boehner for opposing ENDA because of the costly lawsuits that burden businesses in an already struggling economy," Perkins said in a statement. "The law creates a new federal mandate on businesses based on sexuality and does not allow businesses the choice of taking those things into consideration when they think it is appropriate."
Kate Nocera is the DC Bureau Chief for BuzzFeed News. Nocera is a recipient of the National Press Foundation's 2014 Dirksen Award for distinguished reporting on Congress.

Contact Kate Nocera at kate.nocera@buzzfeed.com.

Got a confidential tip? Submit it here.